Addressing your priorities and managing your wealth.
Your financial needs are constantly evolving. And whatever your priorities are, we have a suite of solutions to address them, from everyday banking to short-term borrowing and long-tem investing.


Our Investment approach
We recognise no individual is the same and we take a personalised approach to identify suitable solutions for your needs. Your Relationship Manager will begin by getting to know you, your financial priorities and your preferred investment style, before helping you make the best choice from a range of investment solutions that suit your requirements.

Protection Portfolio
While you manage and grow your wealth, protecting your financial future is equally as important. Our range of insurance solutions can help protect you, your family and your assets.


Property Investments
Whether you're an experienced or first-time property owner, we'll explain the complexities of mortgages, help you secure the right loans and maximise returns on your investments. Our customised benefits include:

Higher loan sizes
Simplified documentation
Faster approvals through fast-track processes for your applications

Auto Loans
You select your dream car and we will finance it for you quickly and with minimum formalities. Our Auto Loan benefits are as follows:

High loan amount
Competitive pricing
Simplified documentation
Faster approvals through fast-track processes for your applications
Finance available for both new and pre-owned (used) cars
Flexible repayment plans

Convenient Card Solutions

Your debit and credit cards unlock a range of convenient services and exclusive privileges that come with Priority Banking status

Visa Priority Platinum Debit Card

The specially designed Chip and PIN Visa Priority Platinum Debit Card1 gives you secure access to your finances, providing global access to your banking accounts and global recognition at designated Priority Banking centres and branches.

Use it within the UAE to withdraw cash from any Standard Chartered Bank ATMs, including ATMs from other banks which are under the country's shared network. You can make withdrawals at all Visa network ATMs worldwide at no extra charge2. You can also make purchases at Point of Sale terminals at home and abroad.

1 Platinum Debit Cards are available in the UAE, Bahrain and Oman.
2 All fee waivers, charges and exchange rates are subject to change at the Bank's discretion and may be adjusted from time to time. For the latest information on service charges and terms and conditions, log on to www.sc.com/ae


Visa Infinite Credit Card UAE

Access a world of exclusive privileges with the Standard Chartered Visa Infinite Credit Card. This 'absolutely everything card' is all you need to enjoy the very best of golf, travel, fine dining, fitness and more3. And as a privileged Priority Banking client, you'll get this card free for the first year4.

Complimentary Round of Golf Every Month3
Best Travel Programme - including Meet and Greet services by marhaba, global lounge access and use of points to get highest rate of cash back on airline tickets purchased on Emirates, Etihad, Virgin Atlantic3
Complimentary Access to Fitness First Clubs3
Exclusive Offers
3 Terms and conditions apply.
Priority Banking clients must maintain an eligible bank account with Standard Chartered Priority Banking to avail waiver of the Credit Card annual fee for the first year and must qualify as per the Priority Banking minimum balance criteria and annual spend conditions to receive an automatic annual fee waiver second year onwards.
4 Subject to a minimum spending condition.


Islamic Banking Solutions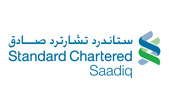 Standard Chartered Saadiq offers a complete range of Shariah-compliant solutions delivered with international levels of quality and service, including:

Wealth solutions including Takaful, Fixed Income and Investments
Accounts and Term Deposits
Home Finance
Personal and Auto Finance
Credit Card

Shariah Supervisory Committee

Standard Chartered Saadiq products are supervised by the independent Shariah Supervisory Committee, which comprises three of the world's most renowned and respected scholars in Islamic banking:

Dr. Abdul Sattar Abu Ghuddah



With a Ph.D. in Islamic Law from Al Azhar University, Cairo, Dr. Abu Ghuddah is currently a member of the Shariah Supervisory Board for several Islamic institutions in various parts of the world.



Sheikh Nizam Yaqubi



With a Bachelor's Degree from McGill University, Montreal, Sheikh Yaqubi currently holds highly respected positions on the Shariah Boards of many Islamic institutions worldwide.



Dr. Mohamed Ali Elgari



With a Ph.D. from University of California, Dr. Elgari serves as a professor at King Abdul Aziz University, as an expert at Islamic Jurisprudence Academy and a Shariah Advisor to several Islamic financial institutions.
For more details on Islamic Banking, please click here.