We partner with respected charities to build sustainable programmes that can make a real impact in our local communities.
Seeing is Believing
Every five seconds, someone, somewhere in the world goes blind. Every minute, one more child goes blind - ninety percent of blind children don't attend school.
Seeing is Believing is Standard Chartered's global programme to tackle avoidable blindness. We have committed to raise USD100 million by 2020, of which we have already raised USD50 million since 2003, through which we aim to help eliminate avoidable blindness and visual impairment.
The UAE is an enthusiastic contributor to the USD100 million goal as in 2012, staff in the UAE raised over USD400,000 through various internal initiatives. Of this amount, over USD100,000 were raised through an 'Art for Sight' auction done for our Private Banking business.
To learn more about the Seeing is Believing programme, please visit www.seeingisbelieving.org.
Employee Volunteering
We believe that volunteering is good for our communities, employees and our business. That's why we offer every one of our 2,500 staff in UAE three days paid leave to volunteer. Last year they volunteered nearly 6,568 hours in the community.
Learn more about our employee volunteering around the Bank »
Partnering with the Local Charities
The Bank has a strong relationship with the local organisations like Dubai Foundation for Women and Children and Rashid Paediatric Therapy Centre. The Bank supports these organisations through staff volunteers and through activities like coaching clinics.
As part of our global partnership with the Liverpool Football Club, we organised football coaching clinics for 30 students from Rashid Paediatric Therapy Centre. We also initiated the Annual Sportsperson of the Year programme in which a student from the Centre is flown to the UK to become a mascot at a Liverpool Football Club game.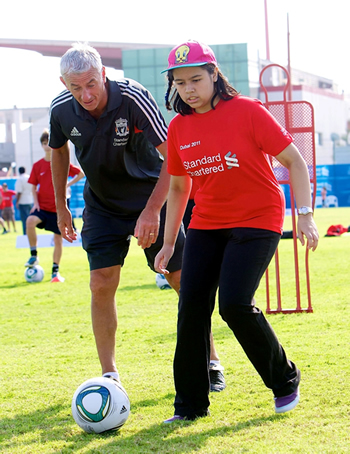 Ian Rush, Liverpool FC legend at a coaching clinic organised for children with special needs