Bangladesh
Enjoy great deals…
your way, every day!

The Good Life is what you make of it. Be it dining, travel, music, movies, online buzz, shopping, health or electronics; choose to live life you desire every day with the amazing discounts only with your Standard Chartered Card.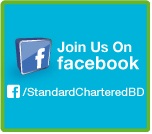 © Copyright 2015 Standard Chartered Bank. All Rights Reserved.