SCB China Sponsors 2011 APEC Summit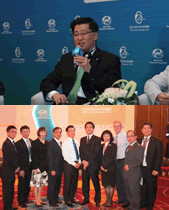 Aug 29th to 31st, 2011 APEC Summit successfully launched in Chengdu. As the Chief Banking Partner, Standard Chartered Bank China shared its financial expertise with more than 600 SME owners from various cities.
As the Summit Presidium's Vice Chairman, Standard Chartered's China CEO Lim Cheng Teck, together with China CB Head Jungkiu Choi and team, met with Sichuan Vice Governor Huang Xiao Xiang, and participated in the welcome banquet on Aug 29th evening.
Jungkiu, SME NEA and China Head Betty, SME Group senior Christopher, East Research Head Nicholas attended four separate forums, and presented their views to media and SME owners on hot topics like innovation, SME financing, female leadership and industry upgrading.