Case study
Workshops for women business owners in Nigeria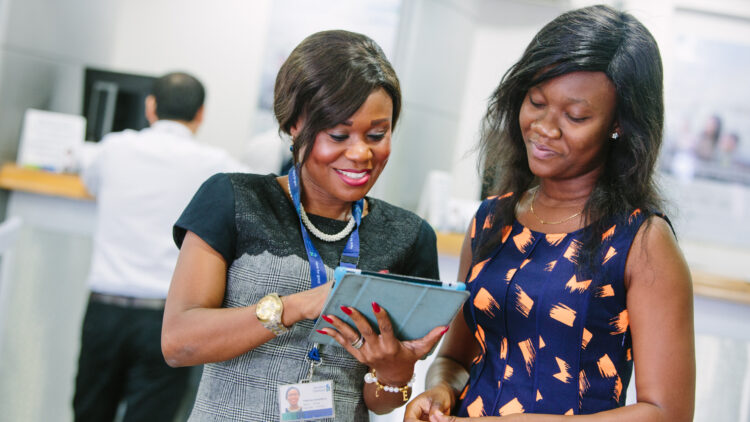 Some of our managers recently participated in an annual Nigerian two-day bootcamp hosted by WEConnect international (an NGO we partner with to drive supplier gender diversity globally). The bootcamp attended by 45 women entrepreneurs served as a platform to mentor and train women business owners in various business practices to help ensure their businesses grow and thrive.
Our subject matter experts – Ojomalade Olutoyin Adeniyi, Cluster Head for Tax, West Africa, and Lawal Adeyemi, Head of Retail Banking Finance, Nigeria & West Africa – presented on two interactive and engaging module topics, 'Business Goal Planning' and 'Securing Sources of Financing'.
In addition, Lanre Yusuf, the financial controller for Nigeria and Gloria Ikpea, Supply Chain Management country Head, Nigeria, featured as part of a panel judging business pitch ideas, where women business owners had the opportunity to practice the skills they'd learned and gain direct feedback.
The event also included networking sessions giving the women business owners the opportunity to ask our facilitators questions on the module topics as well as about our banking products and services.
The session has really made me understand that I need to rethink my goals for my business.

Bootcamp attendee
WEConnect Country Manager Yeshua Russell commented that feedback indicated the sessions were very impactful and that a lot of useful learning had been transferred to the women business owners: "Standard Chartered's contribution was instrumental in achieving a most successful bootcamp…this is the second year that Standard Chartered is supporting the bootcamp with even greater impact. We look forward to 2022!"
Olutoyin Adeniy also commented, from a presenter perspective, that "it was encouraging to experience the impressive level of engagement with the female entrepreneurs which has not ended with the formal classroom sessions but continued with follow on questions and discussions that are still ongoing. This portends an opportunity for a structured mentor/mentee relationship, which we are be glad to be a part of."
The WEConnect African Regional Director Patricia Langan said: "The event was very successful, and our teams are eager to partner with Standard Chartered for future events with WEConnect International."