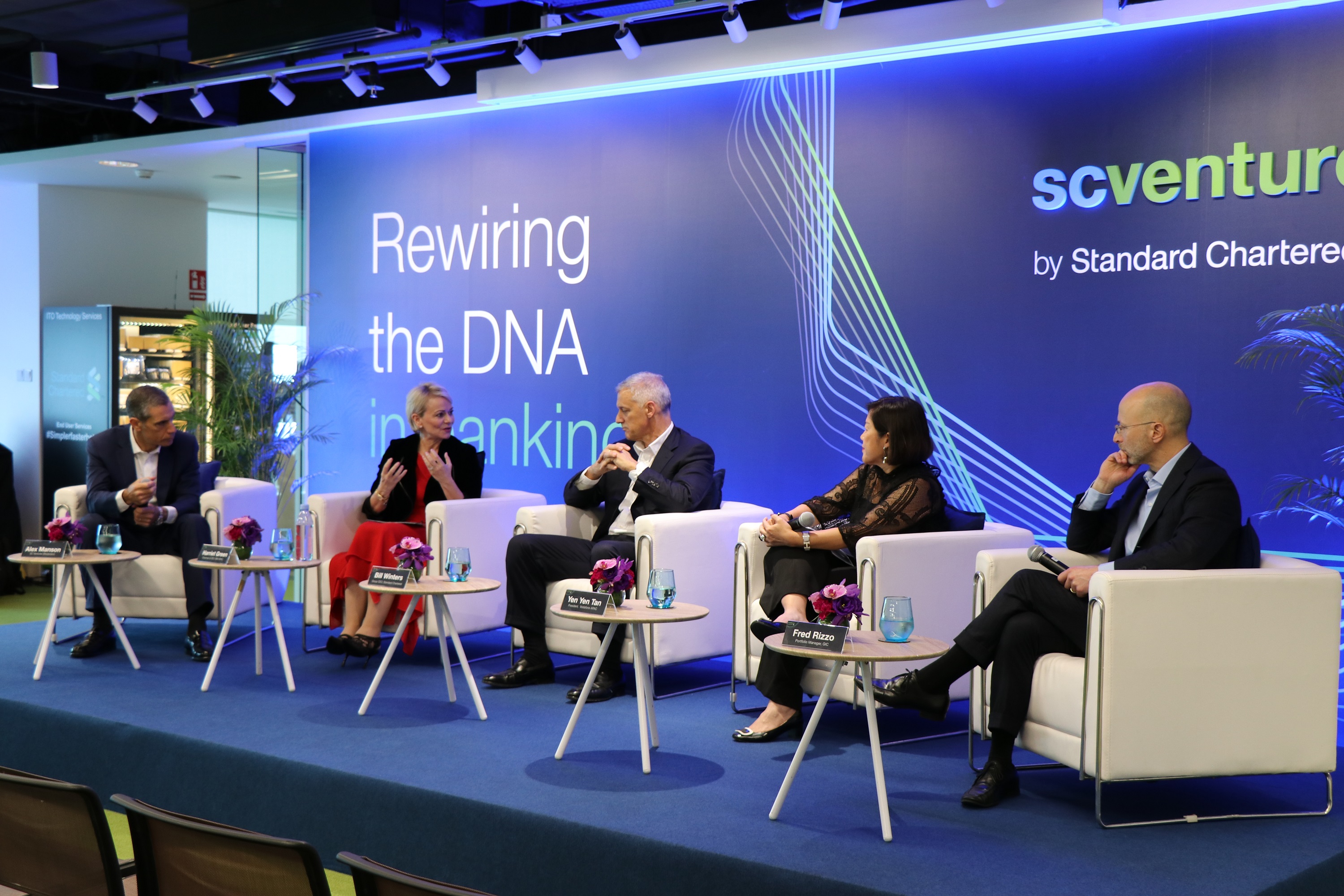 Singapore Fintech festival 2019

Can elephants dance?

An exclusive panel discussion with Standard Chartered, GIC, IBM and Vodafone on organisational transformation and digital disruption.
Innovate or stagnate; disrupt or be disrupted. These are just some headlines grabbing our attention as no industry is invulnerable from the impact of technology and the disruption it is bringing to businesses and communities globally.
As leaders and organisations look at ways to embrace this disruption and transform for the future, we took a closer look at how large organisations are preparing for this change, what are some of the key ingredients to successfully transform and what the future end state of banking and the broader ecosystem might look like.
Who says elephants can't dance
"Organisations that have been able to transform, I think have DNA stories to tell."
The reality is that corporations are big, they are established, and at times they get disrupted, so they have a hard time transforming themselves. However, large organisations like IBM that have been able to transform, not just once, twice or three times, have DNA stories to tell and learnings for every organisation.
According to Harriet Green, Chairman & CEO, IBM Asia Pacific, "Large corporations, have got some amazing elements that allow leap-frogging and transformation. The power of data, the relationships and the trust that comes with an ecosystem of experiences, being able to experiment and then scale, we are able to do extraordinary things, when you combine those together."
Making the elephants dance
Apart from banking, the other industry which is changing at an exponential speed, fuelled by technology and the evolving needs of their customers is Telecommunications. Faced with disruption and perhaps disrupting other businesses with their technology like 5G and the Internet of Things (IOT), "Vodafone is looking at what it means to be a telco, looking at services, new technologies, areas that uses our mobile connectivity, our fixed infrastructure, as the connection point and connection hub," said Yen Yen Tan, President APAC, Vodafone.
Emphasising the importance of partnerships in navigating change and disruption, Ms Tan highlighted that no one great company can do it all, which is why Vodafone strongly believes in partnerships, citing the successful M-Pesa solution, Africa's leading mobile money service, where "We bring the strength of connectivity and our partners bring the strength of application development and financial services," said Ms Tan.
While partnerships are increasingly essential, it is also important for organisations to develop skills that are necessary to manage those partnerships in the best possible way. Sharing his own experience with partnerships, Bill Winters, Group Chief Executive, Standard Chartered, recounts how they are a lot like a marriage.
"It feels great in the beginning and then you have to invest, and invest and invest. It ain't easy, but if you continue to invest in a partnership, you can make it work. And that requires a mindset shift, that it's not natural in big companies to have that willingness to invest in somebody who actually may be quite a bit smaller than you are. But has the experience that you need."
The future state
"The market always wants proof, it's the bottom line."
As we look forward to the future state of banking and the broader ecosystem and explore the existential question many large organisations are facing, it is clear that change and ultimately the benefits from change has to be for the greater good of society.
"This technology and this change cannot be just for a few. It has to be for many, otherwise it will not be sustainable for us, and for entire communities," said Ms Green.
Speaking from an investor's perspective on how markets reward large organisations that transform themselves, Fred Rizzo, Portfolio Manager, GIC, said, "We have to differentiate between the companies that are paying lip service and those that are actually changing and adjusting the business models.
The market always wants proof, it's the bottom line. And that usually comes in the form of either higher revenues, lower costs, or lighter capital."
Reflecting on the future state of banking and why the bank is currently disrupting some of its largest markets, Mr Winters said, "The obvious answer is that it's going to happen anyway. There are opportunities for us to focus disruption on the things that will add the most value to the clients that we seek to serve."
"The end state is going to be defined fundamentally by where customers can get convenience, and who they trust.," said Mr Winters.
The views above are from an exclusive panel discussion between Bill Winters, Group Chief Executive, Standard Chartered Bank, Harriet Green, Chairman & CEO, IBM Asia Pacific, Yen Yen Tan, President APAC, Vodafone and Fred Rizzo, Portfolio Manager, GIC, and moderated by Alex Manson, Global Head of SC Ventures, held in conjunction with the Singapore Fintech Festival 2019.