24-year-old Damaris had a dream – to become a football referee.
Despite facing the prejudices of a male-dominated profession, Damaris was able to boost her confidence and take to the football pitch thanks to Goal, our life-skills programme for girls and young women.
Damaris is one of 100 'Goal girls' to benefit from a Breaking the Barriers (BtB) project in Kenya that secures jobs and entrepreneurship opportunities in the sports sector.
The project is organised by Vijana Amani Pamoja (VAP) with funding from an Employability and Entrepreneurship (EE) Fund created by Standard Chartered and the international NGO, Women Win. The project gives Goal alumnae the skills and confidence to start their own business, or find work, in the sports sector.
When Damaris left school 
After leaving high school, Damaris had started playing football in a boys team. Her parents couldn't afford to send her to college, so she began unofficially refereeing matches in her community. Her coach encouraged her to join the BtB training in football officiating and refereeing, which ran in parallel with Goal sessions.
Damaris says the project has been life-changing: "Goal really helped me in terms of career choice. I learned a lot about myself and how to be money savvy. It boosted my self-esteem and confidence, helping me learn money management, and budgeting and saving skills to help my mum run her second-hand clothes business."
It is a male-dominated career but I'm optimistic about making it to the top
Having graduated, Damaris is now one of only a few female referees to be accredited by the Football Kenya Federation. She earns income every time she officiates league matches and organised tournaments, boosting her family's finances.
Filled with optimism, Damaris won't let gender barriers stop her pursuing her dream: "It is a male-dominated career but I'm optimistic about making it to the top," she said. "My instructor, also called Damaris, was the first female referee to officiate the Kenyan Premier League derby between two football giants – and she really inspires me."
The next step: Kenya's Premier League 
By 2024, Damaris hopes to be among the top female referees in Africa and to officiate high-profile tournaments and leagues like the Kenyan Premier League.
She said: "Players and other members of the community judge a female referee as weak and unable to handle a match. I wish to inspire more ladies to venture into refereeing and get the community to accept and appreciate women referees."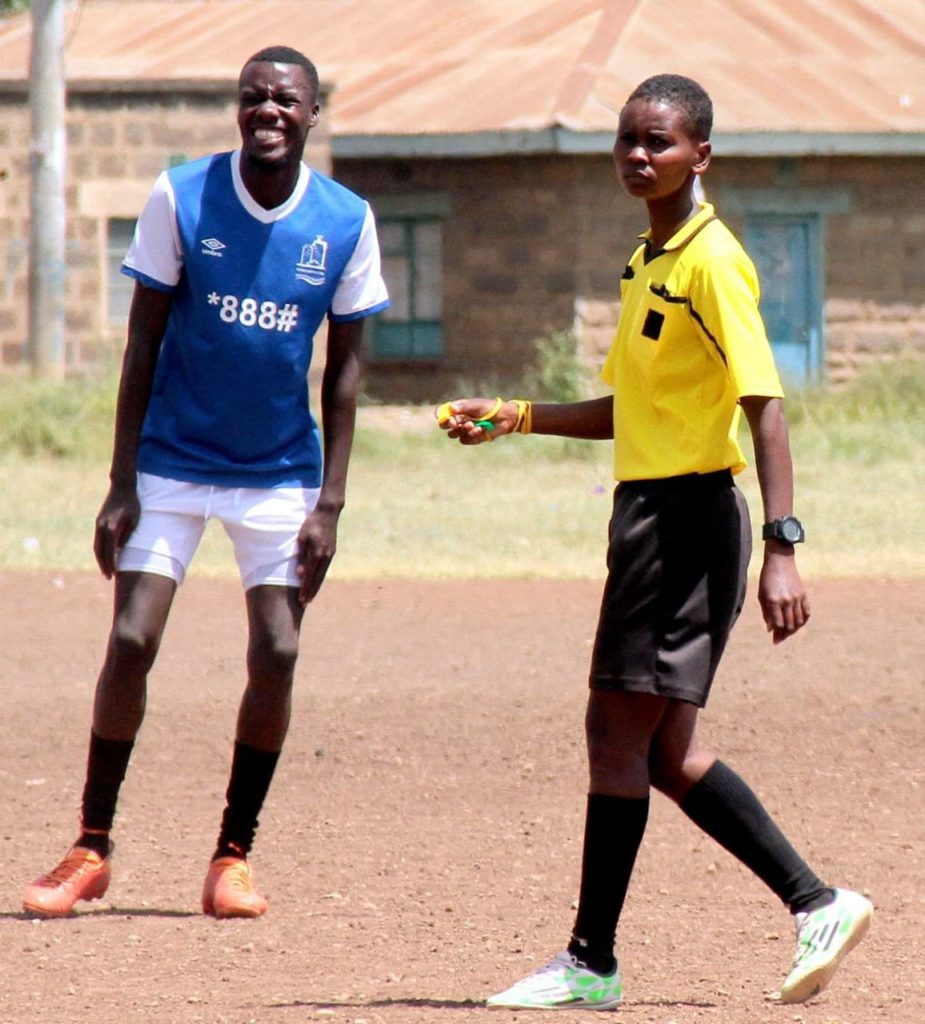 Meanwhile, Damaris' supportive family often watch her officiate at matches and her community is proud that she didn't listen to peer pressure and make the wrong decisions along the way.
Damaris explained: "Many girls of my age are engaged in drugs, alcohol and bad company. Goal has given me confidence and I'm bold enough to speak in front of a group of people and to mentor other young girls from my community. I feel like doing even more off the pitch to encourage them to realise what they are passionate about and bounce back."
What is Goal and Futuremakers? 
Goal is the flagship education programme within Futuremakers by Standard Chartered, our global initiative to tackle inequality. Futuremakers aims to empower the next generation to learn, earn and grow.