While the ongoing COVID-19 pandemic has devastated economies and livelihoods, it has also shown us the power of human resilience and our ability to unite in the face of great adversity.
Here are ways communities around the world have risen up to show care and support each other in this trying time.
1. Tackling the medical supplies shortage
The sudden outbreak of COVID-19 plunged the medical world into an unprecedented shortage of personal protective equipment (PPE). To support healthcare workers across the globe, some companies pivoted to help curb the problem and also enable themselves to stay afloat.
Carmakers such as Ford and General Motors have leveraged their manufacturing capabilities to make ventilators, which are essential for helping COVID-19 patients breathe. Meanwhile, a number of alcohol distilleries across the US are using their production lines to produce hand sanitiser instead.
Many like Vinda Household Paper have begun producing PPE in place of the usual goods they manufacture, while others such as Ultra Red Technologies fired up their 3D printers to produce face shields that protect medical workers helping those with the virus.
Countries and organisations have also shown support through donations, an effort in which the Bank has been directly involved. Standard Chartered South Korea donated 5,000 masks to a hospital in Daegu, the region of the country most devastated by COVID-19. We also partnered with the Asian Development Bank to help Sri Lanka source medical supplies.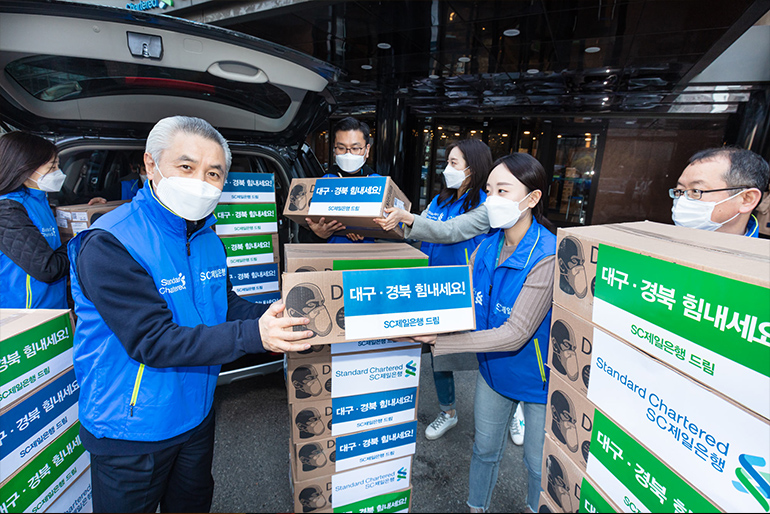 2. Helping the helpers
Frontliners are among those bearing the brunt of the pandemic. As these workers pull long shifts due to the increased strain on the healthcare system brought about by the virus, communities around the world have created initiatives to lighten their daily load.
In Poland, citizens are raising funds to provide free meals to frontliners, while restaurants are donating cooked meals and showcasing their efforts with the hashtag 'gastropomaga' (gastronomy is helping). Rwanda, meanwhile, is using robots to administer patient temperature checks, deliver medication and capture data to reduce the risk of infection among medical workers. Initiatives such as Project Parachute in the US have also been launched to provide frontline staff with free counselling to support their mental wellbeing.
Others have helped ensure that pandemic care doesn't get lost in translation. Sudesna Roy Chowdhury, a 24-year-old Singaporean, created a website that provides COVID-19 related Bengali translations as cases among the country's migrant worker community began to spike. On the other side of the world, bilingual nursing students in Texas helped translate the COVID-19 handbook into Spanish when they realised most of the medical material on the virus was only produced in English and Chinese.
3. Joining hands and sharing knowledge
The fight against the pandemic also saw countries and organisations communicate and co-operate with an openness that was inspiring. In the spirit of collaboration, Singapore allowed the software behind its TraceTogether contact tracing application to be freely available. Both Australia and Colombia based early versions of their own contact tracing apps on the software that Singapore shared.
The Czech Republic's version, eRouška, was also shared on open source. Developed by local volunteers to allow for contact tracing without infringing privacy, the app has since been adopted by the country's Ministry of Health.
The development of potential COVID-19 vaccines also saw long-time competitors forge unlikely alliances, most notably between pharmaceutical giants GlaxoSmithKline and Sanofi. In the UK, the University of Oxford's partnership with local pharma company AstraZeneca leveraged their respective strengths in research and manufacturing to enable a vaccine to be made at scale quickly, if human trials succeed.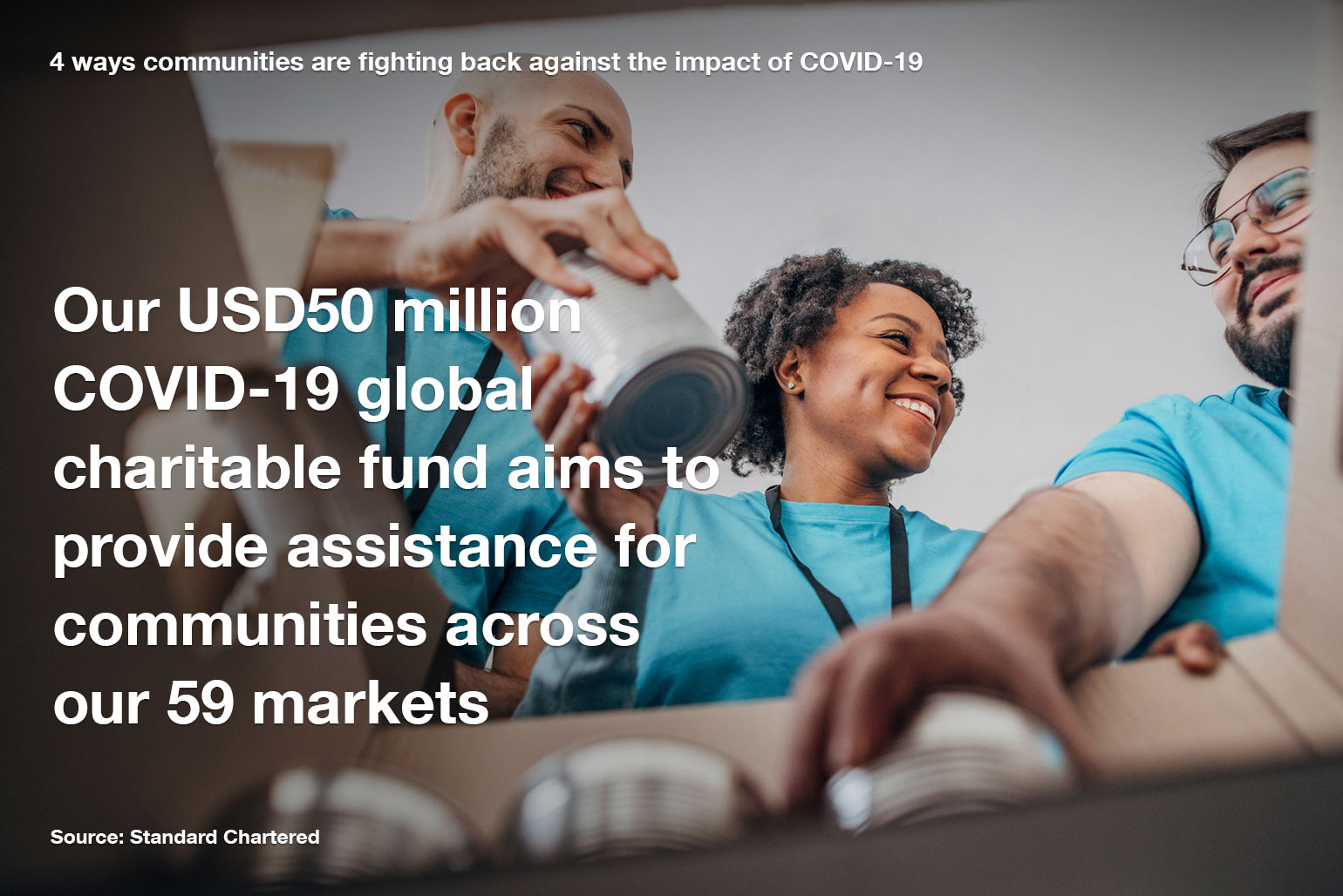 4. Caring for vulnerable communities
Our commitment to help fight the pandemic doesn't stop there. We've also established a COVID-19 Global Charitable Fund of USD50 million to provide short-term relief and longer-term assistance for communities across our 59 markets. Of this, USD5 million will be going to Red Cross and Red Crescent Societies to support 12 countries in Africa and Asia. This donation will enable provision of primary and secondary health care, communication of protection measures, provision of personal protection equipment (PPE) for staff and volunteers, and the distribution of food and care packages for those impacted by COVID-19.
While the pandemic has touched all our lives, vulnerable communities have felt its impact more significantly. As countries went into lockdown to contain the virus, the resulting economic slowdown has threatened the livelihood of the less privileged. In response, individuals and organisations started raising funds to help this segment of the community afford daily staples.
Ensuring children from these households have the equipment to complete home-based learning as schools took learning online presented another challenge. The SGD1 million earmarked for Singapore from our Global Charitable Fund aims to to help them continue their education. Our team in Hong Kong went the extra mile donating 400 laptops from its offices to help children from 200 low-income families.
As part of our promise to be Here for good, we also pledged USD5 million of our Global Charitable Fund to UNICEF, where it will help provide educational support for vulnerable children across Africa and South Asia. To grow our assistance fund and allow financial support to reach more of those who need it, our staff also instigated the Give One Day payroll initiative. Through it, employees were able to commit part of their salary as a donation towards the fund, with the Bank matching each dollar donated. 
Discover more about how we are helping our communities to thrive and survive during COVID-19