Investment deficits in infrastructure are said to be among the biggest impediments to economic growth, and in Asia's developing economies the problem is particularly acute. 
Asia is home to some of the fastest-growing economies in the world, yet large swathes of the region lack roads, railways and ports to connect them to the wider economy. According to the United Nations, Southeast Asia alone needs to spend USD110 billion a year on infrastructure through 2025 to maintain its current growth trajectory and tackle poverty. 
The Asian Development Bank (ADB) estimates that 400 million people live without electricity, 300 million without safe drinking water and 1.5 billion without basic sanitation facilities. 
It also forecast in a 2017 report that the Asia-Pacific region as a whole needs USD1.5 trillion of investment a year through 2030 in power, transport, telecoms, water and sanitation. Current average annual spending stands at a little more than half that amount. 
There are social imperatives and economic opportunities in addressing this shortfall, which also underpin the goals of the Belt and Road Initiative (BRI). The UN's projected rate of return on infrastructure investment is about 20 percent (i.e. every dollar spent can raise GDP by 20 cents). As Asian Infrastructure Investment Bank (AIIB) President Jin Liquin has said, "There is empirical evidence of a link between economic growth and infrastructure investment." 
Funding gap 
The region's governments have intensified their commitment to infrastructure in recent years. Growth in state spending on infrastructure between 2010 and the present has generally outpaced GDP expansion in most of Asia's major economies, which is essential in a region where public money accounts for more than 90 percent of project funding.  
Bloomberg Intelligence estimates that spending in Indonesia, Malaysia, the Philippines and Thailand will accelerate at an average annual real growth rate of at least 5 percent over the next decade. India increased its own infrastructure budget by more than USD15 billion to USD92 billion for 2018. China dwarfs the rest: The country spent approximately USD2 trillion on infrastructure in 2017, and though a relative slowdown is forecast for 2018, that figure is still expected to grow 12 percent. 
Over the past decade, infrastructure investment in Asia has been running at about 8 percent of GDP, split between public spending, private-sector investment, multilateral development banks (MDBs) and aid. That's well in excess of the average 3.8 percent of GDP estimated by a UN-commissioned report as required to support projected global growth rates.  
Yet severe gaps remain.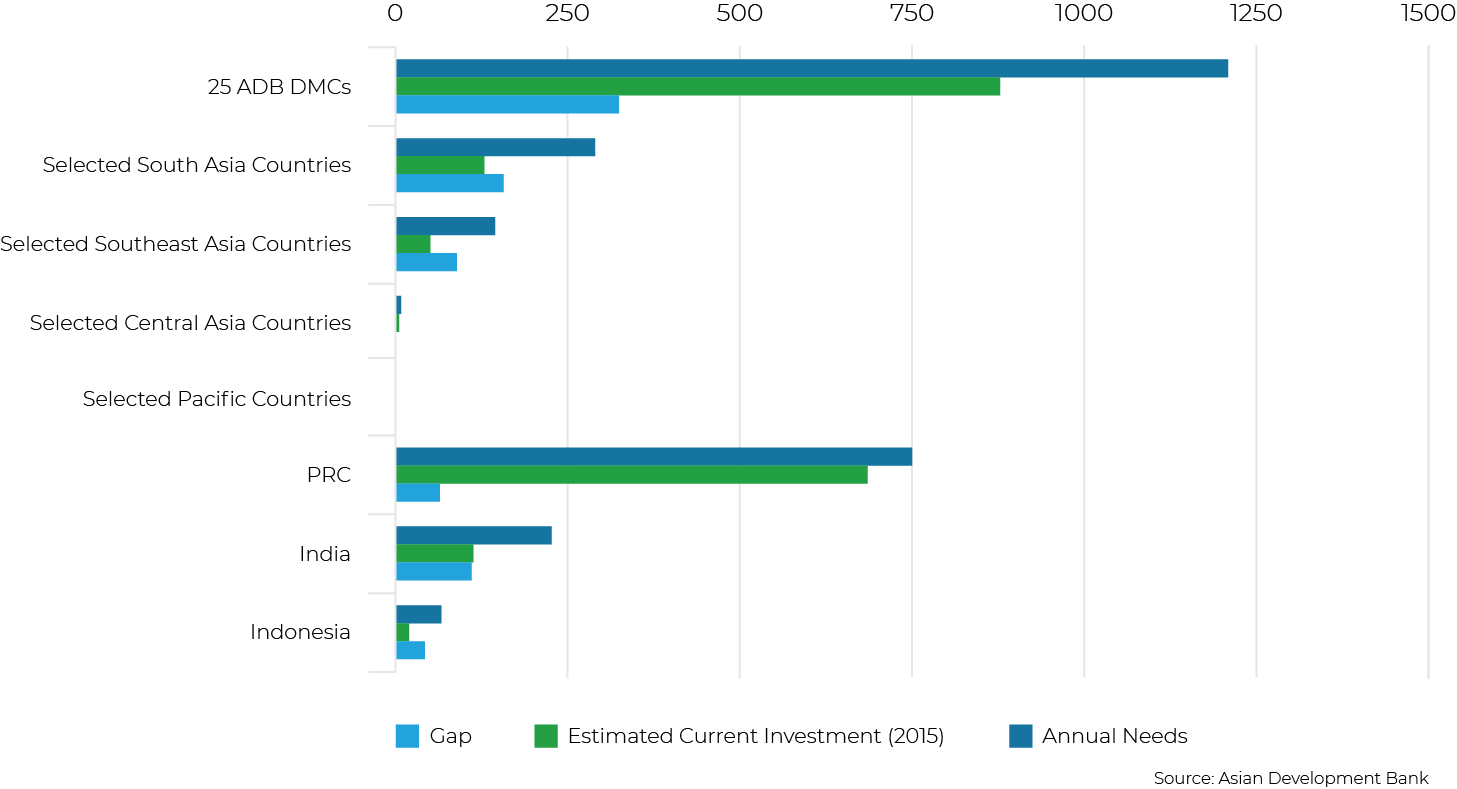 Infrastructure Investments and Gaps, 2016-2020: Baseline Estimates (in 2015 USD billion)
The space for productive investments in Asia's developing economies is enormous but financing remains a challenge. Public money is insufficient, much-vaunted public-private partnerships are in short supply, and private-sector capital is unlikely to come flooding to the rescue in sufficient quantities.    
The bottleneck 
There is a yawning gulf in Asia between investors looking for opportunities and the projects that need their money. Private-sector investment in infrastructure in Asia is equal to just 0.4 percent of GDP, a fraction of the 5.1 percent average for the public sector.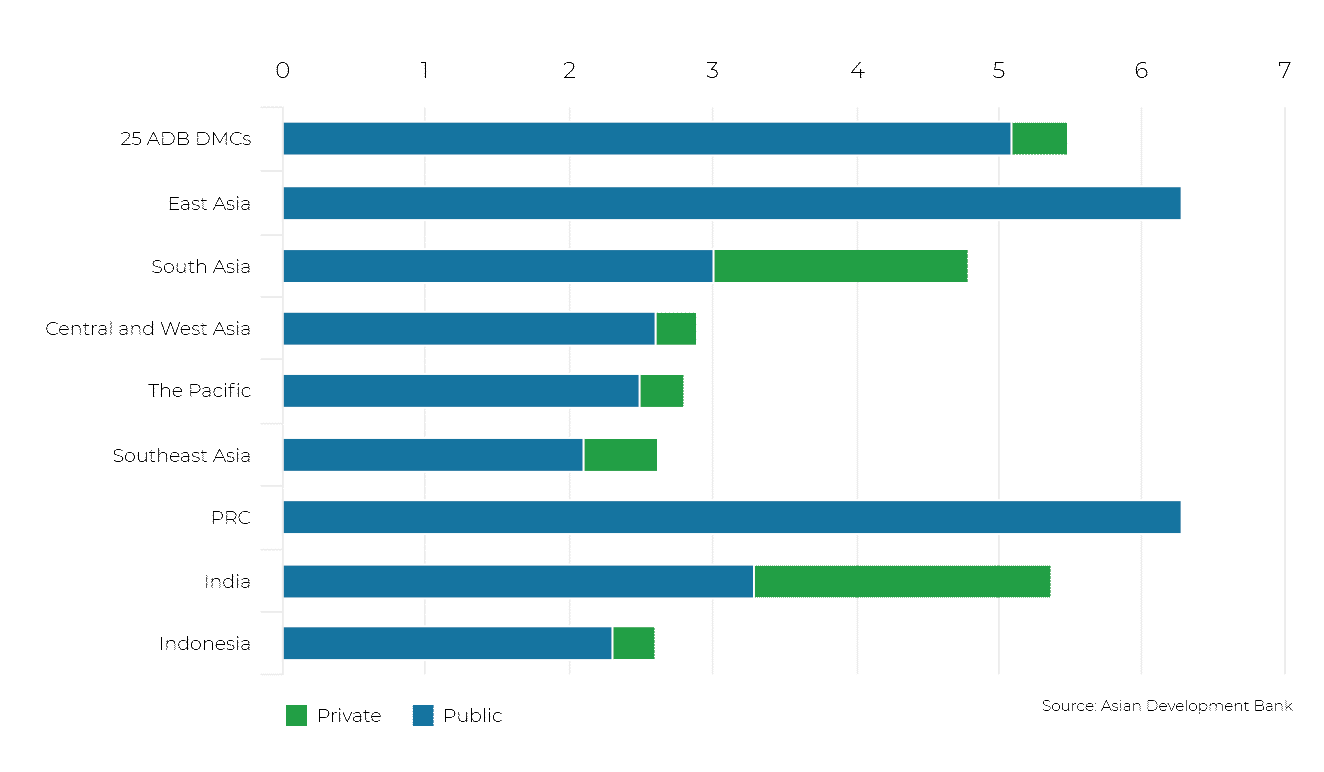 Public and Private-sector Infrastructure Investment, 2010-2014 (% of GDP)
A lack of investment-ready projects has been pinpointed as a major obstacle, for which there are multiple possible reasons: poor risk allocation, inadequate funding structures, regulatory uncertainties, unstable investment environments or politically-motivated project selections. 
Boiled down, private capital typically seeks out (or, in the case of many institutional investors, mandates) risk-adjusted, stable returns, and to date, emerging Asia has not been perceived as meeting stiff investment requirements, not helped by the fact that capital markets for Asian infrastructure assets remain relatively underdeveloped and illiquid.  
BRI has helped address this situation by mobilizing massive injections of Chinese state-backed capital that take on the heavier long-term financing risks of infrastructure buildouts. Those projects – ports, airports, railways – create opportunities for private capital to come in and provide the goods and services needed to keep them running.  
The BRI opportunity 
In a world of finite state funding and cautious private capital, the BRI creates an enormous opportunity to plug the gap. China has already been a major driver of the recent surge in infrastructure investment in Asia. Policy banks have been lending about USD40 billion a year to projects in Asia; the Silk Road Fund has invested about USD8 billion; and the AIIB has disbursed USD5.2 billion in loans for projects across the region. Most of these projects are being executed in cooperation with other MDBs. 
From dams in Iran, to railways in Laos and Mongolia, power plants in Bangladesh and Indonesia and ports in Pakistan and Sri Lanka, BRI is helping to forge the economic links that will propel the next stage of Asian economic growth 
This article was also published on Bloomberg.com.