With eyes wide open to the potential risks, more corporates than ever now also recognise the  potential benefits of participating in the Belt and Road (B&R). According to a survey of 166 corporate treasurers across Asia, commissioned by Standard Chartered in November 2018, the proportion of companies already involved in B&R projects grew from 17% to 27% over the previous 12 months, with a further 17% of respondents actively considering B&R projects.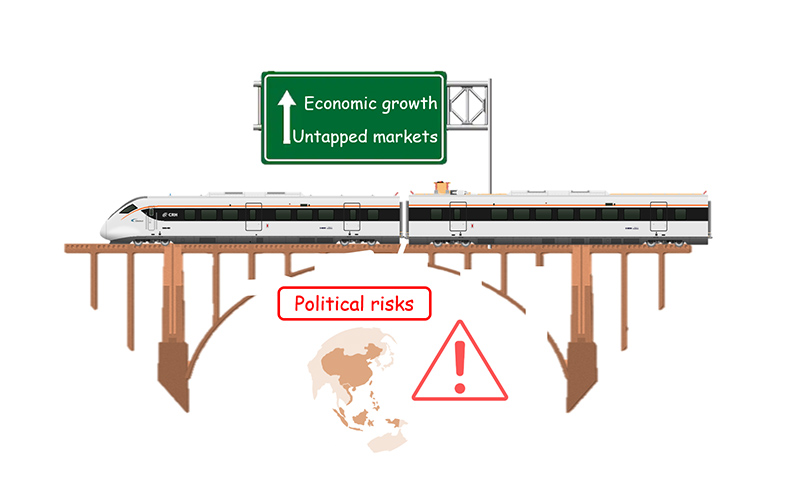 Under the B&R, China has - since 2013 - signed 171 cooperation documents with 29 international organisations and 123 countries, including developed and developing countries, according to China's National Development and Reform Commission in March 2019. Much of the B&R focus is centred on infrastructure projects including railways, roads, shipping, and aviation.1
But while the B&R is delivering infrastructure investments, it has also generated concerns, the main one being that participation might saddle countries with considerable debt. With at least seven countries having suspended, scaled back or terminated their involvement in Belt and Road projects, China is taking steps to address some of these concerns. In mid-April, Malaysia announced that it would be resuming the East Coast Rail Link at a smaller cost and scope following renegotiations with China, after having put the project on hold in January in a bid to narrow its budget deficit.2
Despite such concerns, corporate involvement in B&R is growing. The reason is simple: the promise of economic growth and untapped consumer markets is a tantalising proposition that corporates cannot afford to ignore. Two-thirds of companies that are already active in B&R projects see potential growth in the scheme and 41% expect to benefit from large untapped consumer markets.
One Chinese respondent from the aviation industry, describes how his company is benefitting from the B&R.
Winning more projects in East Africa, Middle East, Europe and Southeast Asia, I foresee that our company will perform better in 2019. We have participated in a couple of huge projects in emerging markets due to the promoting of the Belt and Road Initiative and the opening-up of the energy sector. In fact, some of the current development projects are estimated to cost two billion US dollars.
While the B&R projects have already delivered benefits to participating companies, political concerns remain acute. Indeed, four out of five (82%) respondents who are active or considering investment in the B&R named this as their overriding concern. One respondent from the electric utility sector was very vocal on this matter. "The political risks are quite common in these developing countries. For example, the new president doesn't support the policies issued by the former president. During the process of bidding activity, the government will change some conditions that they have set up before. Therefore, when we consider participating in some projects, we will first look at the political risks." 
Despite China's slowing economy and escalating trade tensions with the US, interest in the B&R is still gathering momentum. The B&R summit held in Beijing in April 2019 drew more than 30 world leaders including Giuseppe Conte, the prime minister of Italy, the first G7 country to take part in the initiative. At the same time, China is addressing international criticism of the B&R, such as the oft-raised concerns about sustainability and debt risks.
In his speech at the summit, President Xi Jinping said:
We strive to achieve clean, low-carbon sustainable development, especially the implementation of the UN 2030 Agenda for Sustainable Development.
Back to CCIB News and Views