A myriad of predictions about the future of the Belt and Road Initiative (BRI) continue to be debated, yet one thing is beyond dispute: BRI isn't going to disappear. 
The Communist Party enshrined BRI in the party charter in 2017, while the National People's Congress incorporated a reference to the goal of creating a "shared destiny of mankind" into its national constitution in April 2018. President Xi Jinping has also made the BRI a central pillar of his long-term foreign policy.

Beyond China, more multinational companies and multilateral institutions are committing support and resources to the initiative , in large part because the BRI is helping to fill longstanding infrastructure gaps in developing markets and unleash a new wave of opportunity and growth in those economies.
Just five years into the initiative, China's investments in the BRI and beyond have seen the country execute more than 100 trade and other economic agreements with 86 countries, creating 75 industrial and trade zones and 200,000 jobs in the process. China's foreign trade grew more than 14 per cent in 2017, boosted by commerce with BRI countries. 

Expectations of the BRI are also high. A 2018 survey of 26 central banks in BRI nations found that 92 per cent believed the initiative will boost economic growth by as much as 5.5 percentage points over the next five years. 
Infrastructure investments along BRI routes are accelerating growth and laying the foundations for economies to flourish in the long term, particularly in nations struggling with infrastructure deficits. As McKinsey noted in its 'Bridging Global Infrastructure Gaps' report in 2016, boosting infrastructure investment "in line with economic needs" could add between 0.6 to 1.3 per cent to global GDP through 2026 and create millions of jobs.
Looming challenges
Numerous challenges lie ahead. BRI projects have not been uniformly successful, at least in part because in the rush to fulfil President Xi's vision, many have been hastily approved without proper coordination.
"Some may never get built; others have been plagued by construction setbacks and spiraling costs," Bloomberg's editorial board noted in a November 2018 article. "Many are unlikely ever to make money."
There is lingering international scepticism, particularly from the West, but increasingly among certain BRI-corridor nations as well. Malaysia's new government has cancelled about USD22 billion worth of BRI projects citing debt concerns, Myanmar is scaling back BRI port developments, the Chinese takeover of Sri Lanka's Hambantota Port has fanned allegations of 'debt diplomacy', and the railway through Laos linking southern China to Thailand is becoming so expensive that it could equal a third of the host country's entire GDP, raising concerns about burden it could place on the Lao economy.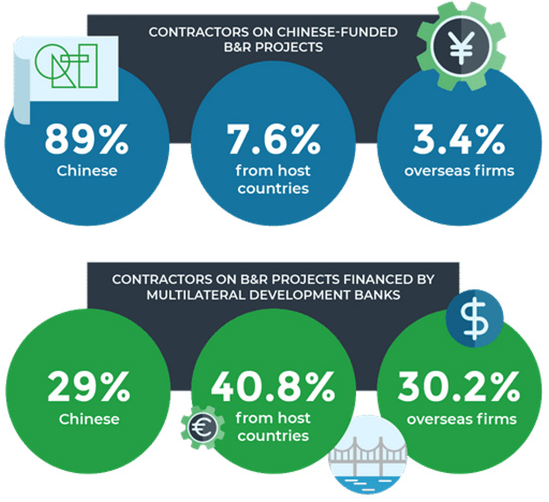 And despite growing international involvement, inclusiveness remains a common bugbear. According to Reconnecting Asia, an infrastructure-information project, 89 per cent of contractors on Chinese-funded BRI projects (which as of early 2019 made up the lion's share of projects) are Chinese, 7.6 per cent are from host countries, and only 3.4 per cent are overseas firms. In contrast, contractors on BRI projects financed by multilateral development banks are more mixed: 40.8 per cent local, 29 per cent Chinese and 30.2 per cent overseas.
Then there are the unpredictable trade hostilities between China and the US. Tariffs imposed on Chinese exports to the US have already contributed to the slowest quarterly Chinese economic growth in a decade. China may not feel the full impact of this until later in 2019, which could increase pressure on the government to focus on the domestic economy instead of international concerns. Meanwhile, the US has also formed its own development initiative with Australia and Japan with similar goals to the BRI.
"Protectionist rhetoric…is now more prominent in an increasingly polarised world," Standard Chartered wrote in a November 2018 report. "Populist nationalist agendas are driving the increases in trade-related tariffs as centre-left and centre-right politics move to the extremes."
If this inward-looking trend deepens, more BRI projects could face the increased scrutiny of host governments.
Overstated impact
While the implications of the trade war are in the spotlight, when considered in context the potential impact of trade tariffs on the BRI in particular is not necessarily bleak.
In the November 2018 report, Standard Chartered noted that trade between the United States and China accounts for between just 2 and 3 per cent of global trade flows. And markets vulnerable to the impact of US tariffs – such as Vietnam, Malaysia, Taiwan and South Korea – are conversely likely to be among the economies that would gain most from the associated export trade diversion, according to the Bank.
China itself may also react to a trade war by expanding its trading links with other countries, including those in Africa. China has signed MOUs on BRI projects with 37 African nations. In the first half of 2018, China's imports from Africa grew 30 per cent to USD56.8 billion and exports to the continent rose 10 per cent to USD59.3 billion.
The path forward
China is staking a lot of political and economic capital on the success of the BRI, and as a result is unlikely to let problems fester into outright failure. The growing challenges outlined above will require China to re-think its strategy and "better align itself with prevailing international standards in areas such as cross-border debt and procurement policies", Standard Chartered's chief economist David Mann wrote in a 2018 report on the annual International Monetary Fund and World Bank meetings.
Opening tenders to non-Chinese companies and employing more local workers could cut costs, build goodwill and deflect accusations of bias. Providing greater transparency, consulting civil-society groups, and carrying out better social and environmental assessments of projects might delay approvals, but might head off future problems.
"From now on, China should focus on the quality of the projects it's supporting rather than their scale," the Bloomberg editorial board wrote. "This shift will need to come from the top, starting with a push for state-owned banks to partner with international lenders and adhere to their standards."
At this point, as China begins to experience the trickle effect of US tariffs, it remains to be seen whether Beijing will respond by turning inward, or by pushing ahead with the internationalisation process. The latter would appear to be the more effective strategy. That way, China can not only quicken the pace at which it diversifies its own economic activities, but also maintain the momentum the BRI has built up over the past five years in reshaping the global supply chain and generating greater benefits to countries along its trade routes.
"The BRI needn't pose a threat and shouldn't be opposed on principle," the Bloomberg editorial board wrote. "Quite the opposite: If China's investment and expertise succeed in boosting development in poor or unstable regions, the US and other developed nations could benefit too."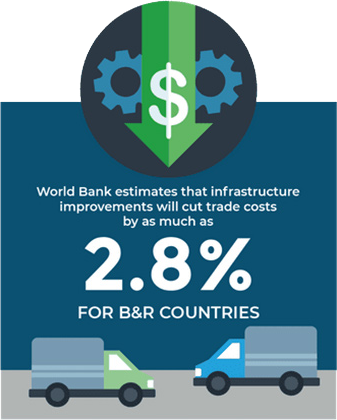 With world growth forecast by Standard Chartered to slow to 3.5 per cent in 2019 (from 3.8 per cent in 2018), the quantitative easing era likely to give way to a period of higher funding costs and risks looming from trade tensions to oil-price volatility, the global economy could be in need of momentum.
At its current pace, for example, the World Bank estimates that BRI infrastructure will cut shipping times for both BRI and non-BRI countries, with the largest gains in East and South Asia, and along the China-Central Asia-West Asia corridor. Those improvements will cut trade costs by as much as 2.8 per cent for BRI countries, the Bank forecasts.
Also, regions such as South-east Asia (ASEAN) stand on the cusp of reaping major benefits, triggered not just by the BRI but also by tariff-driven manufacturing relocations. The long-term potential rewards of BRI projects may ultimately outweigh the simmering disquiet among governments in countries like Malaysia and Thailand.
Nations from Italy and Germany to Laos and Djibouti have thrown their hats into the BRI ring, so the US-Australia-Japan development bloc is unlikely to be able to match the initiative for sheer scale or financial muscle. Besides, if the BRI continues to expand – even at a slower pace – the opposition of the US may become increasingly irrelevant as more and more nations reap the rewards of greater investment and expanding markets.
Going forward, increased transparency would help to demonstrate that China can align its strategy more closely with the interests of BRI partner countries, fostering short and long-term growth, Standard Chartered analysts wrote in a report. Despite China's challenges aligning with international standards in areas such as cross-border debt and procurement policies, Standard Chartered sees a strong, immediate impact from China's efforts to stimulate international cooperation and trade via BRI.
"Market focus on setbacks to the Belt and Road Initiative, especially on the issue of debt sustainability, increased [in 2018]," the report says. "However, we think the market is underappreciating the extent to which underlying trade and investment between China and its BRI partner countries has flourished since the launch of the BRI."
This article was also published on Bloomberg.com.