BY Shoaib Yaqub - HEAD OF FS&A, EUROPE & AMERICAS, CIB GB CORPORATES
It has been ten years since the last economic downturn and whispers around the next one are beginning to multiply. Several CFOs and treasurers have recently asked us for an independent opinion about whether they have optimal capital structure, taking into account both their strategic objectives and the possibility that a recession might soon put pressures on revenues and ability to service debt.
Certainly, there are signs of gathering storm clouds. Growth has been slowing globally, including in China and the Eurozone, two of the world's largest economies. The US has been resilient but there are fears that growth and profitability may have peaked. Meanwhile, geopolitical frictions are rising – from the US/China trade war, to Brexit or Iran.
Some sectors are far more sensitive to the economic cycle than others and this sensitivity can change over time due to, for example, disruption or changes in consumer tastes. So, judging the appropriate amount of debt in the capital structure is far from straightforward. In addition to the broad ebb and flow of economic activity, all corporates remain susceptible to specific "black swan" events such as oil shocks or financial crises, which can be difficult to anticipate. Finally, all of this needs to be considered within the context of a broader corporate strategy for example, are there plans to make an acquisition?
What is a suitable level of debt for one corporate may be entirely wrong for another, even in the same sector. In fact, our analysis of leading corporates' capital structures shows that many are far from optimal. Many corporates appear to have unintentionally arrived at a level of indebtedness. This at times is too high, perhaps post a major restructure, or too low due to, for example, an inability of find the right acquisition.
Recession risks and debt levels
Confirming fears of an imminent recession, a recent survey reported that more than two thirds (67%) of CFOs expect a downturn within the next 12-15 months1. This comes at a time when corporates globally  – from Asia, to Europe, to North America – arguably have more debt than ever. Using the S&P 500 or the FTSE 100 Index as an indicator, average corporate net debt has increased by about three times since the start of this century.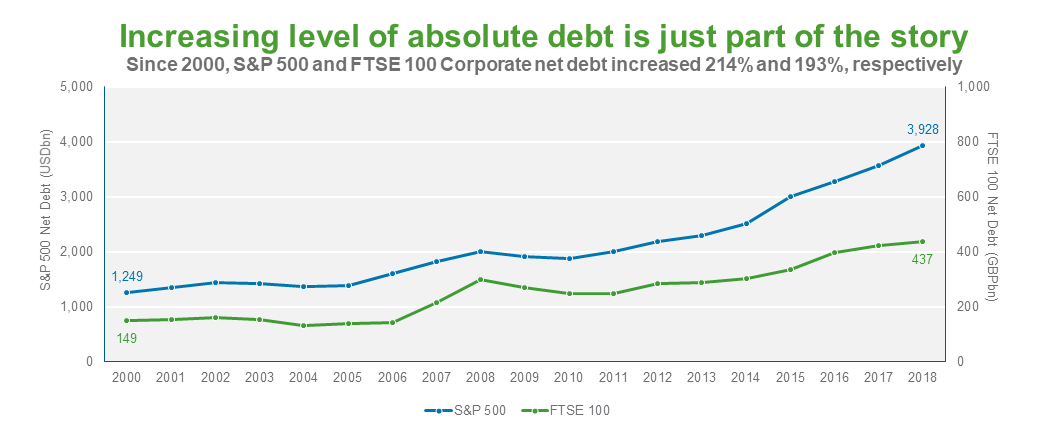 But this analysis of indebtedness is rather misleading. Comparing average net debt in the S&P 500 to net assets, reveals a marginal decline. Drilling down further into individual sectors shows more accurate indebtedness trends, such as an increase for healthcare and a decrease within natural resources2.
Even so, capital structures have changed substantially over the past 18 years. S&P 500 rated corporates within the broader BBB category2, the lowest level of investment grade, have expanded from 18% to 47% of the index. In the same period, corporates rated between AAA and A categories have reduced to 27% from 33%.
Varying economic cycles and impacts
What does this all mean? That corporates are right to increasingly question whether their capital structures are optimal and have sufficient flexibility to get through the next stage of the economic cycle. But also that the picture is complex and the impact of recession can vary from one company to the next. A tailored approach is required to get to the right answer.
Timing of economic cycles and their severity can also vary for each sector. For example, we estimate that consumer discretionary corporates within the S&P 500 index experienced a major downturn in 20093, when on average the profit dropped by almost 20%. This compares to the healthcare sector's maximum average profit drop of only 3%.
Standard Chartered's three-pronged approach
When it comes to evaluating the right amount of debt in capital structures, we propose a three-pronged approach that allows management to review their financial flexibility ahead of potential storms.
First of all, we look at the required financial flexibility. Does a corporate have enough capacity to cope with a downturn or a "black swan" event? What is a typical "black swan" event for your corporate? How much headroom is required, including any working capital requirements, to ensure ongoing operations of the business? Is the balance sheet equipped to digest expected acquisitions?
Secondly, we review how debt levels might affect the credit story of the business. This can be dictated by the rating agencies but more often than not is more complex.
Finally, we suggest a best practice review to look at situations with a similar underlying story. For example, do corporates in sectors such as technology or life sciences with a higher portion of intrinsic value in future growth (or higher proportion of intangible assets) retain greater balance sheet flexibility?
Regular review of capital structures can reveal surprising and useful results. While there are cases where corporates have too much debt, in most situations we have seen a build up of unnecessary liquidity. Normally this means that corporates have headroom to buy back shares or for inorganic growth.
As CFOs look at the growing likelihood of a recession, now is a timely moment to assess their capital structures. The results might be surprising.
1 Duke University CFO Global Business Outlook, North Americas (US and Canada) only
2 Based on SCB analysis of S&P 500 index excluding Real Estate and FIs
3 Based on SCB analysis of S&P 500 index between 2000 and 2018
Back to CCIB News & Views