China's political and business leaders have repeatedly stressed that economic viability is the central principle for funding Belt and Road Initiative (BRI) projects – and that the billions poured into the initiative are investment, not aid. This should be good news for international companies seeking business opportunities from the initiative.
But China's leaders also recognise that for BRI, as for the broader Chinese economy, debt is a major current threat to this viability. In April 2018, President Xi Jinping cited "preventing and defusing financial risks" as one of the "three tough battles" the Chinese economy faces. Indeed, the government by that point was already three years into a deleveraging campaign to put the brakes on a post-global financial crisis borrowing spree that has sent the country's debt levels soaring.
China's total debt quadrupled to USD28.2 trillion from the start of the global financial crisis to 2017. Nearly half of this was directly or indirectly related to real estate, according to a McKinsey study.
China is trying to shift its economy away from debt-fuelled expansion and toward higher-quality output, and part of that drive has involved cracking down on shadow banking and loose corporate lending conditions.
In doing so, China has extended its debt problem to the BRI. A study by the Financial Times in 2018 showed that the top 10 Chinese construction and engineering contractors active outside China are nearly four times more highly leveraged than the top 10 equivalent non-Chinese companies.
Measured by total debt to EBITDA (earnings before interest, tax, depreciation and amortisation), the top 10 Chinese contractors at the time of the study had an average multiple of 9.2-times, signaling extreme indebtedness, compared with 2.4-times for their non-Chinese counterparts.
The issue is far from exclusive to China. According to a McKinsey Global Institute study, non-financial corporate debt has grown by USD37 trillion to USD66 trillion worldwide in the decade since the global financial crisis – almost equal to the value of government debt – while the value of outstanding non-financial corporate bonds has almost tripled to USD11.7 trillion over the same period.
Default risks
Until now, private companies have borne the brunt of China's deleveraging process. In the first five months of 2018, six of the seven Chinese companies that experienced their first (onshore) bond default were privately owned, according to China Chengxin International Credit Rating Co. During that period, private companies raised about RMB275 billion (USD39.72 billion) from bond sales, of which RMB260 billion (USD37.56 billion) was used to repay debts.  
The pressure of deleveraging will naturally reduce available capital and increase sensitivity to risk, and since BRI routes pass through many countries deemed among the riskier economies by ratings agencies, this could have implications for the involvement of private capital in the initiative. 
So far, the majority of Chinese firms working on major BRI projects have been state-owned. These highly leveraged companies have until now had little to fear from bankruptcy, partly because the state protects them and partly because the BRI carries a political imperative that, to a degree, shields projects from business risk. 
Whilst state companies account for about 70 per cent of the value of all China's corporate debt, they have shouldered a disproportionately low risk. This has enabled the flow of capital into BRI projects to continue relatively unhindered.
Debt controls
However, things are changing. The Beijing government has ordered all 98 of the large corporations owned by the State-owned Assets Supervision & Administration Commission (SASAC) – a government holding company – to control their debt by bringing down their debt-to-asset ratios by 2 percentage points by 2020. This could result in increased scrutiny of the quality and debt-sustainability of overseas investment projects, especially in higher-risk BRI countries.  
Does this mean the flow of investment into BRI projects will slow?  
Analysis of six major Chinese contractors shows that liability-to-asset ratios have broadly declined since 2014 (see chart), suggesting the deleveraging process is succeeding without inflicting too much damage on outward investment.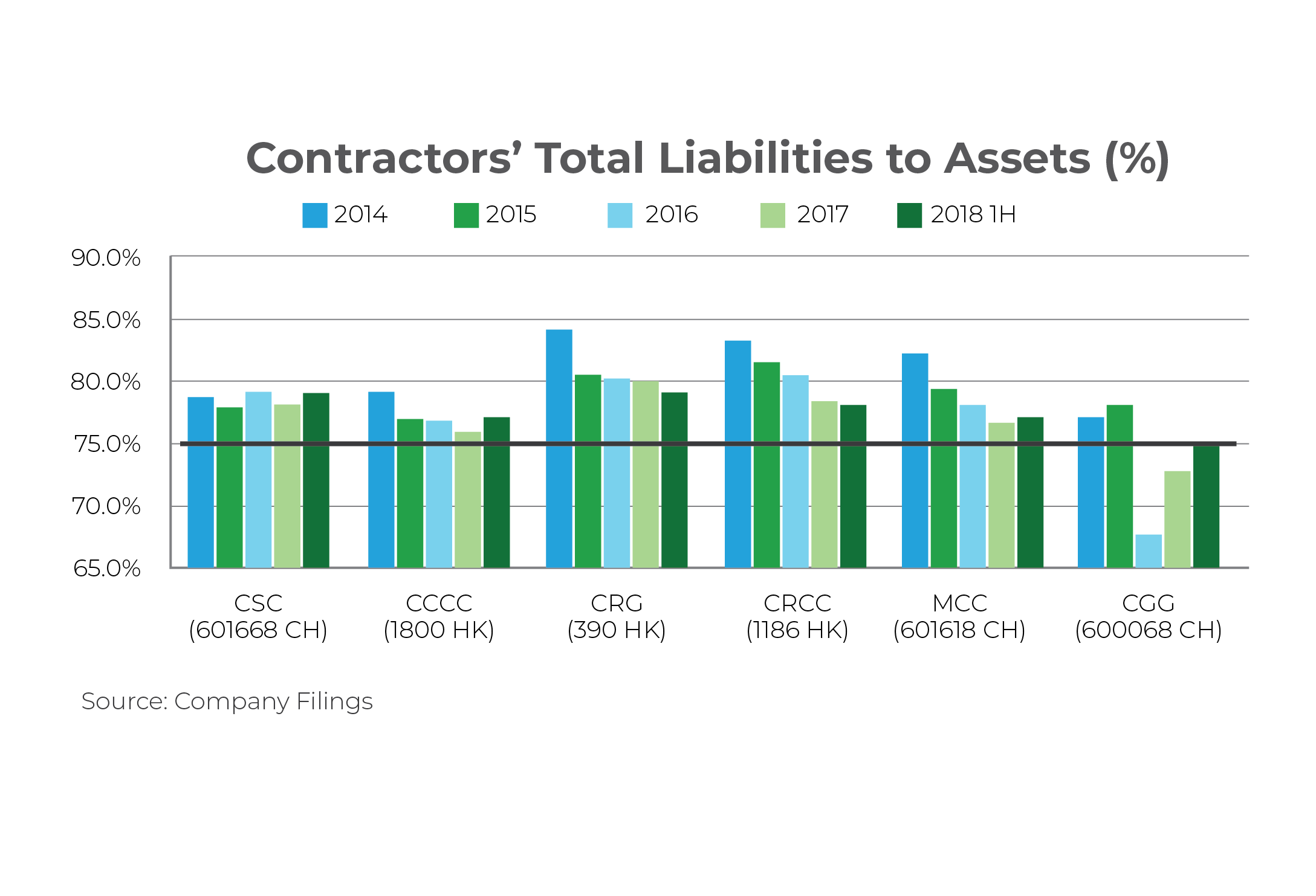 Some analysts suggest the risk of Chinese debt has been overstated. The Chinese government has more than sufficient capacity to ride out a debt crisis. While corporate debt levels have spiraled, government debt-to-GDP level is at 47.6 per cent in 2017, is low compared with many Western nations including the US (where the level is 105 per cent).
As in the case of China's capital controls, a slowdown in the flow of state-backed financing to an initiative on which China has staked so much political capital could represent an opportunity to increase the role of international finance in BRI.
The way forward
China's resources, though enormous, are still finite, making the involvement of international banks and financial institutions inevitable.
The rapid increase in the global volume of corporate bonds, for instance, may represent a positive development. About 17 per cent all the debt held by European companies is allocated to bond-financing, and 11 per cent in China, compared with more than 30 per cent in the US. This indicates that even though corporate debt levels appear high, the market still has a great deal of room to grow. And if large corporations continue favouring bonds over loans, then banks may be forced to shift the focus of their loan business to small and medium enterprises, which will stimulate economic activity.
Accelerating multilateralisation of the BRI could be another positive consequence of the debt issue. As deleveraging forces Beijing to tightens rules on outbound investment, then a greater share of BRI financing will likely be taken up by both multilateral bodies like the World Bank and Asian Infrastructure Investment Bank, and international financial institutions – all of which are bound by a common set of practices concerning debt sustainability.
Much will depend on how rapidly China adopts these common practices in its bilateral activities, but as more and more multilateral BRI financing is governed by these standards, more international capital will be drawn to the initiative.
As the finance ministers of 27 countries stated in their 'Guiding Principles on Financing the Development of the Belt and Road', projects under the initiative will need to "diversify long-term financing sources" to meet the goal of creating "a transparent, friendly, non-discriminatory and predictable financing environment".
This article was also published on Bloomberg.com.
Read more on the Belt and Road Initiative