With a late start in the 1980's, China's capital market has been experiencing rapid economic growth in the context of the country's economic reforms and market liberalisation. Like many other industries and components of the economy, China's capital market also has multi-layered attributes with, for example, advanced infrastructure with scale and efficiency, underdeveloped derivative market, inadequately diversified asset management products, high direct participation of retailing investors, strong regulation from various regulators and inconsistent development across segments and industries.
In 1992, China started to open up its capital market to foreign investment through B Shares. At present, the major inbound channels include the Qualified Foreign Institutional Investor (QFII) programme, the China Interbank Bond Market (CIBM) and northbound Connect schemes for Stocks and Bonds. The Qualified Domestic Institutional Investor (QDII) programme remains the major outbound channel for local institutional investors, while the southbound Stock Connect is also developing well.
Further reforms and opening up is the ongoing direction set by the country's top leadership. The regulators are enforcing a series of rules to standardise the operations of the market players to be aligned with international standards, e.g. the new accounting rules, the new asset management rules, the establishment of the Sci-Tech Innovation Board. On the other hand, more measures are being taken to attract participation of foreign investors by relaxing cross-border fund transfers, simplifying entry requirements, streamlining the application process, dispelling tax ambiguities, expanding the investment scope, and allowing for Wholly Foreign-Owned Enterprise (WFOE) asset management business.
China's market in numbers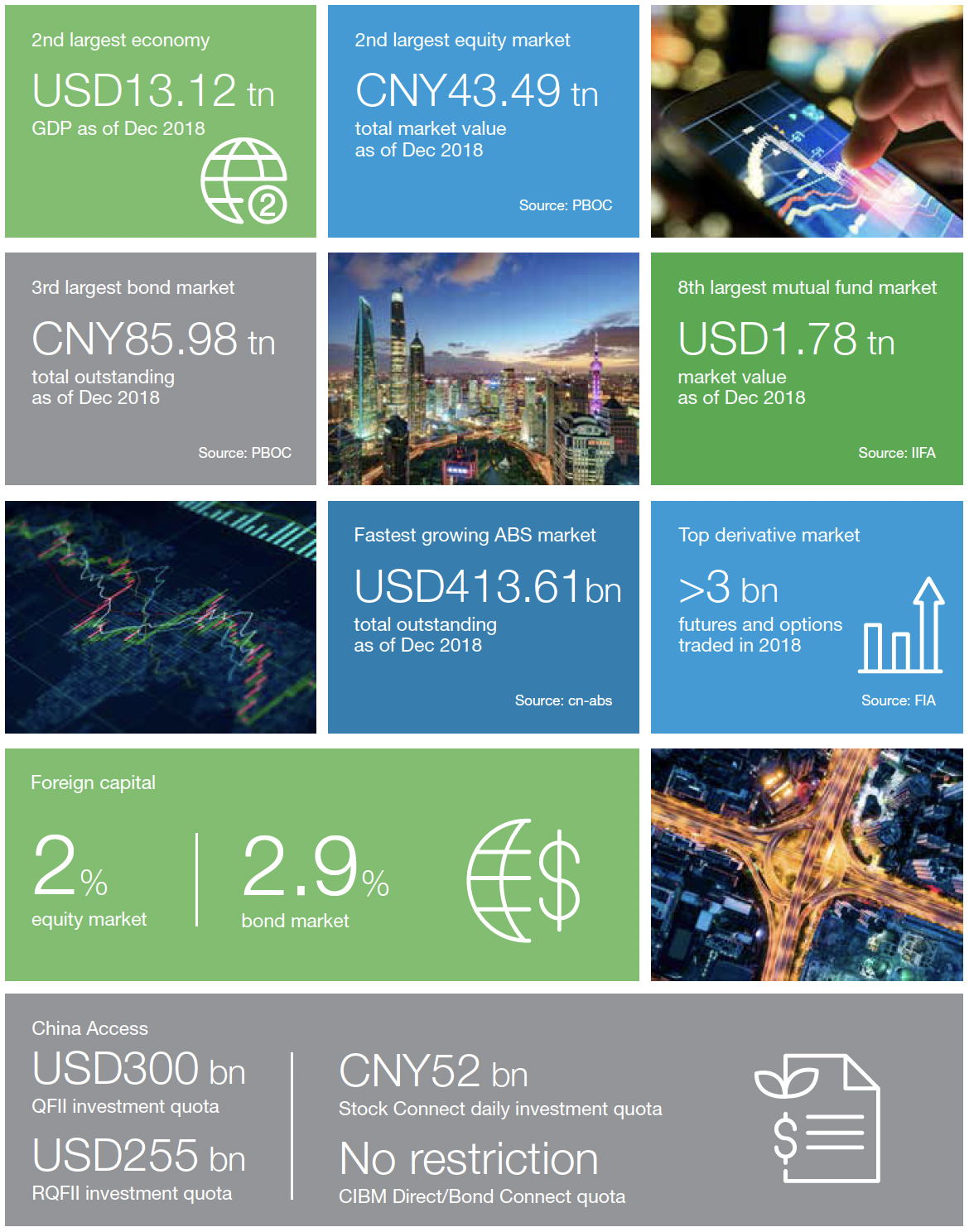 Our view – current highs and lows
Highs:
The investment environment will be further improved by a series of regulations implemented to instil discipline in participants' behaviour, mitigate risks, synchronise standards, and improve transparency.
Index inclusion of China's equities and bonds proves there is wide recognition of China's capital market by overseas institutional investors. In respect of equities, three major global equity indices (MSCI, FTSE and S&P Dow Jones) will start to include A-shares or increase weighting of A-shares in 2019. The expected passive inflow will be around USD21 billion (data source: SC research). With respect to bonds, the Bloomberg-Barclays' Global Aggregate bond index (Global Agg) officially started the 20-month inclusion of China onshore government bonds (CGBs) and policy financial bonds (PFBs) on 1 April 2019. The expected passive inflows will reach to be around USD120 billion. The total expected inflow for both equity and bond markets is set to inject new vitality into China's capital market.
Further relaxation of foreign investment in financial sector and capital market has been announced in succession. In August 2018, the China Securities Regulatory Commission (CSRC) issued the Administrative Measures for Foreign-invested Futures Companies; this was understood as a breakthrough for the opening of China's futures market. In January 2019, the regulator in China doubled its QFII quota and further deregulated its capital market for overseas investors to expand investment in China. Most recently in March 2019, China's congress passed a massive revamp of its Foreign Investment Law to put foreign companies that invest in China on an equal footing with local firms.
Lows:
The continuous impact and uncertainty created by the China-US trade tension is casting a shadow on China's economic growth as well as foreign capital access. China's economy will suffer in the short term as a result of this. However, from a long-term perspective, the conflict will push China to face and remedy its shorts in economic structure which could lead to a further boost for China.
USD-CNY/CNH currency fluctuation is influenced by the China-US trade tensions as well. China has shown clear signals that it has a firm stance to keep USD-CNY under 7.0 in the foreseeable future. The People's Bank of China bill issuance is one of the easiest ways to define CNY at a relatively low cost. The previous three issuances were viewed as some of the most powerful tools to stabilise FX expectations. In order to protect the interest of investors, China has relaxed FX regulation, which allows investors to utilise FX derivatives onshore to mitigate FX loss.
Supporting clients in China
Even in the context of the trade war, China remains too big a prospective market to be overlooked or ignored. Currently, it is more important than ever for interested foreign investors to access the Chinese market with the support from viable partners who speak a common international language and have a proven track record in the Chinese market.
From the custody of B shares as early as in 1992, Standard Chartered has been among the first select batch of foreign banks that provided Securities Services in each cross-border scheme as it was opened up by the local regulators. The Bank has also forged unique competitive edges in QDII with above 60% market share in trust companies and 15% in insurance sector. In October 2018, Standard Chartered was the first foreign bank granted a local fund custody license and remains the only fully licensed foreign custodian in China.
This article was also published in "The Custodian, Issue 6". To read the full issue, click here.
Back to CCIB News and Views