Energising Clean Energy
The Belt and Road (B&R) initiative has the potential to foster a revolution in the development of green energy across Asia, Africa and the Middle East.
According to Fitch Solutions, power projects with a combined 110 gigawatts of generating capacity will be developed as part of the B&R initiative. With that kind of scale, China recognises that if green power is not incorporated into the initiative it would unleash massive additional carbon emissions and undermine the country's commitment to reducing greenhouse gases.
B&R policy documents specify the use of green energy and environmentally sustainable practices. In its May 2017 'Guidance on Promoting Green Belt and Road', China's government outlined how it would incorporate resource efficiency and what it calls 'eco-environment protection' into B&R projects, with a five-year target for building a green support system and 10-year target for implementing projects.
Within that document, China says it will strengthen the communication of its environmental protection policy and "boost green infrastructure and prioritise environment quality."
Concrete Steps
China has made firm moves to implement this vision, starting with the most crucial element; financing. ICBC launched its first green bond issuance on the Luxembourg Stock Exchange in October 2017, raising USD2.1 billion for low-carbon and renewable energy B&R projects. ICBC followed that up with a similar USD1.58 billion green-bond issuance on the London Stock Exchange in June 2018.
Non-state banks have followed suit. The Asian Infrastructure Investment Bank (AIIB) is financing the development of clean-energy projects throughout the B&R. In 2017, the AIIB backed power-transmission projects in the Indian states of Andhra Pradesh and Tamil Nadu that include 'smart grid' enhancements to improve overall efficiency. The bank also supported the rehabilitation of a hydropower plant in Tajikistan in the same year.
In 2018, the AIIB bankrolled a natural gas-fired power plant in Bangladesh and the expansion of a natural gas storage site in Turkey. Proposed projects being looked at by the AIIB include a 280-megawatt hydropower project in Georgia as well as a power-transmission project in Tashkent, Uzbekistan and the upgrading of the power-transmission system in Nepal.
A more international example of clean-energy funding is for an unfolding development of a 700MW CSP (concentrated solar power) project in Dubai. This project – the fourth phase of the Mohamed bin Rashid Solar Park, the largest single-site concentrated solar power plant in the world– is a joint venture between Silk Road Fund, Acwa Power and the DEWA (Dubai Electricity and Water Authority). The engineering, procurement and construction for the project is being carried out by Shanghai Electric Generation Group. The project is expected to deliver electricity at a levelised tariff of USD7.30 cents/KWh with 24-hour storage; allowing the project to dispatch competitive electricity around the clock. The funding process is still being finalised, however, it notably includes significant international involvement – with Standard Chartered acting as the lead documentation-bank – along with ICBC as the mandated lead arranger.
China's two unilateral development funding banks – the China Development Bank (CDB) and the China Export-Import Bank (Ex-Im) – have also been active in the clean energy arena. In 2017, the CDB and Ex-Im Bank loaned USD14.3 billion to B&R projects, according to data from Boston University's Global Development Policy Center. Of that amount, USD2 billion was allocated to hydropower projects and USD2.3 billion to natural gas and liquefied natural gas projects.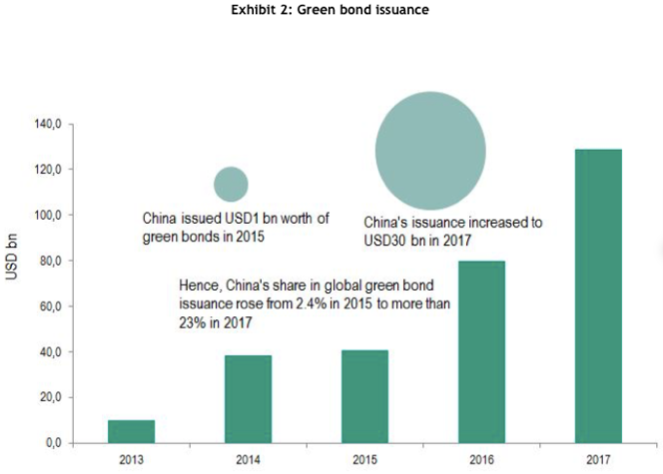 Other financing options may become increasingly available as the domination of Chinese lending that characterised the early years of the initiative diminishes. According to a May 2018 report by international law firm White & Case, the asset-heavy nature of the B&R means more traditional financing options such as asset-backed securities and collateralised loan obligations could be employed, especially on smaller energy projects where bond issuance might not be feasible. Islamic financing tools, which are bonds backed by assets, would also be suitable for B&R projects, the report said.
Surging Demand
B&R arrives at a crucial time, when many of the regions along B&R routes are poised to see enormous leaps in energy demand.
According to Bloomberg New Energy Finance research, between 2018 and 2050 there will be USD11.5 trillion of investment in power-generation, and 73 per cent of that will be in wind and solar. As a result, by 2050 wind and solar will account for 50 per cent of all generating capacity. Already, 79 per cent of new generating capacity is renewable.
Middle East energy consumption will jump by 54 per cent through to 2040, according BP Plc's 2018 outlook. By that point, non-fossil fuels will make up 8 per cent of the energy produced in the region.
Africa will also more than double its energy consumption, with renewable energy's share climbing by 13 per cent a year through to 2040. India's energy demand, meanwhile, will more than double through 2040, with renewable sources providing 23 per cent of the country's energy, BP said.
South-east Asia's energy demand is projected to increase by nearly two-thirds by 2040, the International Energy Agency said in its latest forecast for the region. Renewable power will make up 40 per cent of the installed power capacity in the area by then, the IEA said.
To be sure, this progress will not come without challenges. Hydropower projects, considered among the 'greenest' generators of energy, have been criticised for the damage and displacement that can occur when the lakes behind dams are filled. Myanmar conceded to pressure from local citizens near the Myitsone Dam and ordered a halt to the project in 2011. Concerns about the negative effects of hydroelectric projects in Southeast Asia were raised further by the collapse of the Xe-Namnoy dam in Laos in 2018.
These concerns may engender a shift away from such expensive, large-scale projects. As prices of wind and solar power continue to drop, the decision to install clean-energy systems is increasingly becoming a simple economic one.
There are countless opportunities for B&R to expand the green footprint across Africa, South Asia, South-east Asia and the Middle East. Already, the B&R initiative has helped to seed renewable energy projects across these regions.
In Kenya, China's Jiangxi Corporation, with funding from the Ex-Im Bank, has built a 55-megawatt (MW) solar facility near the city of Garissa. Neighboring Ethiopia will host a 120-MW wind farm at Aysha, built by Dongfang Electric Corporation.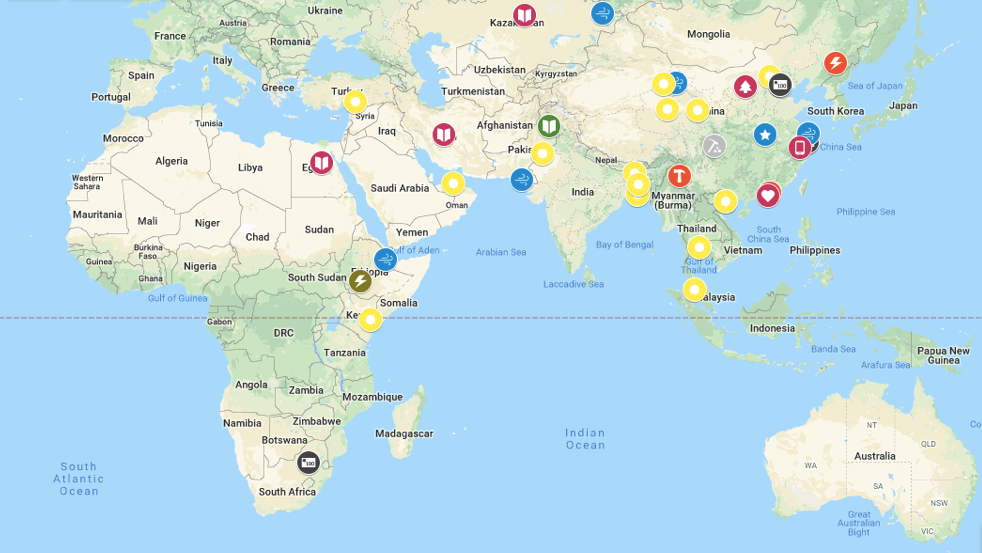 China's Jinko Solar, along with Japan's Marubeni Corporation, are building the world's largest solar power facility in Abu Dhabi. The site will generate more than 1 gigawatt of power and is expecting to start up by the end of 2018.
In Pakistan, projects include the Quaid-I-Azam solar park and the Hydro-China Daewoo Wind Farm, while in Thailand, China's Yingli Solar has joined with a local manufacturer to build a plant capable of producing 300 MW a year of solar-panel capacity. That's in addition to solar factories in Malaysia (JA Solar) and Vietnam (Trina Solar) designed to feed South-east Asian demand.
With clear policy directives to foster low-carbon and renewable energy, and the financial resources for these projects becoming more readily available, B&R is helping to lead countries towards a more carbon-neutral future.
This article was also published on Bloomberg.com.