Capital Flight Risk
The Belt and Road (B&R) initiative was founded on the idea that huge quantities of investment will supercharge economic growth. So when China introduced domestic capital controls in 2016, concerns were inevitably expressed about their impact on outbound investment in B&R projects. Would the controls choke the flow of money into the B&R – or might this open up alternative avenues of international funding?
The impact of the controls was immediate; in shoring up the country's reserves, easing downward pressure on the renminbi, and slowing capital outflows. In 2017, outbound direct investment fell for the first time since 2009. Non-financial overseas investments plunged 29.4 per cent to USD120 billion and the renminbi strengthened almost 7 per cent through the year. Overseas direct investment in real estate, meanwhile, fell 82 per cent.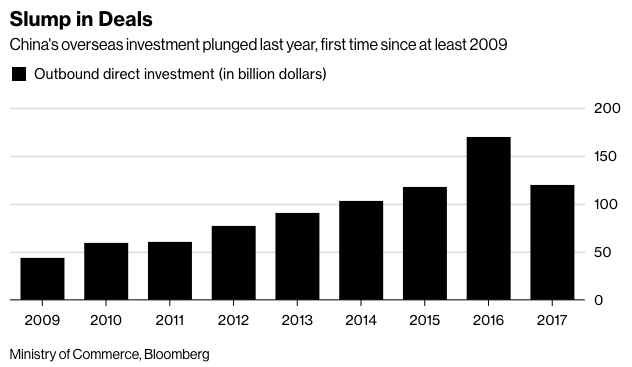 For the B&R, a key aim of which is to boost international financial flows and widen use of the renminbi, tightening offshore investment seemed counter-intuitive.
China sought to clarify the policy by compartmentalising capital outflows into 'desirable' and 'undesirable' categories. Investments the government described as 'irrational' – such as gambling, real estate, entertainments and sports – were either banned or restricted. Investments deemed to fall under the Belt and Road – typically in sectors such as infrastructure, hi-tech and resources – were to continue unfettered. The same applied to development loans from sources like the China Construction Bank and China Export Import Bank.
Slowing Investment
While in theory that demarcation seemed simple, the reality has proved more complex. Chinese overseas direct investments in B&R countries dropped 13.7 per cent in the first three quarters of 2017. And, in the first half of 2018, B&R investments declined further, dropping 15 per cent year-on-year to USD7.7 billion.
"The major problem facing the Belt and Road initiative is the flow of capital," CK Asset Holdings director Justin Chiu told the MIPIM Asia Summit property conference in Hong Kong at the end of 2017. "Whether there is free flow of capital into the country and whether you can repatriate your capital. These are major issues."
Those issues are the product of an inherent tension between the goals of the B&R and China's more immediate imperative – to reduce the financial risks of its outbound investment amid concerns about high project costs and capital flight. Part of that risk-reduction strategy involves guarding against the possibility that companies might use the B&R label as a means to circumvent capital controls, which has increased scrutiny on projects, slowed the approval process and hence lowered investment.
New Opportunities
But instead of throwing up roadblocks along the B&R, does this instead present an opportunity to accelerate the involvement of overseas capital in the initiative?
The process, in fact, is under way. In April, for example, Bank of China issued corporate bonds to fund B&R projects in US dollars, euro, Australian dollars and New Zealand dollars to encourage foreign capital. In the same month, ICBC opened an Asia-Pacific financial cooperation centre to help increase overseas financing for B&R investments. A month earlier, one US asset manager was granted permission by China to create a B&R bond fund.
Major international banks are increasing their involvement in the B&R. Standard Chartered was involved in more than 50 B&R projects in 2017, and in January 2018 signed an MOU with China Development Bank to provide at least USD20 billion worth of financing to facilitate B&R trade and investment projects by 2020.
From Singapore to Japan to the US, other banks have also signed partnership agreements with Chinese financial institutions to ramp up their involvement in the B&R. For all major financial institutions, participation in the B&R should also stand them in good stead when Beijing fulfils its promise to ease foreign ownership restrictions on brokerages and asset managers operating inside China.
Incrementally, B&R is creating openings for international capital flows. By 2030, it's estimated that at least half of all B&R projects will be funded by private capital, multilateral development banks and overseas governments.
For B&R, Chinese companies seeking greater integration with overseas capital represents a natural progression for the initiative, not a crisis response.
After all, financial integration is already enshrined in the B&R vision. In 2015, early framework documents laid out aims for greater 'economic policy coordination' and improved regional systems of financing, investment, currency stability and credit ratings in Asia.
And 2017's 'Guiding Principles on Financing the Development of the Belt and Road' called for the "orderly opening-up of local and regional financial markets" and encouraged "steady expansion of market access of banking, insurance and securities sectors".
The process will certainly be beset by regulatory challenges, the vagaries of markets and the ebb and flow of policy – but B&R has created new markets, new financial instruments, and new vehicles for international investment. It could also generate a new wave of financial integration; the momentum of which is difficult to resist.
As President Xi Jinping said in his opening speech to the 2017 Belt and Road Forum: "Finance is the lifeblood of modern economy. Only when the blood circulates smoothly can one grow."
This article was also published on Bloomberg.com.