In seeking new ways to leverage technology, develop products, access markets and serve customers, the financial industry is also rethinking its approach to recruiting, retaining and promoting women.
Bill Winters, Standard Chartered's Group Chief Executive Officer, has said of gender diversity: "We're in a war for customers, a war for service, a war for talent all the time. How could we possibly win if we're limiting our pool of talent to half the population?"1
Expanding that pool of talent to include women means tackling all bias, whether conscious or unconscious. It means making changes to how talent is hired and developed, and even re-engineering a firm's culture to give women more opportunities.
As existing hiring practices are often firmly established and accepted as status quo, it can be hard to introduce changes and make progress. "For centuries we have been in this situation where people have been recruiting in their own likenesses," explains Ann Cairns, Executive Vice Chairman, Mastercard and Co-Chair of the 30% Club. "That doesn't just lead to the gender gap, but the diversity issues we have around the world."
The state of play
Gender diversity brings significant benefits to the companies who embrace it, according to a McKinsey study2 of 39 financial services firms that together employ 1.2 million people. The companies that ranked in the top quartile for gender diversity in executive teams are 21 per cent more likely to be more profitable and 27 per cent more likely to create value. The study found that 90 per cent of these companies were committed to achieving gender diversity.3
This should come as no surprise, as women make the best leaders, according to independent leadership consultancy Zenger Folkman.4 Their research shows women outscoring men on 17 of the 19 capabilities that differentiate excellent leaders. These include critical leadership qualities such as: taking the initiative, resilience, practicing self-development, even driving for results (see figure 1).
Despite possessing these qualities, women are often reluctant to put themselves forward for leadership opportunities at the same rate as men. Mary Ellen Iskenderian, President and CEO, Women's World Banking, observes that women are often over-qualified when they apply for vacant positions. "If anything, we do know that a woman will apply for a job that requires a promotion when she has a 110 per cent grasp of the required competencies to a much greater extent than a man will," she reports.
According to a 2019 study by the Washington-based research group Corporate Women Directors International (CWDI)5, financial services firms have made significant strides in gender diversity, with women now holding almost 25 per cent of board positions at the 104 largest banks or financial institutions in the Fortune Global 500. This is more than double the female representation at board level since the CWDI's previous study in 2005 which showed that only 10.3 per cent of board positions were held by women. Europe is leading the way, with women holding over a third of board positions. In the US, however, that proportion is only 28.9 per cent and Asia trails at just 12 per cent.
Despite the progress made, there's still a long way to go. "At the current pace, women will not have parity with men in these large financial institutions until 2036," noted Irene Natividad, chair of CWDI.
Growing transparency into gender diversity signals that momentum for change is building. Notably, the Bloomberg Gender Equality Index (GEI)6 selected 230 companies from 10 sectors for inclusion in 2019, more than double the number in 2018.7 The GEI judged these companies as committed to transparency in gender reporting and advancing women's equality in the workplace, including Standard Chartered among them.
Ann Cairns is positive about this open approach: "I think this shows that there's an awareness and a willingness to share data and to say this is what we look like now."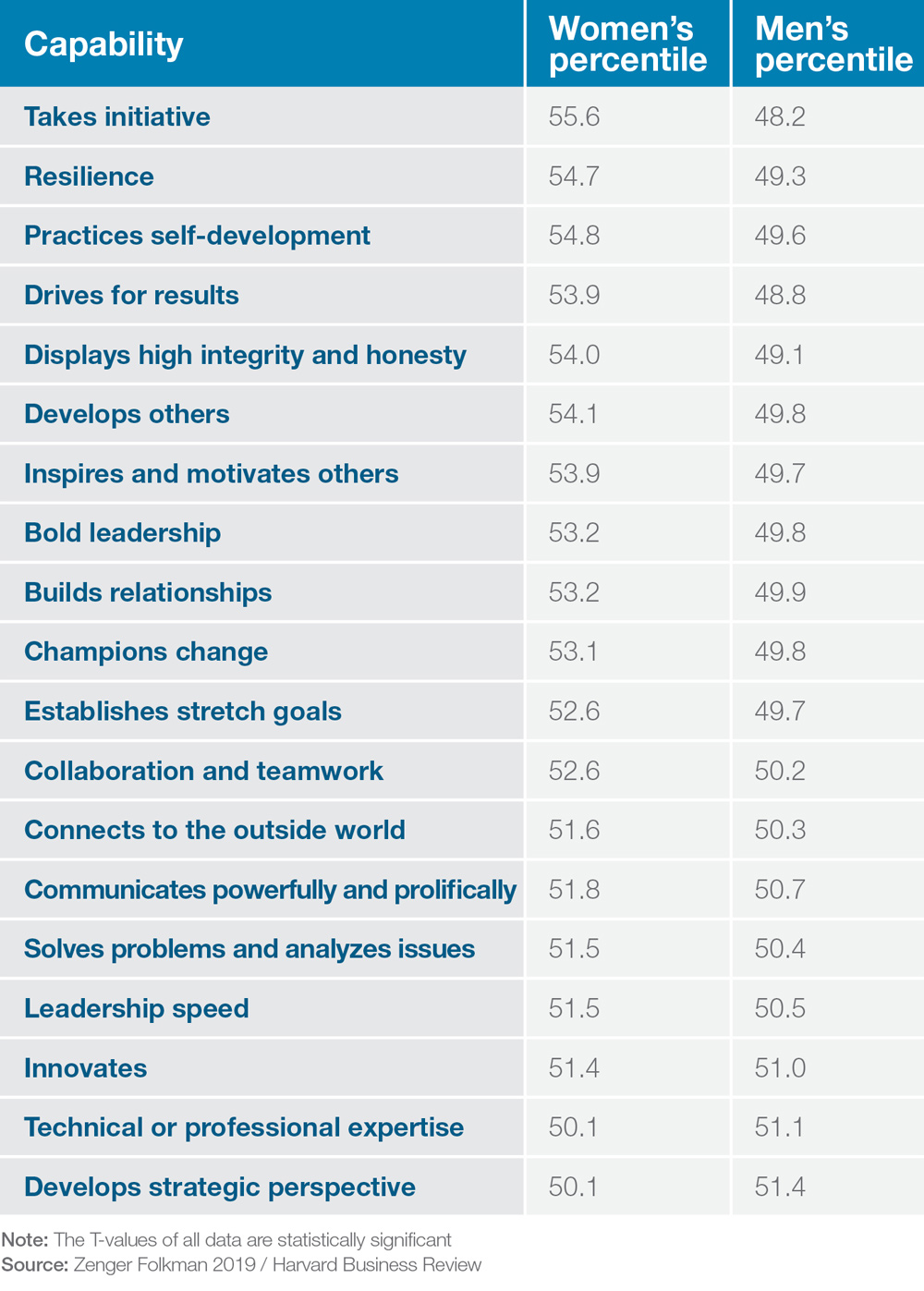 Redefining the rules
It takes a long-term and dynamic approach to close the gender gap and tackle entrenched work practices and cultural issues. Firms first need to recognise that there's a problem. Only then can they identify what needs to change, and what new norms to establish and approaches to adopt in managing talent.
For such an undertaking, the "Women's World Banking's Organisational Gender Assessment tool uses a firm's own data to objectively identify the issues they face and develop effective solutions.
"We designed it (the tool) to make sure that companies are looking at their data, and then using that data to make decisions," says Women's World Banking's Iskenderian. "For example, they may be recruiting men and women at the same level, but then women may be falling off that path. This tool allows a company to identify their specific barriers to gender diversity and tailor a solution. There are different solutions for the different issues you face."
The resulting solutions may involve rethinking policies and processes identified as barriers to diversity and often, these barriers may not be the immediately obvious.
Standard Chartered's senior management - recognising the importance of women having a seat at the table to drive change – took steps to raise the visibility of women within the organisation, ensuring that they were represented at senior leadership team meetings, participated in strategy discussions and had executive management experiences.
For a business to truly reap the benefits of diversity of thought and approach, diversity should be incorporated into all business areas. Mastercard's Cairns believes that women should be put in P&L positions with responsibility for revenue and expenses, not just support functions, to give them a broader range of business perspectives vital to becoming senior leaders and CEOs. "It's important to put women into those core business roles rather than just saying 'I made my numbers because we increased the number in the support functions'."
She recalls countering unconscious bias towards men in the hiring of country heads by asking the hiring managers to explain every selection against objective criteria. "I said come and tell me what your selection criteria was and why you rejected the other candidates. And the first year that I introduced that, the number of women increased by 10 per cent."
Culture is part of the problem in financial services. For example, a firm can introduce flexible working and shared parental leave but how will this make any difference it it's rejected by male employees? As Cairns discusses: "It's one thing to put processes out there but another thing to make everybody comfortable that it's perfectly okay to take your entitlement."
Playing the long game
Financial services firms need to be nimble and swift to adapt to new, more effective ways of working in order to compete in today's economy. This is not limited to the technology space. Human capital is as important, and with it, new approaches to identifying, recruiting and promoting talent in the firm to harness the power of diverse workforce.
Barriers to diversity need to be addressed first, preferably using a data-driven approach like the Women's World Banking's Organisational Gender Assessment tool to help surface any hidden biases and barriers and to enable the development of the right solutions. The desire to establish gender diversity is not enough; it requires committed action to implement the solutions and establish new norms that challenge long-held mindsets.
The significant benefits of greater diversity are there for the taking. Achieving these advantages, and winning the war for talent, requires fundamental measures to remove often invisible barriers to having more women throughout all levels of an organisation.
This article was also published in Bankable Insights Issue 11
---
1 Bloomberg Gender Equality Index Information Booklet; https://data.bloomberglp.com/company/sites/46/2019/04/2019_GEI_brochure.pdf; Accessed 19 August 2019
2 Closing the Gap, Leadership Perspectives on Promoting Women in Financial Services, McKinsey, September 2018; Page 3; https://www.mckinsey.com/industries/financial-services/our-insights/closing-the-gap-leadership-perspectives-on-promoting-women-in-financial-services
3 Closing the Gap, Leadership Perspectives on Promoting Women in Financial Services, McKinsey, September 2018; Page 3; https://www.mckinsey.com/industries/financial-services/our-insights/closing-the-gap-leadership-perspectives-on-promoting-women-in-financial-services
4 Research: Women score higher than men in most leadership skills. Harvard Business Review. June 25, 2019. https://hbr.org/2019/06/research-women-score-higher-than-men-in-most-leadership-skills.
5 European financial services leads charge on women directors. Financial Times; July 4, 2019. https://www.ft.com/content/ca623700-9d95-11e9-9c06-a4640c9feebb
6 The Bloomberg Gender Equality Index tracks the performance of publicly-held companies that have committed to transparency in gender reporting and to advancing women globally. It provides comparable information for individual data points related to gender equality at these companies.
7 Bloomberg Gender Equality Index Fact Sheet; https://www.bloomberg.com/gei/about/; Accessed 19 August 2019
Discover more, explore our insights