Amid the global drive to net zero, businesses and governments risk overlooking a critical element in the path to decarbonization: building sector emissions. 
Building construction and operations accounted for 38 per cent of all energy-related carbon emissions globally in 2019.1 Direct emissions remained elevated amid the continued use of fossil fuels for heating and cooking, while increasing demand for electricity saw indirect emissions rise from the year before. To get on track for a net-zero-carbon building stock by mid-century, we must halve direct building emissions by the end of this decade.2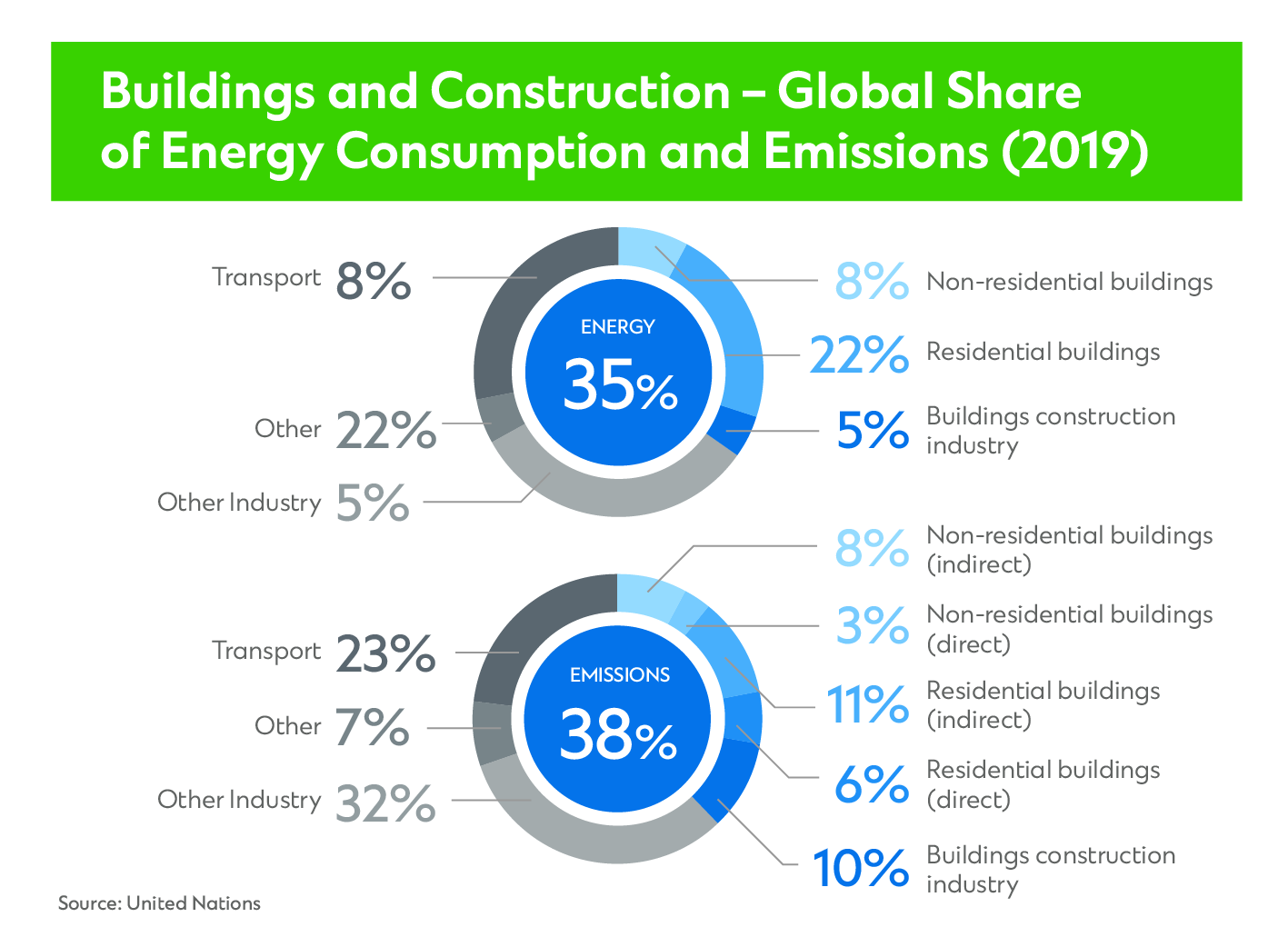 "Climate change cannot be solved without tackling building emissions," says Tracy Wong Harris, Head of Sustainable Finance, Greater China and North Asia, Standard Chartered. "This is why helping our clients achieve carbon neutrality3 in the building sector is a priority. For the sector to advance towards its net zero goal,4 new buildings must be built with low carbon materials and designed to operate with maximum energy and water efficiency, while existing buildings must be green retrofitted accordingly."
In emerging markets, greening the buildings sector represents a USD24.7 trillion investment opportunity through 2030 across all cities with a population of more than half a million people.5 East Asia Pacific and South Asia comprise nearly three-quarters of that opportunity, covering both new constructions and retrofits as cities race to accommodate explosive population growth and meet rising building demand.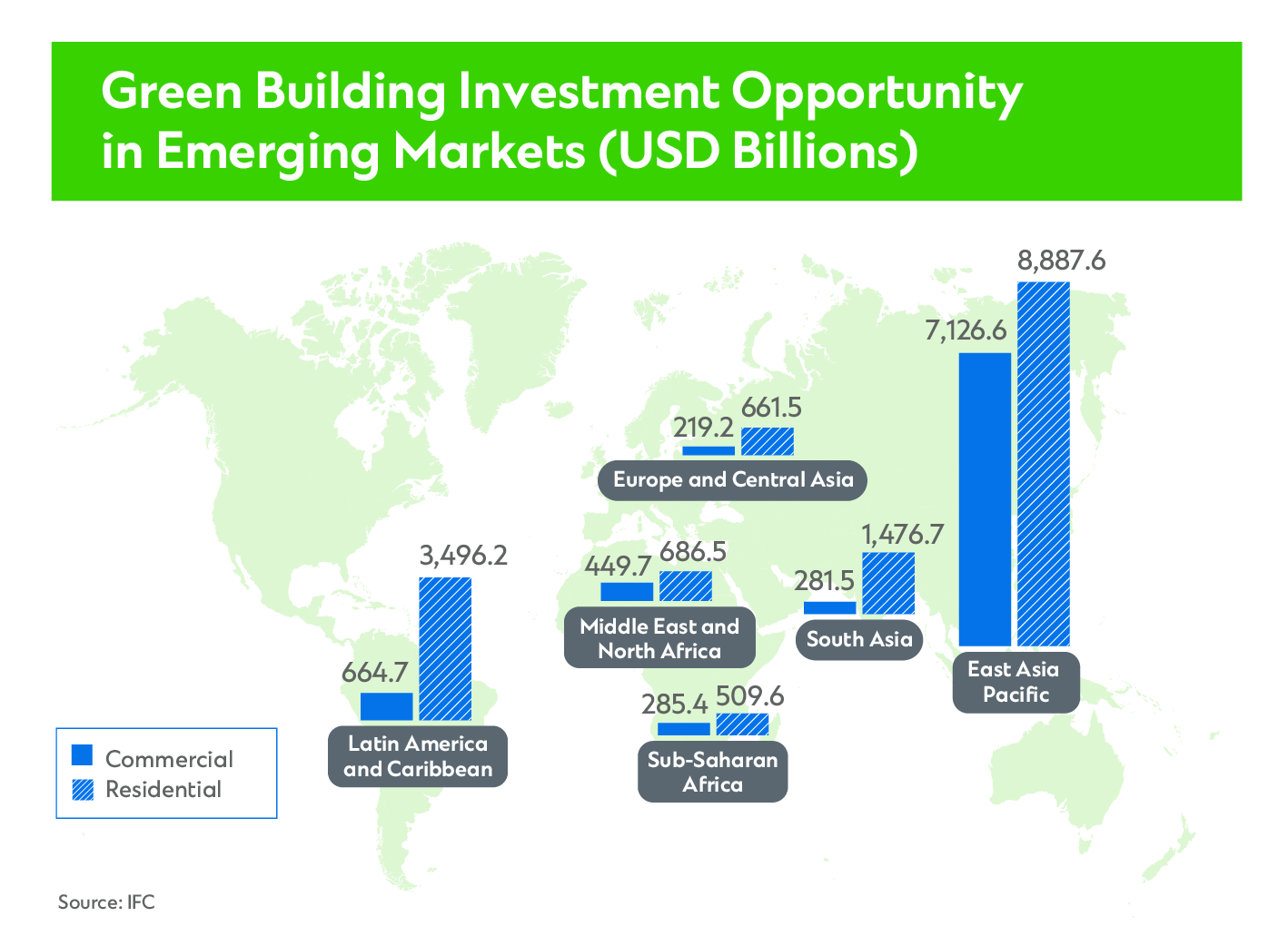 "We need to continue to raise awareness of the business case for green buildings," says Vivek Pathak, Director and Global Head for Climate Business at International Finance Corporation (IFC). "The sector is compelling for the investment community. Despite this, to date there has been a significant barrier to entry for investors, namely understanding how to quantify the environmental impact of a building and classify it as green."
The distributed nature of decarbonizing buildings, coupled with the often higher upfront costs of low-carbon alternatives and the need to engage multiple stakeholders make the sector hard to abate. To spur change, governments must put policies and support measures in place. Chief among them are certifications rooted in standardized metrics and reporting requirements.
What Are Green Buildings?
While definitions vary, green buildings generally reduce or eliminate harmful impacts on climate and the environment. Measuring that impact through standardized metrics and performance data is the central aim of green building certifications. Already certifications have become an important tool that promises to accelerate sustainable building practices by providing quality assurance across design, construction and operation.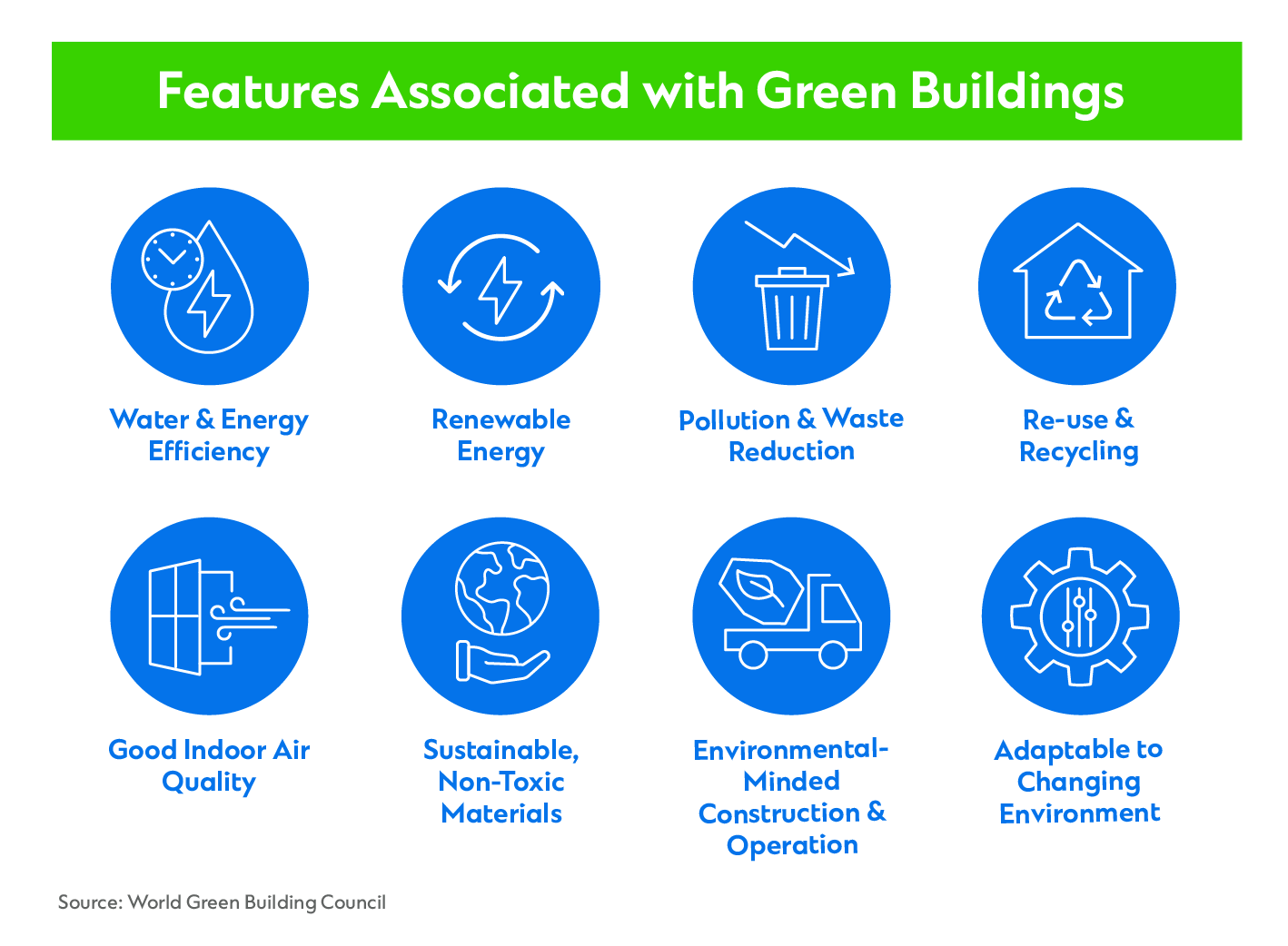 A raft of international rating systems including LEED,  BREEAM and, in developing countries, EDGE are already popular and influential. In many countries, they complement nationally developed rating systems that cater to local needs and challenges. Together, these systems bolster the green building market by evaluating and benchmarking buildings against local practices, as well as providing third-party verification.6
Among international rating systems, the IFC's Excellence in Design for Greater Efficiencies (EDGE) is a relative new-comer. Launched in 2015, it was originally designed to offer a rigorous yet affordable certification in emerging markets.  It now serves investors large and small worldwide. According to IFC, EDGE has taken off because it helps builders optimize their designs in a highly cost-effective way, leading to a more investment-worthy and marketable product. By keeping certification fast and inexpensive, EDGE keeps pace with the momentum that developers need to stay at the forefront of the green building trend.
"EDGE was designed by a bank for banks," Vivek says. "It is a low-cost, internationally recognized green label that is easy to use. With EDGE, investors have a cost-effective way to certify an entire portfolio, not just flagship buildings. That means greater access to green finance and its associated benefits."
EDGE can be used to certify new and existing buildings at the design stage and after construction. There are three levels of certification: Level 1—20 per cent savings or more in energy, water and embodied energy in materials; Level 2—on-site energy savings of 40 per cent or more; Level 3—either 100 per cent of renewables on-site or off-site, or purchased carbon offsets to top off at 100 per cent.7 EDGE is also more affordable than previously available certifications, which makes it more attractive for the emerging markets where construction is growing fastest.
Making a Difference With Certifications
Today, 55 per cent of the world's population lives in urban areas. By 2050, that will increase to 68 per cent with Asia and Africa accounting for nearly 90 per cent of the shift.8 African cities, for instance, will become home to an additional 1.3 billion more people. This will drive increased demand for buildings—80 per cent of which are not yet built.9
There are currently around 700 certified green buildings in Africa, the lion's share of which are in South Africa.10 The number of green buildings is expected to increase by 50 per cent over the next five years amid new legislation and a growing range of financing options.11 Meanwhile, green buildings could account for up to 30 per cent of the market in Vietnam by 202512 and up to 25 per cent in Indonesia.13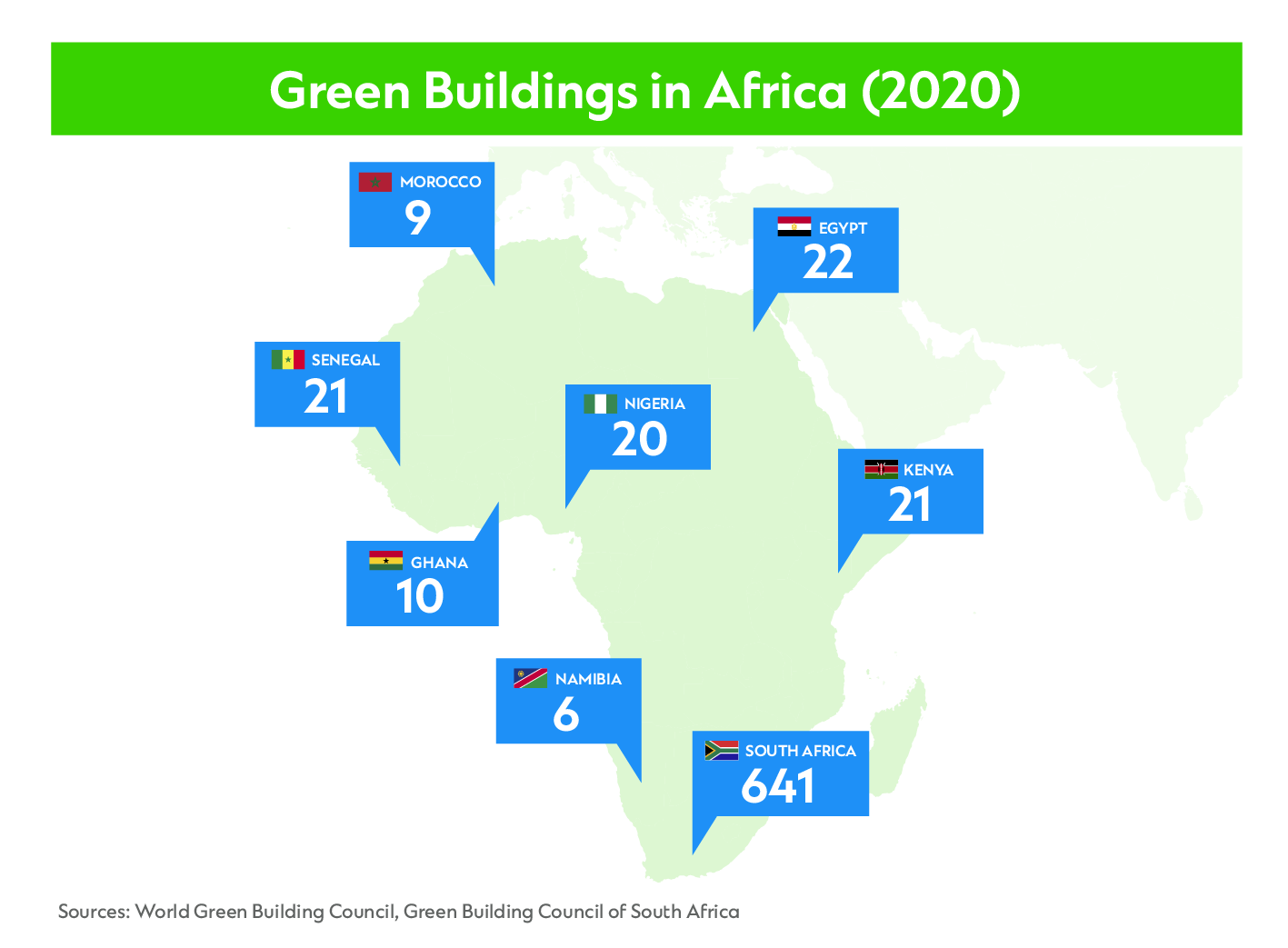 "Investors are starting to realize the opportunities," Vivek says. "Arthaland, the first nonbank issuer of green bonds in the Philippines, is using the USD60-million green bond proceeds to fund the development of their entire portfolio of EDGE-certified residential and commercial projects. And Bancolombia's initial USD117 million IFC green bond issuance was a turning point in greening Colombia's housing market through green construction finance and green mortgages for EDGE certified buildings."
The bigger challenge will be retrofitting existing building stock in both developed and emerging markets. To bring the buildings sector onto a pathway that aligns with targets outlined in the Paris Agreement, 3-5 per cent of the existing global building stock would need to be renovated every year until 2050.14 Almost every building will need to be retrofitted to achieve carbon neutral operation at some point in the next 30 years.
"We have not seen sufficient incentives when it comes to retrofitting," Tracy says. "This is where the building and financial industries need to innovate. Existing buildings comprise the largest stock in the sector. They were not designed to meet green standards and many are not being used in an energy-efficient manner. Yet, high costs, split incentives between owners and tenants, and other factors often present roadblocks."
Positioned to Make a Difference
As investors navigate the evolving real-estate landscape, Standard Chartered is in a unique position to help. In June, the bank provided a green loan to Schroders Capital Real Estate and BentallGreenOak to acquire industrial and parking space at Cable TV Tower and One Midtown in Hong Kong. This will be the first property in Hong Kong to participate in the EDGE green building certification, and Standard Chartered will help its clients through the process.
The bank recently signed a memorandum of understanding with global EDGE certification providers, Sintali and SGS. These experts will provide free technical support to Standard Chartered's clients, guiding them through the certification process. Furthermore, the bank is also walking the talk. It recently designated its office buildings in Hong Kong to go for EDGE with the aim of achieving the highest level of Zero Carbon certification.
"We have made a clear commitment to reach net zero carbon emissions from our operations by 2030, and from our financing by 2050," Tracy says. "With that goal in mind, we are focused on ensuring that our buildings qualify for EDGE certification. And we are committed to helping our clients do the same."