42 per cent of investors will invest five to 15 percent of their funds in sustainable investments over the next three years
Singapore – Standard Chartered Private Bank's Sustainable Investing Review 2020 highlights the resilience of investor interest in sustainable investments amidst market disruptions due to COVID-19. As many as 90 per cent of investors surveyed said they are interested in sustainable investments, with 42 per cent planning to invest 5 to 15 per cent of their funds in sustainable investments over the next three years.
The Private Bank's third annual survey covered around 1000 investors with a specific focus on affluent and high net worth (HNW) investors in Hong Kong, Singapore, the United Arab Emirates (UAE) and the United Kingdom (UK).
Investors' SDG priorities reflect current climate
The effect of the pandemic is clearly reflected in this year's findings which highlighted investors' focus on areas that build resilience against future crises. Nearly 50 per cent rated the United Nations (UN) Sustainable Development Goals (SDGs) of Clean Water and Sanitation and Good Health and Well-being as being of higher importance. This is followed by 43 per cent of investors indicating Climate Action as more important, which edged ahead of Quality Education and Zero Hunger, both at 40 per cent.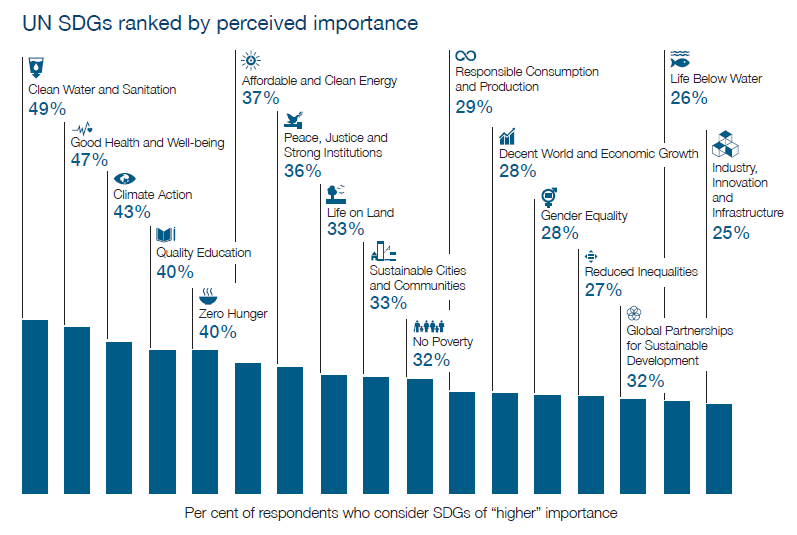 Facilitating interests and removing barriers
Consistent with previous studies, this year's survey shows that investors lack knowledge about how to meet social and impact goals that are of interest to them. This continues to impede investors who want to make sustainable investments. Banks play a critical role in providing essential guidance to clients to unlock the growing momentum for sustainable investing. Besides the lack of knowledge, the other top barriers to investment in this segment are apprehension, and lack of motivation and advice.
Personality influences investment approach
The survey identifies five investor personality types – Optimisers, Impact Believers, Cautious, Resistant and Apathetic – that influence sustainable investing decisions. Of these, the Impact Believers stand out with their high interest in sustainable investing and low apprehension towards such investments.

This finding is consistent with our earlier Investor Personality Study 2020 which underpins our approach to serving clients. By identifying the needs of individual investors based on their personality type, we can offer customised advice to help clients achieve better investment outcomes and avoid pitfalls, particularly during times of market uncertainty.
Investor interests vary across geographies
The report also highlights differences among investors across geographies, reinforcing how cultural nuances and local market experiences, among others, can influence investor personalities and their corresponding investment approaches.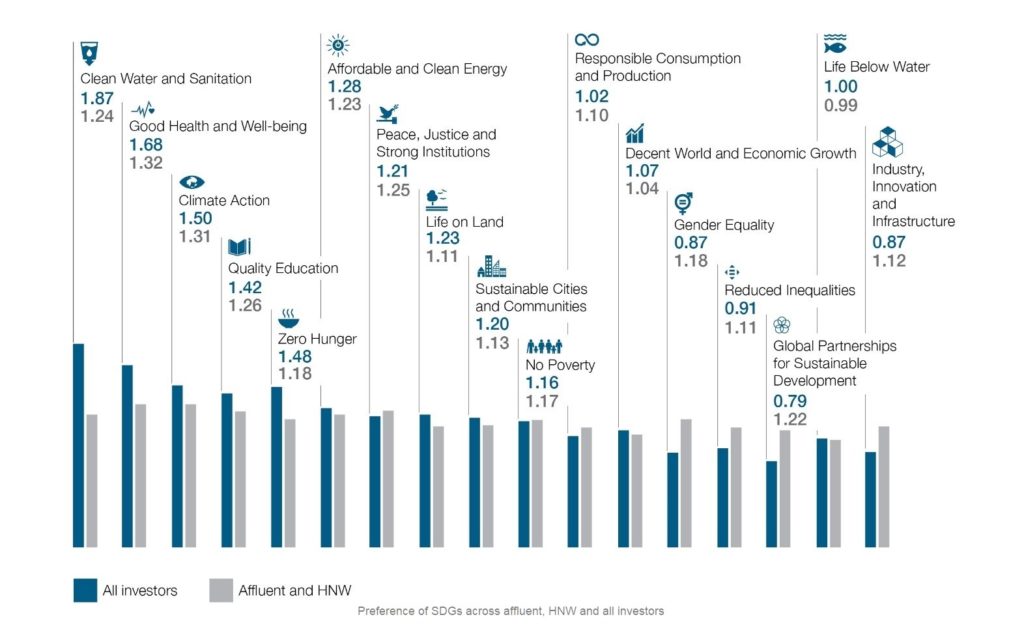 An interesting nuance shows up in preferences for SDGs among the affluent and HNW investors. While this group of investors shows little distinct preferences for any SDGs, small relative spikes of specific interest is observed with Good health and well-being and Climate Action edging above the others.
In relation to investors' consideration for further investments, the report reveals that affluent and HNW investors are generally willing to consider allocating funds towards sustainable investments, regardless of whether they have previous experience in making such investments.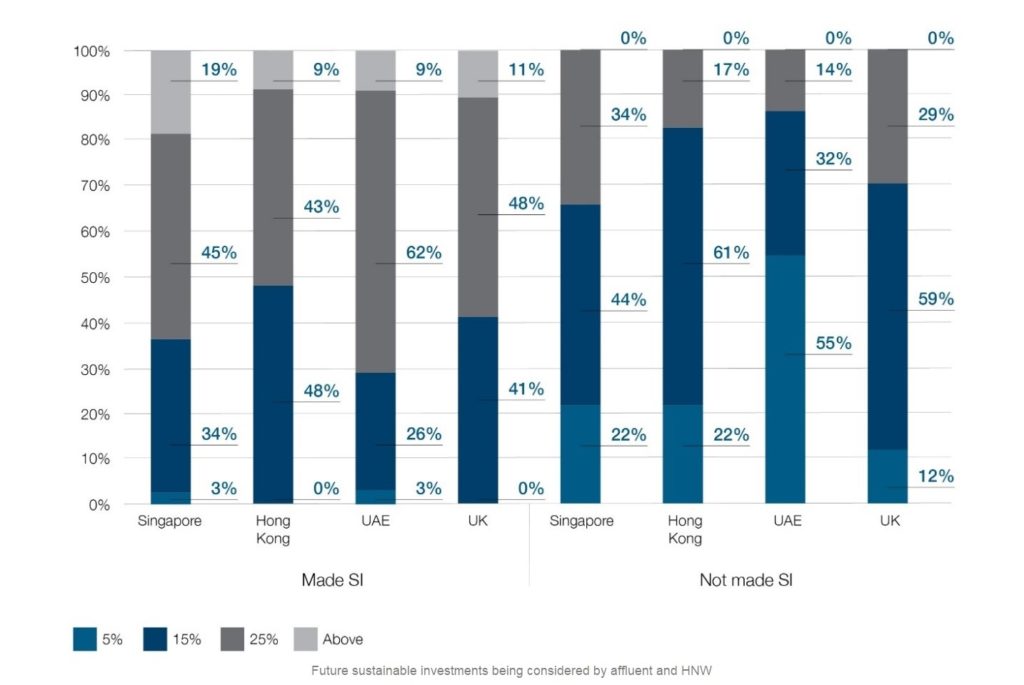 Didier von Daeniken, Global Head, Private Banking, Standard Chartered, said: "While interest in sustainable investing continues to grow, there remains a significant knowledge gap among investors. As a bank, we have a critical role to play in helping to bridge this gap and facilitate our clients' sustainable investing journey and ambitions. Knowing how clients' investor personalities influence their investment approach allows us to help unlock any barriers. This is where our Impact Philosophy is useful in giving clients a structured framework to identify social and environmental causes that matter to them, as well as to understand the risks and returns of potential opportunities."
For further information please contact:
Valerie Tay
Tel: +65 65969284
The Standard Chartered Sustainable Investing Review 2020 surveyed 1085 investors with a specific focus on affluent and high networth investors in Hong Kong, Singapore, the United Arab Emirates and the United Kingdom. The survey was conducted by Agility Research & Strategy and the data was analysed by behavioural finance experts from Oxford Risk and used robust behavioural and attitudinal techniques. Respondents represented a broad range of age, gender, location, and education. For further details, please refer to the full report and methodology .
Standard Chartered Private Bank
Standard Chartered Private Bank provides private banking services to clients across Asia, Africa, the Middle East and Europe, through onshore booking centres in Singapore, Hong Kong, Dubai, India, London, and Jersey. We also offer global Trust and Fiduciary capabilities through our Singapore centre. Our aspiration to be the private bank of choice among generations of entrepreneurs is built on Standard Chartered's inherent strengths: a heritage of some 160 years in international banking, a presence in 60 of the world's most dynamic markets, and a strong understanding of growth markets. Through our global team of around 1000 employees, our relationship managers, investment advisors and product specialists have a deep understanding of our footprint markets and client needs, enabling them to connect our clients to an extensive range of wealth opportunities across our network. For more information, please visit here.