Investors expected to allocate up to 23 per cent of investments towards sustainability in the next three years
Investors in Asia are looking to increase the proportion of sustainable investments in their portfolios to an average of 19 per cent over the next three years, with Chinese investors leading the way with an expected allocation of 23 per cent by 2021, according to Standard Chartered Private Bank's first Asia Sustainable Investing Review 2018 report.
The report# surveyed affluent and high net worth investors in Singapore, Hong Kong, China and India to determine their motivations behind sustainable investing and how well they understand it. Despite 86 per cent of investors claiming to be currently engaged in sustainable investing, there is a significant knowledge gap among the respondents around what sustainable investing entails, as well as the returns and impact it can deliver.
Vic Malik, Head of Investment Advisory, Private Banking, ASEAN & South Asia (ASA) and Global South Asia Community (GSAC) said: "While sustainable investing is relatively nascent in Asia, investor interest is growing and the outlook is positive. We believe bridging the knowledge gap can help increase allocations towards sustainable investing and encourage investors who are not currently engaged to take the plunge."
Investor archetypes
The report also identified three investor archetypes engaged in sustainable investing in Asia: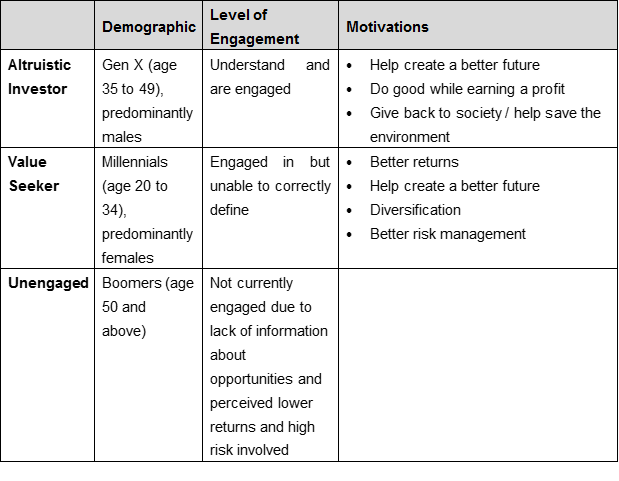 Among the value-seeking millennials – most prominent in China and India – 64 per cent expect yields from sustainable investments to be higher than mainstream investments. Altruistic investors, largely comprised of the Gen X, are more willing to accept a financial trade-off between doing good and generating returns.
Mr Malik added: "While the millennials have been associated with driving the sustainable investing trend in Asia, we see more mature investors are also coming to the fore, motivated by the desire to leave a legacy for the next generation. More importantly, the millennials tend to be savvier in understanding that they do not always need to sacrifice financial gains to make a positive impact, which will be a key differentiator in further developing the ecosystem and moving sustainable investing into the mainstream."
Philanthropists are potential sustainable investors
On average, more than 50 per cent of those surveyed are currently involved in philanthropic work, among which 82 per cent would consider shifting their allocations into sustainable investing. This could be facilitated by offering investment opportunities with demonstrated reach and impact, in areas aligned with their charitable causes.
Didier von Daeniken, Global Head, Private Banking and Wealth Management, said: "As their trusted advisors, wealth managers have a role to play in helping their clients understand and access sustainable investment opportunities, which are aligned to both their desire to make a positive impact on the environment, communities and society, and their financial aspirations. Facilitating sustainable investing opportunities for our clients is also one of the ways through which we support the Group's sustainability aspirations, to truly be a force for good."
Standard Chartered Private Bank is committed to further strengthening the sustainable finance ecosystem and will be participating as one of the knowledge partners at this year's Asia Pacific Venture Philanthropy Network Conference, the largest gathering of social investors in the region, which is taking place in Singapore from 4 to 7 June.
# Commissioned by Standard Chartered Private Bank and conducted by Agility Research & Strategy. Data collection was conducted in April 2018 across China (Beijing and Shanghai only), Hong Kong, India and Singapore with 421 investors with a minimum US$1 million in investments (excluding real estate).
For more information, please contact:
Josephine Wong, Manager, Commercial and Private Banking Communications, Standard Chartered Bank, +65 6596 4690