Taking risks in order to grow: Ekram's story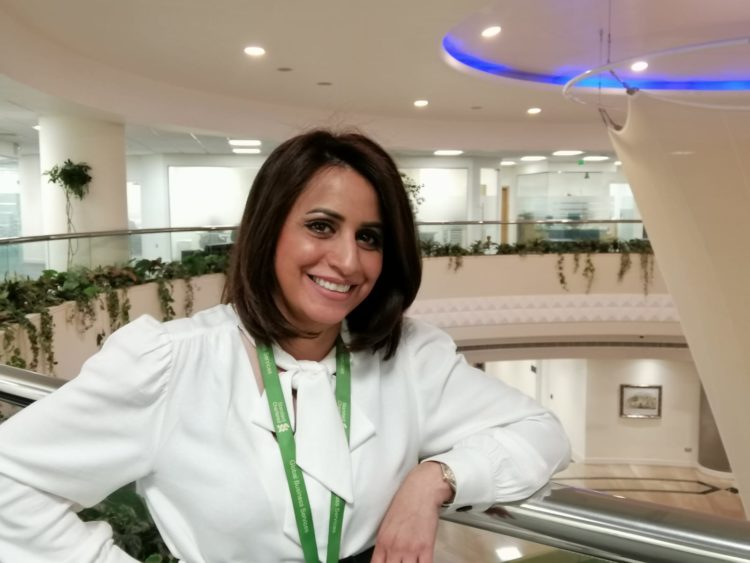 From nervous interviewee to manager of 30 people, Ekram has never been afraid to challenge herself.
Ekram Rajab, Head of Branches, Bahrain
I love working for Standard Chartered. There are many reasons I feel this way, and I'd like to highlight the two main ones. Firstly, I value the fact that the organisation is selective with its employees. When I come to work, I know I'll be working alongside smart, switched-on colleagues. I enjoy the challenge of being part of a group that aims for excellence. Additionally, Standard Chartered is one of the most diverse and inclusive institutions I've experienced. My current assignment as Head of Branches was announced when I was eight months pregnant with my second son, Yousif!
How did my journey start? I clearly remember my first interview with the Bank, right after graduating with a Bachelor's degree in Banking and Finance from the University of Bahrain. The interviewers on the panel, who were in direct sales, said they couldn't imagine me doing a sales job as I was extremely quiet and shy. I never made eye contact and always looked down whenever I spoke. I honestly didn't have much to say most of the time, and even more so in interviews. However, the interview panel took a chance on me! I think they saw potential in me, as well as an opportunity to diversify the team, which in those days (2003) was very male dominated.
Changing the dynamic
As the only female in a team of around 20 men, I found that I was massively supported by my male colleagues, and they were always willing to teach me. I started to get really strong performance results, and I received a number of awards recognising that, including an outstanding performance award which resulted in a trip to Hawaii, and a Branch Banking League award, which won my team a trip to Liverpool. I always exceeded my performance objectives and landed at 120-150 per cent of budget. In those days, my trick was to use the telephone directory to call potential clients, as we had few existing leads. If I was not able to close a deal, I forwarded it to my colleague Hussain Isa, who is now the Head of Client Acquisition, and he would close it. Due to my excellent performance, I was assigned a team of 30 sales officers and established the outsources sales department. Managing this team is where my real growth came, and I was eventually made manager of the primary branch in Bahrain.
"The interviewers said they couldn't imagine me doing a sales job as I was extremely quiet and shy. I always looked down whenever I spoke!"
One of the hardest moments I faced in my career was executing branch efficiency projects in late 2018, which resulted in branch closures. Letting people go was really tough. The conversations were very difficult because I knew all the staff personally, and I knew there were some challenging family/personal situations. However, during this extremely sensitive time, I was able to use my resources and network to support the affected employees in getting redeployed. These people had become a major part of my daily life for 18 years, and I made it my mission to give them support, and listen to all their concerns and queries. This experience greatly affected me in various areas of my personal and professional growth. I know now that I am able to face difficult conversations and situations with confidence and compassion, knowing that as a manager, I have the capability to resolve issues by thinking outside the box.
My advice to all employees who have been in the same role for a long time is: don't be afraid to take risks. In order to grow, you have to challenge yourself. Don't be too shy to ask for your next role; you'll only be limiting yourself. You also have to believe in yourself, and fight for what you believe in. As women, we are usually leaders at home where we manage our homes. So why can't we be leaders in the office?
Interested in joining us?
Whether you're a recent graduate or looking for
your next opportunity, we have the role for you
View our latest roles