Breeze Good Life App enables you to keep up the latest shopping, dining & leisure offers as well as the hot coupons every time, every where.
Features at a glance
Latest hot coupons
Download
Breeze Good Life App
Breeze Good Life App coupon offers has now been suspended. Please stay tuned for the upcoming hot offers. If you have any enquiry, please contact our Customer Service Hotline at 2886 4111 for Standard Chartered credit card / 2881 0888 for MANHATTAN Card. We apologies for any inconvenience caused.
Features at a glance
Coupons
Want bigger discounts or freebies? Redeem limited coupon exclusively on your phone. Simply select the "Coupons" section and find all the fabulous coupons available. Select your favourite coupon in the Breeze Good Life and redeem at the merchant outlet to enjoy different offers.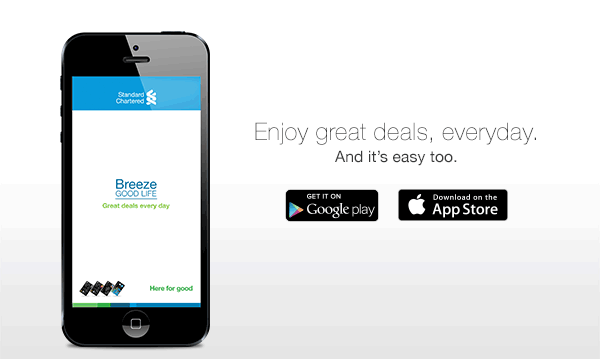 Offers Near Me
Getting good bargains is easy. Select "Near Me" in the home screen to see all the Standard Chartered Credit Card offers near your location. You can even filter deals and coupons according to category, call the merchant directly to make reservation and get directions to the shop.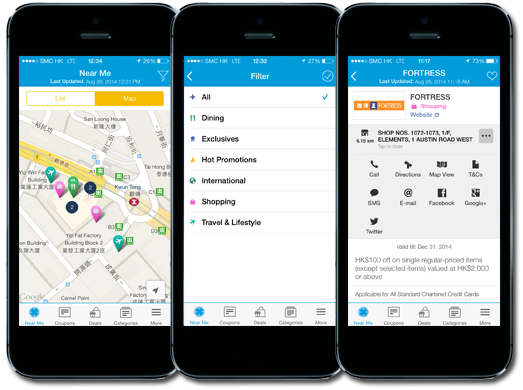 Other Features
Search Offers by Category, Location or Keywords
Simply type keywords to look for coupons or deals and filter these according to category. Find deals, coupons and outlet locations near you with 'Map View'. With Breeze Good Life, searching for good deals is so much fun.
Personal Favourites Deal and Coupon List
Add deals and coupons to your 'Favourites' folder for easy tracking and viewing latest offers. Enjoy favourite deals and coupons available anytime anywhere at your fingertips.
Share Deals and Coupons with Friends and Family
Everything is more fun when these are shared! Share deals and coupons with your friends and family via SMS, email and popular social media channels.