A variety of exclusive benefits that are tailored to your individual needs.

As a Priority Banking customer, you are privileged to enjoy many exclusive benefits tailored to your personal needs. We understand that family is everything to you so they will also receive the benefits.

Special Price Offer
As your financial partner, we are ready to give you the best price of the products you need, with special price offers exclusively designed by your Relationship Manager. Below are the special price offers you are entitled to:

Waiver of fee and/or special discount offers for variety of transactions and routine banking services


Special rates for saving, time deposit and loan products
-Free international fund transfer fees
Free withdrawal fees in Standard Chartered Bank and Cirrus ATMs worldwide
Discounts of global foreign currency exchange at Travelex *
*Please refer to International Banking Services for details

Privileges for Family Members
We know that family members are your most precious treasure; we will therefore treat them as our priority. This is how we guarantee the total banking relationship for you.

Your family members are entitled to:

Special price offers for a variety of transactions and banking services
Various privileges to complement your lifestyle, including family events
Rewarding Relationship
Welcome Bonus 60.000 Reward Points
Use your Standard Chartered Infinite Credit Card Infinite for total minimum Rp 10 million within the first 3 months after the card is approved, and earn 60,000 Reward Points.

Earn your Reward Points faster by transact Rp10,000 with minimum overseas transactions only or domestic transactions only amounting to Rp3,000,000 per month.

Earn:

When your total monthly transactions overseas or domestic are less than Rp 3,000,000, then each transaction amounting to Rp10, 000 will earn 1 Reward Point.

Reward Points are applicable only for retail transactions and not for instalment transactions. Other terms and conditions shall apply.

360º Reward
Total Rewards for all your banking transactions.

* Except for Money Market Funds and not included the purchase of an investment product with a fee below 0.5%

| | |
| --- | --- |
| Time Deposit | 1 Reward Point from each average balance of Rp 5 million/month |
| Saving | 20 Reward Points from each average balance of Rp 5 million/month |
| Investment* | 20 Reward Points from each investment purchase worth Rp1 million |
Rewarding Family Moment

15% Cash back in a family recreational park
Enjoy Fun together with your family members with 15% cash back on all transactions in all recreational parks throughout the world. The maximum amount of transaction that entitle for cash back is Rp 3,000,000


Cashback Rp500,000 for your birthday.
Celebrate your birthday with your family members more merrily with cash back of Rp500, 000 for a minimum transaction of Rp 3,000,000 in all restaurants throughout the world for one month in the month of your birthday.

Lower exchange rate for transactions overseas

Experience a more delightful shopping experience with family members overseas using Standard Chartered Infinite credit card with a lower and more competitive exchange rate.

Rewarding Lifestyle

Buy 1 Get 2 at The Premiere XXI
Enjoy the offer of Buy 1 Get 2 movie tickets at the selected Premiere XXI every day for the Standard Chartered Credit Card Holder Infinite with a minimum of retail transaction of Rp 3 million in the previous billing period.

List of The Premiere XXI theatres applicable:

Plaza Indonesia, Jakarta
Plaza Senayan, Jakarta
Mal Kota Kasablanka, Jakarta
Emporium Pluit, Jakarta
Mal Kelapa Gading, Jakarta
Mal Puri Indah, Jakarta
Ciwalk, Bandung
Lenmarc, Surabaya

Access to the 700 airport lounges overseas with Priority Pass *

Visit:www.prioritypass.com to know the most updated list of Priority Pass airport lounges*


Free access to airport lounges in 10 major cities in Indonesia
For the most updated information about Airport Lounges, read here

Complimentary Green Fee**
Enjoy Complimentary Green Fees at participating golf courses in Indonesia.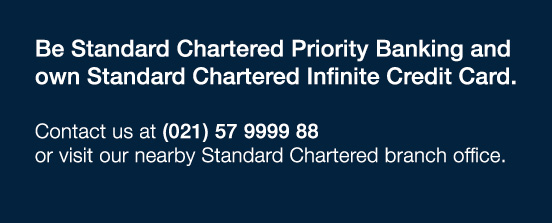 Enjoy free annual fee for your Standard Chartered Infinite credit card. You can also give supplementary cards for your loved ones with free annual fee for maximum 3 supplementary cards as long as you are a customer of Standard Chartered Priority Banking with the minimum Total Relationship Balance of Rp 500 million. The Cash Back is only applicable for retail transactions and not applied for instalment transactions. Other terms and conditions shall apply.

Terms and Conditions
* Application and free access to the Priority Pass applied for customers who own a minimum TRB of Rp2 billion in Standard Chartered.
** Complimentary Green Fee is a joint program Visa International.To claim for such Complimentary Green Fee, the customer must bring at least one guest. For reservation and further terms & conditions, visit http://www.visa.co.id/golf

Standard Chartered Bank is a banking institution that owns a business license, is registered and supervised by the Financial Services Authority.