Addressing all your financial priorities in life.

From everyday banking to long-term investing, we bring you a suite of world-class solutions to help meet all your financial needs.

Convenient Banking Solutions
Enjoy the benefits of banking accounts and solutions in both local and foreign currency that provide you with full transactional capabilities, special pricing privileges and higher returns.

World-Class Wealth Solutions
In managing your investment requirements, we take a comprehensive approach with solutions and products customised to meet your individual financial goals, life stages and risk appetite.

Your Relationship Manager, together with a qualified team of product specialists will ensure that you receive the best solutions on the full range of investment, treasury and insurance products.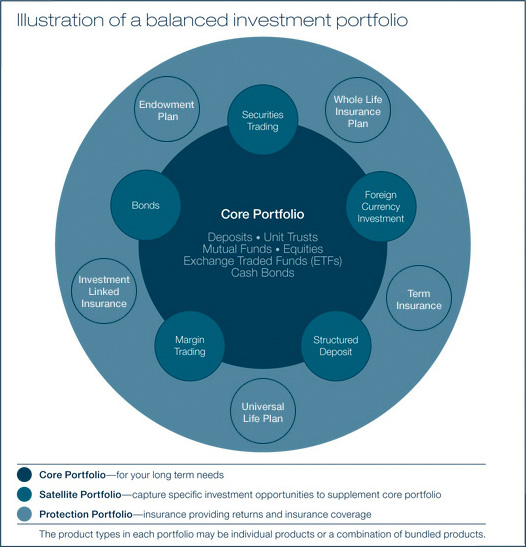 Core Investments Portfolio
Your core investment portfolio comprises wealth-generating instruments designed to help you achieve your long-term financial needs.

First, we work out your long-term financial needs, such as property investments, funding your child's education or preparing for your retirement.

Then we assess your risk profile and help you build stable portfolios suitable for your profile to meet these needs and geared towards maximising your returns within your required timeframe.

Your core portfolios comprise traditional investments such as deposits and mutual funds that give you exposure to a diversified range of asset classes such as cash, bonds and equities.

The range of asset classes is determined by our proprietary strategic asset allocation models. Depending on your preference we can offer you off-the-shelf portfolios or help you create them from our recommended funds selected based on our in-house research.

Satellite Investment Portfolio
Your satellite investment portfolio supplements your core portfolio working to capture specific opportunities that are typically short term in nature.

As your financial priorities evolve, we will continue to work with you to identify specific investment opportunities that are suitable to your risk profile and financial status.


Protection Portfolio
To ensure that the wealth you have build remains protected, and to ensure that your family's future is looked after, even in unforeseen circumstances, we will work with you to find the right insurance plans. Insurance plans range from whole life/universal life plans to endowment plans, term insurance and investment linked insurance portfolios that provide you returns and coverage at the same time.

A comprehensive approach to keeping you informed
To keep you informed, you can access to reports on:

Weekly Market views
Quarterly and Annual outlooks
Special Investment topics
You will also be invited to client events with our global research and investment strategy teams as well as leading investment specialists from our partners to give you greater insights and regular updates on market trends and developments.


Find out more »

Unique Card Solutions
Your exclusively customised Priority Banking ATM/Debit and Credit Cards unlock a whole range of services, privileges and rewards that befit your priority status.


Priority Banking ATM/Debit Card
Your specially designed Priority Banking ATM/Debit card is your passport to financial convenience and your primary global relationship card with us.

With this card you can access a range of services such as:

Local and international access to your bank accounts
Free of charge on overseas cash withdrawals at Standard Chartered and Mastercard/Cirrus ATMs worldwide
Global recognition of your Priority Banking status
Priority Banking Visa Infinite Credit Card
We know you are looking for the best and the most prestigious benefits that reward your total banking relationship with us. With your exclusive Priority Banking Visa Infinite credit card, you can enjoy a world of privileges like no other.

Most importantly, the Priority Banking Visa Infinite credit card is the key to unlocking the benefits of your total banking relationship with us. The card gives you access to the points that you earn not only from your card spends but also from your savings, deposits and investments balances with us.

Additionally, the Visa Infinite credit card holder can enjoy Priority Pass facility that gives you free access to more than 1.300 airport lounges if you meet the required Total Balance. For further information about Priority Pass, visit www.prioritypass.com

Find out more »

Please be advised that

Eligibility criteria apply for membership to the Priority Banking program. Your admission to Priority Banking is at our discretion.
Not all products, benefits and services under Priority Banking may be available in all countries and are subject to local regulations. We may vary or withdraw these services at any time.
You can find out the current services available to you by contacting your Relationship Manager, via phone banking, visiting our branches or from the Standard Chartered Bank website in your country.