It's the credit card cash-back drizzle
Cash Back credit cards are always a delight! Instead of getting reward points for the purchases you make (which are included in the reward program), you get cold hard cash. It's almost like getting paid for making a purchase. Standard Chartered also offers a choice between two credit cards with cash back offers, matching your lifestyle and needs. Choose the credit cards based on the kind of frequent purchases you make and so its benefits are always an ace up than the rest. Manhattan Platinum and Super Value Titanium come with great cash back offers which offer not just value for money, but money itself!!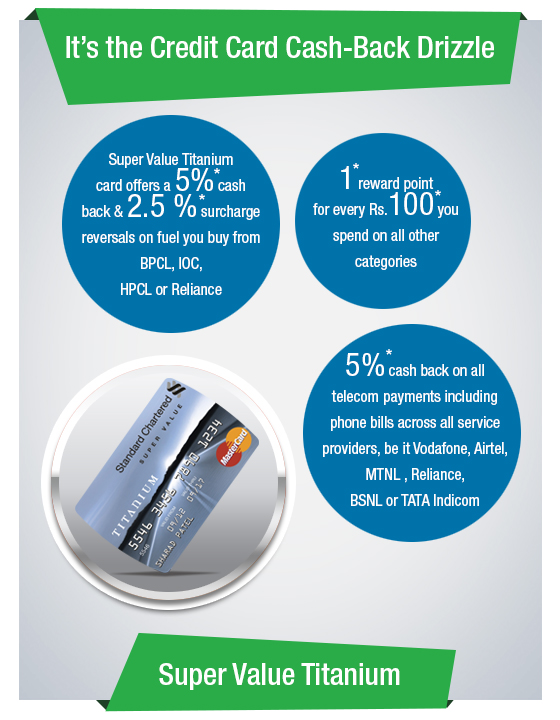 Super Value Titanium credit card could be well renamed as the "Cash Back" credit card. Needless to say it offers "Super Value" on every rupee you spend using this card. From petrol to electricity, gas, telephone and water bills, it feels like it gives you a bonus for making bill payments. So next time when fuel prices rise, you could feel a little better when Super Value Titanium card offers a 5%* cash back on fuel you buy from BPCL, IOC, HPCL or Reliance. With Super Value Titanium card there are more reasons to talk as it gives you 5%* cash back on all telecom payments including phone bills across all service providers, be it Vodafone, Airtel, MTNL, Reliance, BSNL or TATA Indicom. The card also gives you 1 reward point for every Rs.100 you spend on all other categories. Now save more with each rupee spent.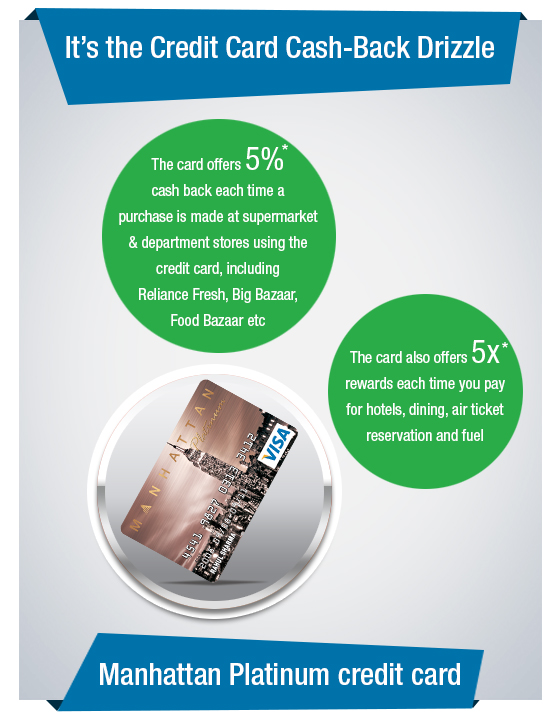 Manhattan Platinum credit card is one of the most celebrated credit cards offered by Standard Chartered. Apart from the sheer pleasure of experiencing life in its glamorous form, it also provides some awesome delights including rewards and cash backs. The card offers 5%* cash back each time a purchase is made at supermarket and department stores using the credit card, including Reliance Fresh, Big Bazaar, Food Bazaar etc. It almost feels like the card is buying you a part of the purchase you make. That said, the delight of cash back is quite unmatched. The card also offers 5x* rewards each time you pay for hotels, dining, air ticket reservation and fuel. These reward points can be redeemed for a variety of exciting offers.
While Super Value Titanium card is a delight for smart spenders who wish to plan their finances well, Manhattan Platinum card gives unbridled freedom to someone who enjoys life in all its glitz and glamour. The two are pretty much cousins with same set of interest rates, requirement and nearly same annual fee. What really sets them apart is the cash back reward structure created to suit the needs to different sets of consumers. And while Standard Chartered showers cash back drizzle with Manhattan Platinum and Super value Titanium card, the reward programs has been weaved in perfectly well to bring into the offering the rest of the trivial and more, to make each credit card a perfect partner for you.
What would you like to do next