Shop online for credit cards
Remember Richard Gere advising Julia Roberts in Pretty Women to buy a few trivials from the store - "Stores are never nice to people. They're nice to credit cards."? Well, for whatever the world has come to be, credit cards have today become a part of our everyday lives. From essentials to luxuries and from dreams to realities, there is a swipe behind every successful transaction. While they are extremely tempting, keeping your wallet as full before and after a buy, they are also a great tool to keep your financial scores in order.
The market today offers a galore of options for credit cards. It wouldn't be difficult to recall a phone call offering a credit card for each stage or each aspect of life. But which one should you really go for? Some research, peer reference and a lot of impulse usually goes into buying a credit card that you want to use to navigate in the social circles. It is one of the primary reasons that Standard Chartered bank offers feature-istic credit cards. So you can pick a card that really suits your requirements and even get rewarded for it. And when all this happens at the click of a mouse, it makes the entire experience smooth and hassle free. This coupled with exciting offers that Standard Chartered offers for online applicants, the process can't get any better.
While it is safe and easy, the access to the applicant's credit information ensures a faster turnaround time on the approval or denial as the case may be. It significantly reduces the back and forth by bank executives, saving everyone's time and effort. There is more to the advantages of online application of credit card, than mere better and faster processing of the application.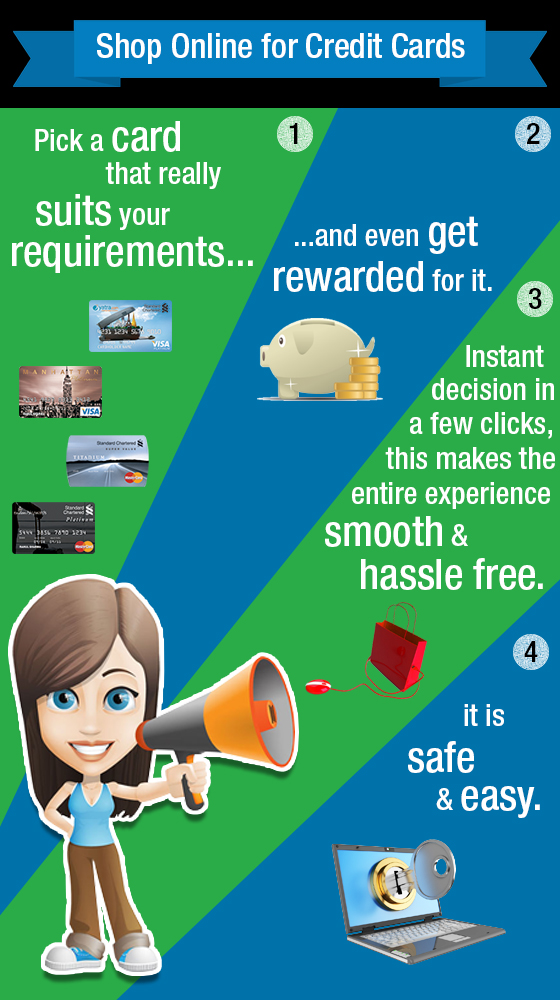 From June 2012, Standard Chartered introduced India's first instant online credit card approval solution. It has rolled out a concept called Approval-in-Principle (AIP) which would provide an instant decision whether the credit card application will get approved or not. Once the online credit card application is received, the system does a quick check with the help of a third party credit bureau. AIP will then provide an instant pointer on the credit worthiness and eligibility. AIP will be a tentative approval and will be mapped against the physical application which will eventually provide a final approval on the credit card application. For every approved AIP, a bank representative will contact the applicant for further documentation and application process fulfillment. The status of AIP can be tracked online through the following URL:
https://apply.standardchartered.co.in/application-status
AIP provides instant provisional decision for the applicant, cutting through the processes and systems. Standard Chartered further provides document-pick-up facility. The entire online application system is safe, secure and tested against any vulnerability.
To apply for a Credit Card using AIP, logon to: https://apply.standardchartered.co.in/ or to choose a card best suited for you visit www.sc.com/in/credit-cards/credit-card-list.html?camp_id=IN_SEOART_CCGEN
Content Disclaimer
What would you like to do next