NRI Borrow
Home Loans
While you decide upon a house that suits your family, let us help you with a home loan that suits your pocket. With not just a competitive rate of interest, but also an unmatched level of service.
Special Features
Great Savings:

One time processing fees
No hidden charges

Great Variety of loans for:

Purchasing a constructed flat / house
Purchasing a flat under construction
Home extension and renovation

Great flexibility:

Loans for salaried individuals
Each loan will mandatorily require a co-applicant and General Power of Attorney (GPOA) holder
GPOA should be located in the city where the loan is being processed
Choice of tenure from 5 years to 16 years

Refinance your loan:

Transfer your existing high interest loan to a lower interest Standard Chartered Bank home loan (as per the applicable current rates) and save on interest. We will also finance the prepayment charges if you so wish.
HomeSaver
HomeSaver is a unique home loan that enables you to pay the lowest amount of interest. In fact, with HomeSaver, you can pay off your home loan in 1/2 the time, 1/2 the cost!
Special Features
Revolutionary home loan concept designed to help reduce the interest paid, and pay off the loan faster.
Deposit and withdraw your money (salary and other income) whenever you need, without any charges
Interest calculated on daily balance and applied monthly
Access your money whenever you need with free globally valid ATM-cum-Debit card
HomeSaver Operation
The graphic below shows how HomeSaver operates

HomeSaver Benefits
The table and graph below show how you can save on interest costs as well as shorten the tenure on your loan by opting for HomeSaver.
| | | |
| --- | --- | --- |
| Particulars | Normal Home Loan | HomeSaver |
| Loan Amount | 1000000 | 1000000 |
| ROI | 14% | 14.25% |
| EMI (Rs.) | 12435 | 12617 |
| Loan Tenure (months) | 240 | 240 |
| Total interest Repaid (Rs.) | 19,84,448 | 12,59,260 |
| Actual repayment period (months) | 240 | 168 |
| Savings on Interest (Rs.) | - | 725188 |
| Tenure Reduced By (months)) | - | 72 months |
Assumptions: Gross monthly post-tax income of Rs. 33,500; Monthly expenses of Rs. 20,000
The rates assumed above are just for demonstration purposes. The interest rate applicable on your loan would be as mentioned on your Sanction Letter.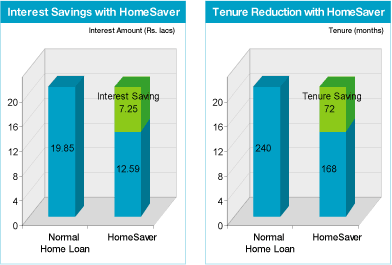 | | |
| --- | --- |
| Savings compared to normal Home Loan | |
| Savings on Interest: 36.5% | Reduction on Tenure: 30% |
Loan Against Property
Now your property can take care of your personal as well as your family's needs. The Standard Chartered Loan Against Property is a multi-purpose loan which can be taken against your residential or commercial property and is available for personal expenses like holidays, education, marriage, family holiday etc.
The loan can be as high as 70% of the market value of your property and is available to Salaried NRI
Special Features
Here are some of the features of the loan you can get against your property:
A multipurpose loan upto 5 Cr at very attractive interest rates
"No Income" document scheme available
No guarantors required
High loan amounts
Minimum documents and speedy approval
Maximum tenure of 15 years