Overview
Malaysia's First Bank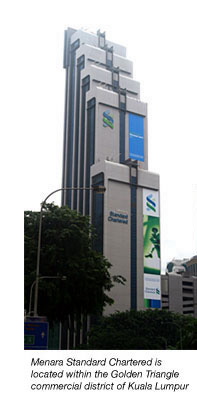 Part of the Standard Chartered Group, Standard Chartered's presence in Malaysia dates back to 1875, when its first branch opened for business at Downing Street, Penang.
The bank was locally incorporated as Standard Chartered Bank Malaysia Berhad on 29 February 1984. Our local board of directors is chaired by Tan Sri Dato' Mohd Sheriff Mohd Kassim. As Malaysia's first bank with over 130 years of history, Standard Chartered employs more than 5,000 employees within its Malaysian operation, which covers more than 30 branches across the country, a global shared service centre, a wholly-owned subsidiary in Price Solutions, an offshore facility in Labuan and a head office located at Menara Standard Chartered, Jalan Sultan Ismail, Kuala Lumpur.
Standard Chartered Saadiq Berhad, the bank's Islamic Banking subsidiary was established in November 2008, and offers a comprehensive range of Shariah-compliant products and services to individuals and corporates through its first Saadiq financial centre located in Taman Tun Dr Ismail, Kuala Lumpur.
Leading the Way
Standard Chartered leads the way through product innovation, consistent and strong growth performance and sustainability initiatives. It provides a comprehensive range of financial products and services including retail, Islamic and wholesale banking for individuals, small and medium-sized enterprises, as well as corporates and institutions.
Over the years, Standard Chartered has pioneered many innovations in Malaysia including:
We were the first international bank to set up an Islamic banking arm (1993) and the first to launch several Islamic products such as the Murabahah program (2005), Profit Rate Swap (IPRS), Cross Currency Swap (ICCS) and Wiqa Forward Rate deal in 2006, Islamic Trade and Supply Chain proposition and TRAIn-I (Total Return Alternative Investments) in 2007 under our Islamic banking brand, Standard Chartered Saadiq.

We've launched several industry-defining retail banking products including MortgageOne Optimizer, Business$aver Current Account, and the Standard Chartered Visa Infinite credit card.

We were the first bank to establish a global operations hub in Malaysia. Today, Scope International KL provides support to the group's operations in 70 countries around the world, and houses the country's biggest software development centre.
Awards and Achievements
We received Gold recognition for HR Excellence at the Malaysia HR Awards 2008/09, organised by the Malaysian Institute of Human Resources.

Standard Chartered Saadiq was named Best International Islamic Bank 2009 by Euromoney.

For our collaboration with Gulf Investment Corp in issuing MYR1 billion of fixed-rated bonds, we were given the Blueprint Award for Outstanding Deal of The Year at the RAM League Awards 2009.

We won an Industry Recognition Award at the RAM League Awards 2009.

We won top prize for Long-Term Excellence in EU-Malaysian Trade / Investment at the Europa Awards 2009, hosted by The European Union Malaysia Chamber of Commerce and Industry.

The Asian Banker named us Best Regional Retail Business in Asia at their Excellence in Retail Financial Services 2008.

We were given a Brand Laureate Heritage Award for Brand Excellence 2008.

Standard Chartered was named the No 1 Top Bookrunner of Malaysian Syndicated Loans in 2007 by IFR Asia.

We were voted the No 2 Top Lead Manager for Conventional Bonds Issue Value 2007 by Malaysian Rating Corporation Berhad.

We won the SME Sahabat (Small Medium Enterprises) Award for 4 consecutive years for our significant contribution to promoting and developing SMEs in Malaysia since 2005.

The Asian Banker also gave us an award for achievement in cash management in 2007.
Privacy of Customer Information
We will not collect any personal information about you unless you have chosen to give it to us. Please do not give us personal information if you do not want it collected. We may use information we have collected about you to help improve our customer service, or respond to your queries. We may also store some information on your own hard disk ('a cookie'). This helps us match this site to your preferences. You can choose to accept or delete cookies, however deleting them may mean our website will not work properly. When you speak to us on the phone, some calls may be monitored or recorded in case we need to check we have carried out your instructions correctly and to help improve our quality of service.
You may view our Privacy Policy for further details on our commitment towards ensuring our customers' privacy.
About Us
News & Media
Investor Relations
Sustainability