Your rewarding journey with WorldMiles Card takes flight right here. When you sign up for a WorldMiles Card, we will put you miles ahead with a BIG welcome.
Swipe & Accumulate
You will earn WorldMiles Points* with every retail purchase made with your WorldMiles Card.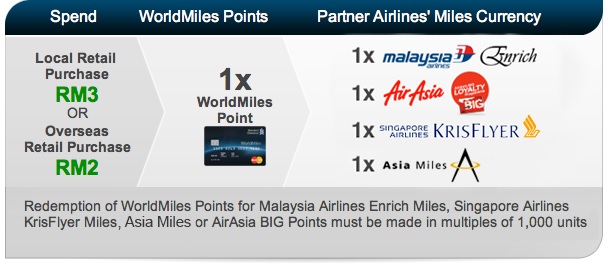 Example:
If you spend
RM6,000 a month locally
, you are entitled to
2,000 WorldMiles Points
that can be redeemed for flights to various destinations.
2,000 WorldMiles Points = 2,000 Enrich Miles / AirAsia BIG Points / KrisFlyer Miles / Cathay Pacific Asia Miles
Redemption of WorldMiles Points for Malaysia Airlines Enrich Miles, Singapore Airlines KrisFlyer Miles, AirAsia BIG Points or Cathay Pacific Asia Miles must be made in multiples of 1,000 units.
* Please note that the following purchases made on your WorldMiles Card will not earn any WorldMiles points – Balance Transfer; Cheque On Call Plus; Flexi On Payment; Cash advance or cash withdrawals; Payment of monthly Miles Membership Fee, Interest payments, late payment fees, charges for cash withdrawals, government service tax and any other form of service or miscellaneous fees; Petrol Transactions and Insurance Transactions.
<!— CONVERSION TRACKING CODES PROVIDED BY DYLAN – 14 AUGUST 2014 --> <!— END OF CONVERSION TRACKING CODES PROVIDED BY DYLAN – 14 AUGUST 2014 -->