Management Committee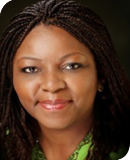 Bola Adesola - Managing Director/CEO, Nigeria and West Africa
Bola Adesola is the Managing Director and Chief Executive Officer of Nigeria. Prior to joining the bank in March 2011, she was an Executive Director at First Bank of Nigeria Plc and prior to that Managing Director of Kakawa Discount House, Nigeria, where she drove record business performance. She also worked in Citibank for 9 years in senior leadership roles in Nigeria and Tanzania. Bola provides leadership for the Group in West Africa to drive the continued strengthening of Standard Chartered Bank's franchise in the region.

Called to the Nigerian Bar in 1985, Bola Adesola has over 26 years banking experience. An alumnus of Harvard Business School and Lagos Business School, she also holds a Law degree from the University of Buckingham, UK.

Bola is an Honorary Fellow of the Chartered Institute of Bankers Nigeria and sits on the Board of the Financial Markets Dealers Association having served in various capacities in developing the Nigerian Money Market, the Interbank Settlement Systems and the Discount House subsector over the years. Bola also chairs the Central Bank of Nigeria Bankers' Sub-Committee on Economic Development, Sustainability and Gender and was recently appointed the first female Vice President of Lagos Business School Alumni Association (LBSAA).

Bola Adesola was appointed to the United Nations Global Compact Board by the UN Secretary General in June 2015
---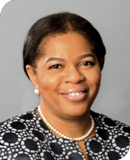 Yemi Owolabi - Executive Director, Finance, Nigeria and Regional CFO, West Africa
Yemi Owolabi is the Executive Director, Finance of Standard Chartered Bank Nigeria Ltd and the Regional CFO of West Africa, with close to 30 years working experience in Auditing, Consulting, Risk Management and Banking.

Yemi joined the Bank as one of its pioneer staff in 1999 and is responsible for the financial & management accounting function of the Bank in accordance with International Financial Reporting Standards. She is also responsible for the provision of all Management Information Reports required to support both the strategic and commercial decision making process and she ensures that the Bank's Balance Sheet is well managed to maximise returns on Capital.

Before joining the bank, Yemi worked as the Financial Controller of Fidelity Bank PLC (formerly Fidelity Union Merchant Bank Limited) and prior to that worked as an Audit Senior at KPMG Peat Marwick Ani Ogunde & Co.

Yemi is a strong finance professional, with excellent credentials and deep experience built on a reputation for clear strategic insights, strong analytical skills, and great team building skills. Yemi's vision is to continually leverage her robust professional experience to build/ drive/ deliver enterprise business plans including a strong financial Control environment.

Yemi is a graduate of the Obafemi Awolowo University with Bachelors degree (Honors) in Social Sciences, a distinguished Fellow of the Institute of Chartered Accountants of Nigeria (ICAN) and the Chartered Institute of Management Accountants (CIMA), an Honorary Senior member of the Chartered Institute of Bankers of Nigeria (CIBN), Associate member of the Chartered Institute of Taxation of Nigeria (CITN), and a respected faculty member of the Financial Institutions Training Centre (FITC), closely involved in directing programs in the field of risk , capital and liquidity management. Yemi has served in various leadership capacities within and outside the Banking and Finance Industry.

---
Ebehijie Momoh - Head, Retail Banking
Ebehijie Momoh is the Head of Retail Banking (RB) for Standard Chartered Bank Nigeria Ltd.

She joined the bank in 2011 and currently holds primary responsibility for the development and execution of the Retail Banking business strategy in Nigeria. Prior to her appointment as Head of RB in Nigeria, Ebehijie was the Head of SME Banking for Nigeria and West Africa.

Ebehijie started her banking career at Guaranty Trust Bank in 1993. She later joined Diamond Bank in 1995 and rose to become the Regional Manager South.

From 2006 to 2011 Ebehijie was with First City Monument Bank, where she held various senior management positions; including Assistant Vice President and Zonal Head Midwest Zone, Vice President and Group Head Conglomerates and Group Head Commercial Banking, Lagos and South Region.

A seasoned banker with over 22 years banking experience in Retail Banking, Corporate Banking, and Commercial Banking, Ebehijie brings to bear practical skill sets in the areas of relationship management, branch and Regional management.

Ebehijie holds a BSc in Chemistry from the University of Lagos and an MBA from the University of Benin. She is also a honorary member of the Chartered Institute of Bankers of Nigeria.

---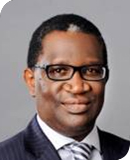 Olusiji Adeyinka - Head, Compliance
'Siji Adeyinka is the Head of Compliance for Standard Chartered Bank Nigeria (SCBN) Ltd. and has occupied this position since 2011.

Before joining the Bank, Siji was the Group Head of Internal Control and Compliance in First City Monument Bank (FCMB). Prior to that, he worked in various senior roles in Operations (Trade Services, Domestic Operations and Funds Transfer) at FCMB before becoming the Group Head of Operations and Technology. He also worked in Citibank Nigeria in the Financial Control Department where he commenced his banking career.. He working life started in PricewaterhouseCoopers as an external auditor and rose to the position of an Audit Senior.

In SCBN, he is responsible for managing the regulatory and Compliance risk for the bank. As the head of Compliance, he also is responsible for managing the Financial Crimes Risk (Anti-Money Laundering/Combating the financing of terrorism, Anti-Bribery and corruption and also Sanctions risks)

Siji is a graduate of Economics from the University of Wolverhampton, UK and has over 22 years banking experience. He is a Fellow, Institute of Chartered Accountants of Nigeria (ICAN) and an Associate member of the Chartered Institute of Taxation of Nigeria (CITN). He is also an Honorary senior member of the Chartered Institute of Bankers in Nigeria (HCIB).

Currently he is the Vice Chairman of the Committee of Chief Compliance Officers of Banks in Nigeria (CCCOBIN) a body responsible for promoting interface and cooperation between banks and regulators. He has been in this position for four years.

---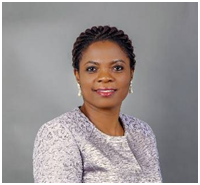 Rachael Asonibare - Chief Information Officer & Head, Information Technology and Operations
Rachael Asonibare was appointed Chief Information Officer in September 2016

As Chief Information Officer, Rachael is responsible for formulating and executing the technology and service delivery strategy as well as maintaining the operational & infrastructure capability for the franchise.
Rachael joined Standard Chartered in 1999 and has been instrumental in the establishment and development of the bank's technology infrastructure. Until her most recent role of Head, Country Technology Management, she had undertaken various senior management roles within the Information & Technology at country and regional levels contributing significantly to successful delivery of major business transformation and regulatory projects.
Rachael holds a Bachelors degree in Computer Science, an MBA from University Of Lagos and Diploma in Communication Networks from Massachusetts Institute of Technology(MIT) USA. She is a certified project management professional, a member of the Nigeria Computer Society(NCS) and the Information Technology Standards Council of the Central Bank of Nigeria.
She has 24 years of work experience, and has worked with Nigeria Shippers' Council as a Senior System Analyst prior to joining Standard Chartered Bank in 1999. She is happily married with children.
---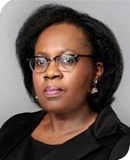 Mobola Faloye - Chief Risk Officer and Head, Operational Risk, Nigeria
Mobola Faloye is the Chief Risk Officer, Nigeria, Cameroon and Côte d'Ivoire; and Head of Operational Risk, Nigeria, for Standard Chartered Bank; and she joined the Bank in May 2015.

She serves as a strategic enabler for the achievement of SCB's business objectives; utilising qualitative and quantitative engines to optimise the risk/reward balance without compromising the Bank's integrity and core standards

Mobola has over 25 years' proven management expertise and brings a wealth of experience in the banking and asset/fund management sectors. She has worked for various local and international financial institutions in dynamic Transaction Management and Risk Management roles. Prior to joining the Bank, she was the Chief Risk Officer & Head Enterprise-wide Risk Management Division of Guaranty Trust Bank, Nigeria – managing the implementation of an enterprise-wide risk management framework and putting in place infrastructure, policies, procedures, systems and awareness platforms. Some of her previous roles also include Associate Director of Credit Risk Management at Swiss Banking Corporation (now UBS AG), Senior Operational Risk Manager at Citibank UK and Global Head of Derivatives Documentation at Aberdeen Asset Management plc.

Mobola has been a Panelist and Speaker at various risk management conferences, is a member of both the Institute of Risk Management (UK) and the Risk Management Association of Nigeria, and runs risk management seminars for the Lagos Business School. She is also an Honorary Senior Member of the Chartered Institute of Bankers of Nigeria. In addition to her Bachelor's and Post Graduate, she is an alumna of the Lagos Business School.

Mobola speaks French and is an avid Music aficionado.


About Us
News & Media
Sustainability