Meet the Futuremakers – STEM Hive Team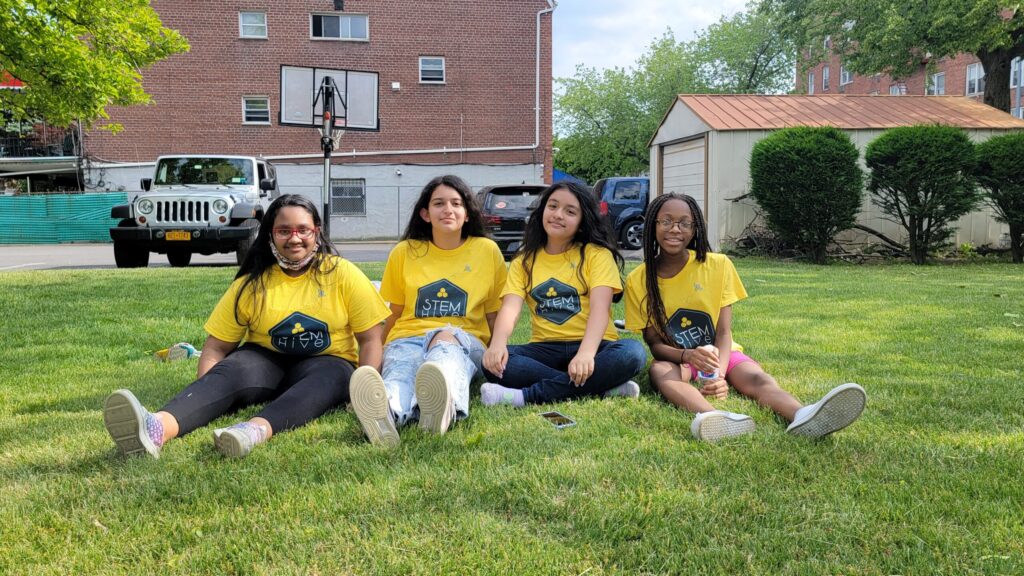 The origins of STEM Hive began at a Hackathon in late 2018, when Carolina Perez and Karla Jacome, lab-partners at the City College of New York (CCNY), realized that as well as a passion for science they shared an experience of being first-generation college students from Latin-American backgrounds. They started STEM Hive as a way to introduce STEM subjects to other first-generation, low-income students.
As part of the Zahn Innovation Center's incubator competition, Carolina and Karla were joined in their endeavor by two other CCNY students, Veronica Juca and Daniel Gaston. The team won the Standard Chartered Women In Tech Grand Prize in May 2019.
Two years after winning the competition, we recently caught up with the team and asked how the journey has been.
Do you feel like the program has achieved some of the near-term objectives that you set out initially?
When STEM Hive first started, our goals were to encourage young students from underrepresented backgrounds to consider a career path in STEM. As of June 2021, throughout our four courses, STEM Hive has accomplished that goal with students from the different boroughs in NYC and Ecuador.
Why do you think an organization like STEM Hive is particularly important during the pandemic?
Our mission has remained the same despite the difficult circumstances this past year. We are dedicated to reaching out to the community to provide them resources and skills. Our programs and workshops cater to low-income families who cannot afford to pay for pricey extracurricular activities. Throughout our program, parents and children have learned about a wide variety of opportunities and careers that are available, especially by meeting professionals in a STEM field. They become aware of scholarships, grants and other programs. With our guidance and programs, children can take advantage of what is available to them.
What have you learned from running STEM Hive and being part of the Zahn Center program?
With STEM Hive, we have learned that there will always be a gap to fill until there is opportunity equity in STEM fields for underrepresented. The amazing thing about STEM Hive is always having the liberty to innovate new workshops. There are always volunteers willing to speak to our students or help support our mission. In addition, we have learned that to reach underrepresented communities, you have to go to them. They will receive your services with a warm welcome.
The Zahn Center program instilled our team with the willingness to pivot when something doesn't go as planned. The pandemic was a perfect example of how the idea of pivoting came into play. Although our in-person program was delayed, we figured out a way to make it work and reach families through our new virtual service. The Zahn Center taught us about team dynamics and accountability needed in order for a business to work and be successful. Together as a team, we have been able to identify our strengths and weaknesses to push STEM Hive forward.
What is your vision for STEM Hive in the future?
The way that STEM Hive has impacted the students' lives through the courses we hope to do that with students outside of New York. We want to expand our program to other cities so that we expose students from underrepresented backgrounds to all the different career opportunities in STEM. STEM Hive has begun to accept students from Ecuador to our program, and it would be incredible to have a branch of STEM Hive headquartered there!
Currently, STEM Hive is primarily providing courses to students from ages 7-13 years old. We want to expand our program to High School students and cater our curriculum to the different areas of STEM they are learning about in schools.
To further engage underrepresented youth in STEM, one of our goals is to provide a stipend and materials for our interactive workshops to those financially disadvantaged. So we are also interested in developing partnerships with organizations that could help provide materials and volunteers to speak to our students.