Humans just aren't built for high altitudes. The higher you climb, the harder it is for your body to get oxygen. Your heart rate goes up, you have to breathe faster and faster, and eventually, even walking becomes tiring. Your blood vessels tighten up to cope with the lack of oxygen, but the same amount of blood is pumping through your body - it's just starved of oxygen. That increased pressure can make the blood vessels burst, flooding your lungs and brain.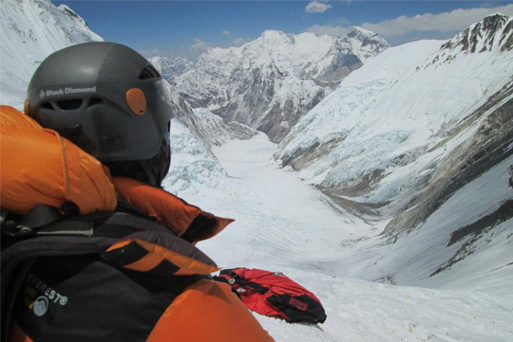 Acclimatising through thousands of feet of elevation to ever-increasing altitudes
Fortunately, the human body's capability for adaptation is remarkable. With the right acclimatisation, climbers can function at the highest altitudes. But there are rules to be followed, even if you're a climber as seasoned as Horacio or Horacio.
Climb High, Sleep Low
You sleep strangely at such heights. Your body alternates between deep and shallow breaths, and sometimes you even stop breathing for a few seconds, leaving you with a disturbed, unrestful sleep and strange dreams of suffocation. Coupled with the change in your respiratory rate and the lack of oxygen, sleeping at altitude without properly adjusting can be dangerous.
So mountaineers the world over follow a simple maxim: "climb high, sleep low". The idea is to expose the body gradually to higher and higher altitudes, forcing it to adjust, and then returning back down to sleep and recuperate at an altitude that the body is already used to.
The Rotation System
On a mountain the size of Everest, acclimatisation is a significant logistical challenge. You have to acclimatise through thousands of feet of elevation, to ever-increasing altitudes that the human body was never meant to live at, coming up and down in a long, drawn-out rotation system.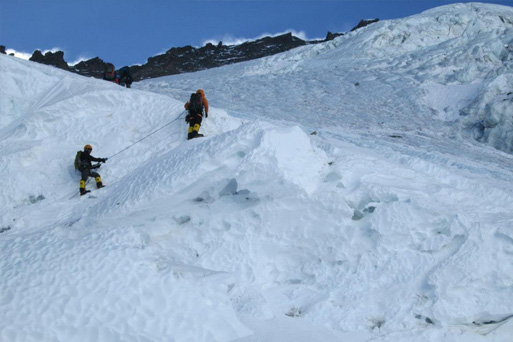 Going up and down in a long, drawn-out rotation system to acclimatise
Because of the sheer height of the mountain, it takes nearly thirty days and three to four cycles of climbing high and sleeping low before an expedition can attempt the summit of Everest. It's arduous and taxing, and every climb is fraught with challenge. In addition to the natural dangers of the mountain, climbers also have to deal with headaches and nausea as their bodies struggle to adjust to the altitude.
From Base Camp (5400m), you climb through the ever-shifting Khumbu Icefall to Camp 1 (6100m), and up to Camp 2 (6400m), and then all the way back down to Base Camp. Then it starts again, only this time you forge higher and higher up the mountain, battling the cold and the headaches up to Camp 3 at 7300m, and then back down the mountain again before beginning the third cycle. Mount Everest becomes your world. You spend your days on its slopes and its nights in its shadow.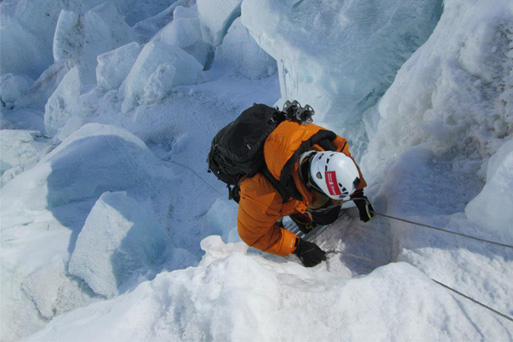 But it's well worth it. The Horacios spent nearly a month acclimatising - they had to split up at one point due to differences in their adaptation speed. But undeterred, the Horacios are readying up for the final push to Camp 4 and to the peak of Mount Everest to set a world record that can never be broken.