The Conquest of Everest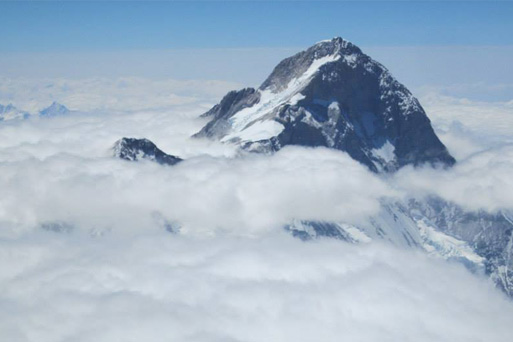 On Everest, it took many failures to make that first successful summit happen. George Mallory led multiple pioneering expeditions to the mountain, mapping out its terrain and forging new routes by trial and error. But Mallory's obsession with scaling Everest would end in tragedy: on 8 June 1924, he set off from Camp 4 to the summit and was never seen alive again. Whether or not he ever conquered Everest is still a mystery.
A New World Record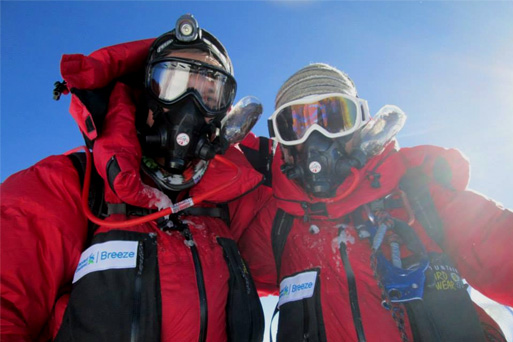 The Horacios have fulfilled a life's ambition, reaching the peak of Mount Everest. They've climbed to the very top, 8848m above sea level.
The Road to the Summit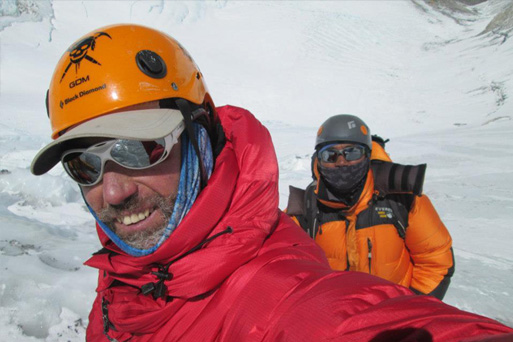 8000 metres above sea level, climbing Mount Everest is no longer glamorous. Up here, at the edge of the stratosphere, the oxygen-starved air can no longer sustain human life. The summit towers up against the strangely-hued sky, an ancient pyramid of rock that doesn't care whether you make it to the top. There is only you and the mountain, and the weight of your gear on your ever-tiring body.
Acclimatisation: "Adjusting Your Altitude"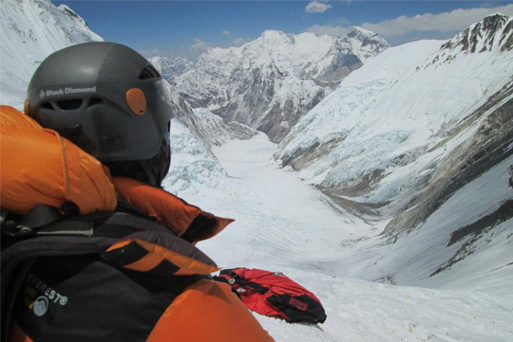 Humans just aren't built for high altitudes. The higher you climb, the harder it is for your body to get oxygen. Your heart rate goes up, you have to breathe faster and faster, and eventually, even walking becomes tiring. Your blood vessels tighten up to cope with the lack of oxygen, but the same amount of blood is pumping through your body - it's just starved of oxygen. That increased pressure can make the blood vessels burst, flooding your lungs and brain.
Breeze Banking at Basecamp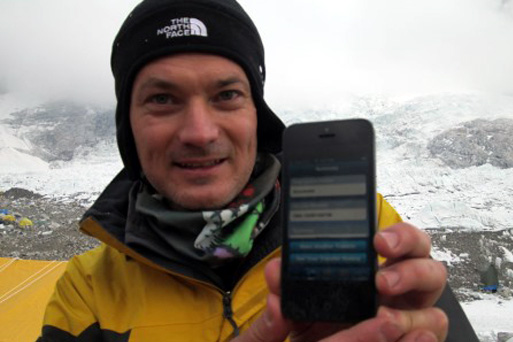 Horacio Galanti and Horacio Cunietti have set a world record for the highest banking transaction on Earth. Using Standard Chartered's Breeze at Everest Base Camp, 5,364m above sea level, the Horacios successfully transferred money and placed an order on the Hong Kong Stock Exchange.
Cleaning the roof of the world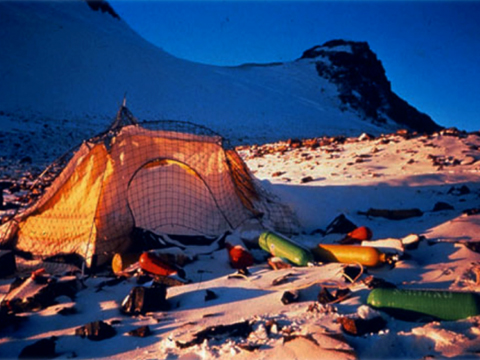 Since Edmund Hillary and Sherpa Tenzing Norgay first reached the peak of Mount Everest in 1954, thousands of climbers have followed in their footsteps.
In the Hands of the Gods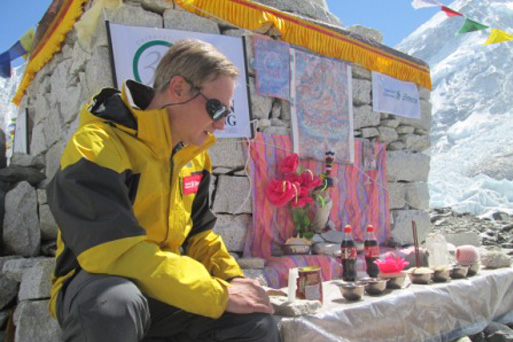 It's impossible to stand in the shadow of Mount Everest without feeling a sense of trepidation. The mountain is ancient, immense, and far beyond the whims of man. When you're on its slopes, you're completely at its mercy.
Two Noble Causes, One Mountain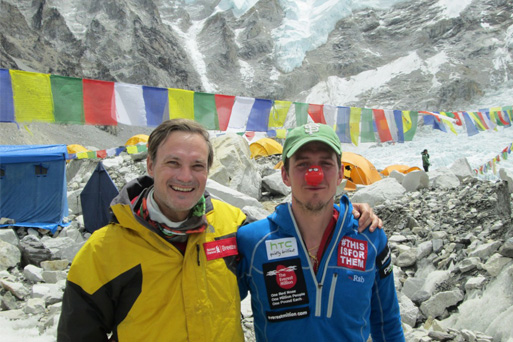 Many men have gone up and down the Everest, carrying with them, their own personal goals and dreams. The Horacios are climbing Everest to clear it of its trash, while Daniel Hughes is climbing Everest to try and raise a million pounds for Comic Relief, a major charity based in the UK, which strives to create a just world free from poverty.
Remembering Tenzing Norgay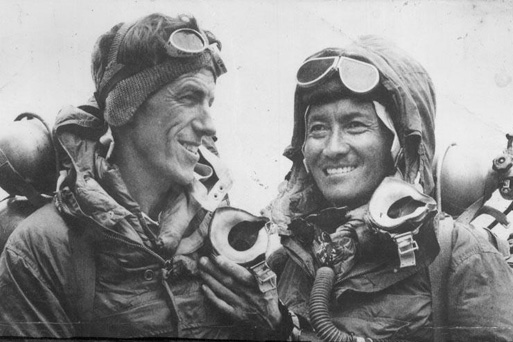 On this day, 27 years ago, a legend of mountaineering took his last breaths. Tenzing Norgay, who was the first man to reach the summit of Mount Everest together with Edmund Hillary, died in Darjeeling, India at the age of 71 on May 9th, 1986.
The Last Safe Place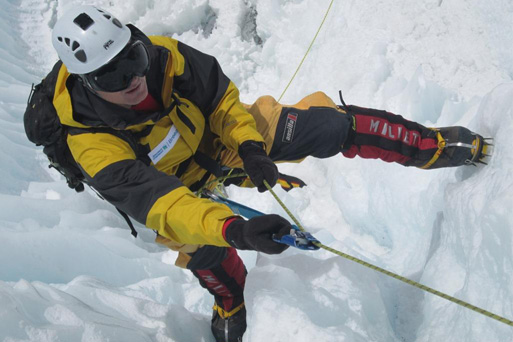 At 5,364 metres (17,600 feet) above sea level, Everest Base Camp in Nepal is already higher than the peak of most mountains. The available oxygen is already half that at sea level, making even daily tasks can be tiring – an apt warning of the dangers of altitude sickness and the need for acclimatisation.
The Journey to Everest
Horacio and Horacio landed in Kathmandu after their stop in Hong Kong. Would-be-climbers have a mountain of paperwork to fill out before they can even set foot on Everest, and Kathmandu is the best place to do some last-minute shopping for food, gas and extra climbing gear.
A Monumental History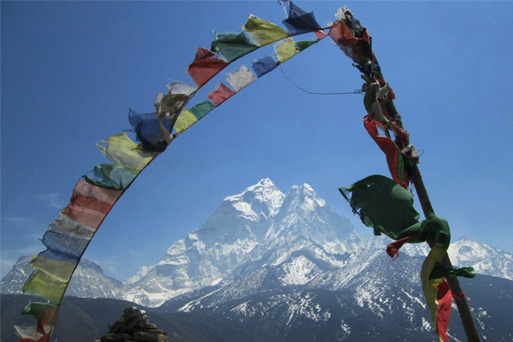 In Tibetan, her name is Chomolungma, the Goddess Mother of the World. It wasn't until 1865 that Andrew Waugh, the Royal Geographical Society's Surveyor-General in India, gave the mountain the name that most of the world would know it by: Everest. He named it after his predecessor, Sir George Everest, who reportedly felt that a local name would have been more appropriate.
How to train for Everest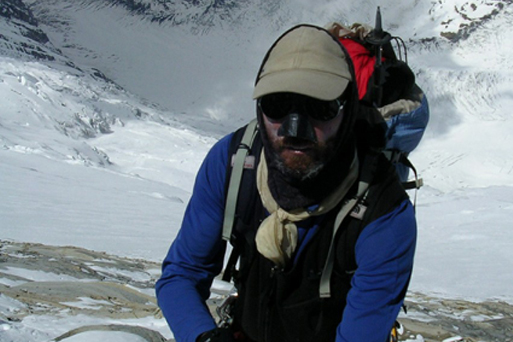 Climbing Mount Everest is hard work. In the words of Horacio Galanti, "it's something you spend your whole life preparing for."
The Horacios in Hong Kong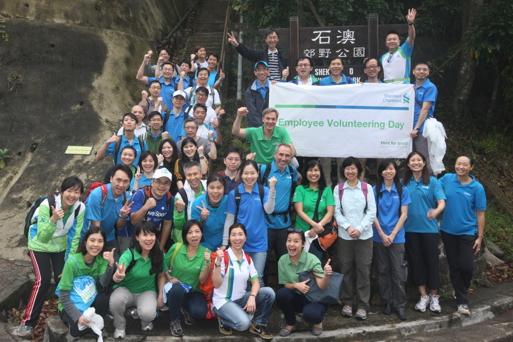 Before heading to Nepal, Horacio and Horacio stopped off at Standard Chartered's offices in Hong Kong. They came to meet the Breeze Banking team, and take part in Standard Chartered's community outreach program, where they cleaned a slightly less imposing peak - the Dragon's Back.
Meet the Horacios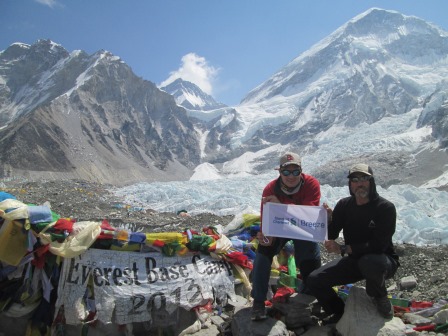 Horacio Galanti and Horacio Cunietti are both Argentinean, from the southern tip of Latin America. But when they first met in 2005, they were as far north as it gets; on the icy slopes of Mount McKinley in Alaska, where temperatures routinely drop fifty degrees below freezing.
Mountaineers on a mission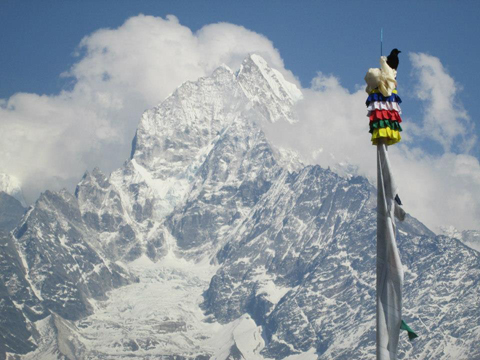 For thousands of years, Mount Everest has been a holy place for those who live in its shadow. More recently though, the world's tallest mountain has become the holy grail of mountaineering. While it may not be the world's steepest mountain, or its most dangerous, it is the roof of the world – the highest place on planet Earth – and the allure of this magnificent peak is impossible to deny.