On this day, 27 years ago, a legend of mountaineering took his last breaths. Tenzing Norgay, who was the first man to reach the summit of Mount Everest together with Edmund Hillary, died in Darjeeling, India at the age of 71 on May 9th, 1986.
Born in Nepal, Tenzing was always an adventurer. While most Sherpas were reluctant to scale the great peaks, except as a means of earning a living, Tenzing was infected by the zeal of the foreign climbers. He didn't just want to be a porter on Everest like most Sherpas at the time – he wanted to be a mountaineer.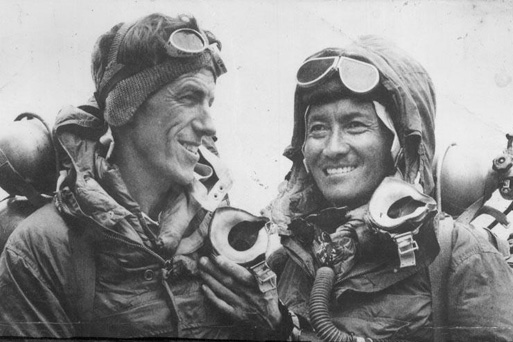 Photo: Jamling Tenzing Norgay
Trial and Failure
The first time Tenzing attempted Everest, he was just 19, as part of Eric Shipton's 1935 expedition. Over the years, he took part in a several more failed attempts, including one in 1947 which involved illegally entering Tibet, and another one in 1952 where him and Raymond Lambert made it within 250 metres of the summit, the highest that anyone had ever been. They were forced to turn back due to a shortage of equipment – they had no sleeping bags, no stove, and no drinking water.
The next year, Tenzing Norgay took part in the 9th British Expedition to Everest, led by Colonel John Hunt. He was the leader of the team of Sherpas on the expedition, and it would be his seventh summit attempt. Tenzing would later tell a reporter: "Six times I climbed the mountain. The seventh time, I tell myself I cannot fail."
First to the Roof of the World
When it came time to conquer the summit, two climbing pairs were selected for the final assault – Tom Bourdillon and Charles Evans, and Edmund Hillary and Tenzing Norgay. The first pair nearly made it, coming within 100m of the summit, but exhausted and out of oxygen, they were forced to turn back with just a hundred metres to go.
The next day, it fell to Tenzing and Hillary to make history, and at 11.30am on 29th May 1953, they became the first men to set foot on the world's tallest peak – an achievement that still resonates to this day. It is fitting that one of the first two men on the summit of Everest had grown up in its shadow. Later, he would write of the experience: "My mountain did not seem to be a lifeless thing of rock and ice, but warm and friendly and living. She was a mother hen and the other mountains were chicks under her wings."
60 years later, Horacio Galanti and Horacio Cunietti will honour Tenzing Norgay's memory by climbing in his footsteps, while doing some good for the region that he held so dear by cleaning up some of the pollution left by years of climbing.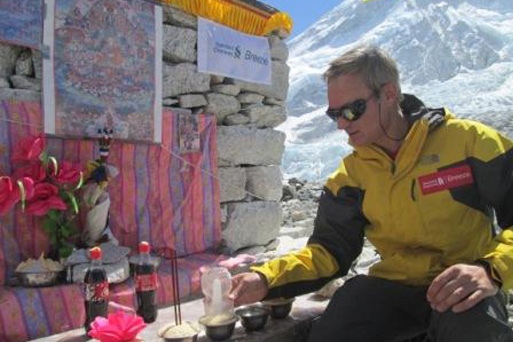 Horacios' Tribute to Sherpa Tenzing Norgay
After a successful acclimatisation cycle to Camp 3 and back, Horacio Galanti conducted a Puja Ceremony with their Lama in Basecamp in honor of Tenzing Norgay. The Puja Ceremony calls for "food" in the Altar. Food offerings must be in white colour to signify pure wishes and good things - that explains the white cream on top of the soda bottles.