Marcin Ludwiszewski will lead the "Purple Team" at Standard Chartered
on 11 Aug 2020
Marcin Ludwiszewski has assumed the position of leader of the "Purple Team" at Standard Chartered, a leading international bank with a global business services center in Warsaw. He will be responsible for reinforcing the cooperation between the team conducting attack simulations ("Red Team") and the team protecting the bank against simulated and real attacks ("Blue Team"). All of these teams contribute to the global security system that protects the bank's operations in 60 markets and its clients against cyber threats.
New expert in Standard Chartered
Marcin Ludwiszewski is a cybersecurity expert and a leader with extensive experience in operating in an international environment. Over the past 20 years he has participated in projects and led teams responsible for ensuring the IT security of organizations from both the public and private sectors.
Before joining Standard Chartered, he was the cybersecurity leader at Deloitte Polska, where he created a team to support the company's clients in matters related to security strategy and testing as well as protection against cyber attacks. It is important to stress that this team was one of the first commercial teams in Poland that operated according to the "Red Team" formula. It conducted attack simulations reflecting the operations of cybercriminals, and eventually started working using the "Purple Team" formula, where offensive teams ("Red Teams") and defensive teams ("Blue Teams") carried out joint attack scenarios.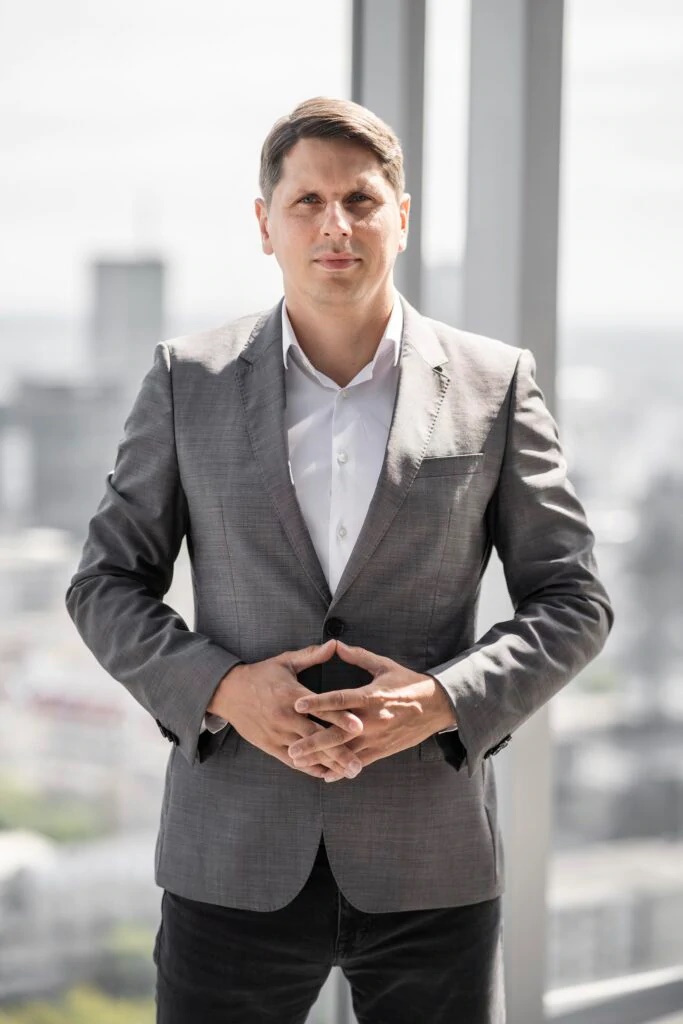 Previously, he was responsible for security and resilience across 24 countries in Europe and the Middle East and Africa (EMEA) at the Royal Bank of Scotland. Before working in the financial sector he worked for ISA. He was responsible for the development of the cybersecurity area by contributing to the creation of a computer security incident response team (CERT.GOV.PL). In addition, he gave lectures on cryptography and information security risk analysis at the University of Warsaw. He is also a frequent speaker at conferences devoted to cybersecurity issues.
Marcin Ludwiszewski brings extensive knowledge of cybersecurity among the consulting services and banking sectors to our international group of experts. He has also acquired extensive and proven experience in successfully creating and developing a team operating using the "Purple Team" formula. His excellent understanding of the local talent pool will aid us in the expansion of our global cybersecurity competence center departments in Warsaw with new world-class experts.

Edward Crichton-Stuart, Global Head of Control — Trust, Data & Resilience at Standard Chartered
Cooperation with the best
Standard Chartered began building its global cybersecurity competence center in early 2019. Within several months it created one of the strongest teams specialized in this field in Poland. Today it employs 100 experts involved in protection against malware, cyber threat detection, cyber intelligence, penetration testing, management of identity, access, risk and controls, cloud and network security management, incident response, data protection and management. In addition to having the opportunity to participate in international projects of strategic importance for the bank's cyber security and further develop their skills, members of this team also have the opportunity to cooperate with leading Polish experts in the cybersecurity area holding key managerial positions at Standard Chartered.
We are delighted that Marcin Ludwiszewski is joining the team at our global cybersecurity competence center, which is one of the pillars of our operations in Poland. Our office in Warsaw was established in 2018 to support the bank's business operations in Europe, the Americas, and in other parts of the world. Currently, it is composed of over 600 seasoned experts. Based on their knowledge we provide specialized services to other companies from the Standard Chartered Group. In addition to cybersecurity, our key business areas include preventing financial crime, managing liquidity risk and HR projects and negotiating derivative contracts with corporate and institutional clients.

Rowena Everson, Managing Director of Standard Chartered in Poland