Standard Chartered GBS Poland is part of the "Safe Havens" report
on 24 Nov 2022
The "Safe Havens. Why Talk about LGBT+ People in the Workplace?" report, prepared by the Love Does Not Exclude Association (Miłość nie wyklucza) was published. Standard Chartered Poland proudly joins the report, sharing best practices and activities undertaken by the SC Pride Poland Employee Resource Group.
The publication was created for the LGBT+ community and its allies who are looking to work at companies who care about an inclusive work culture. It is also a source of knowledge and inspiration for employee groups already in operation and companies that want to support their rainbow employees, but aren't sure of the available resources and opportunities. Moreover, the report presents social organisations that cooperate with business and showcases specific solutions for LGBT+ people support available under Polish law.
The Safe Havens report is a great guide for companies that would like to do more for the LGBT+ community in the workplace and use practices already proven by other networks. SC Pride Poland started as a grassroot initiative, so we understand the challenges that similar networks may face at the beginning of their journey. In the report, we were able to show how official group registration and management support play an important role in our activities. I hope this example will encourage other companies to actively support the LGBT+ community every day, because inclusive culture is an absolute must today. I am proud that Standard Chartered Poland is such a safe harbour.

Ewa Kuchcinska, sponsor of SC Pride Poland
Nearly 40 colleagues are already actively involved in the SC Pride Poland initiatives. The group organises, i.a. awareness webinars for LGBT+ community allies, cooperates with social organisations (Lambda Warszawa, My, Rodzice Foundation), and supports the HR department with a series of educational publications on the dignified treatment of LGBT+ people.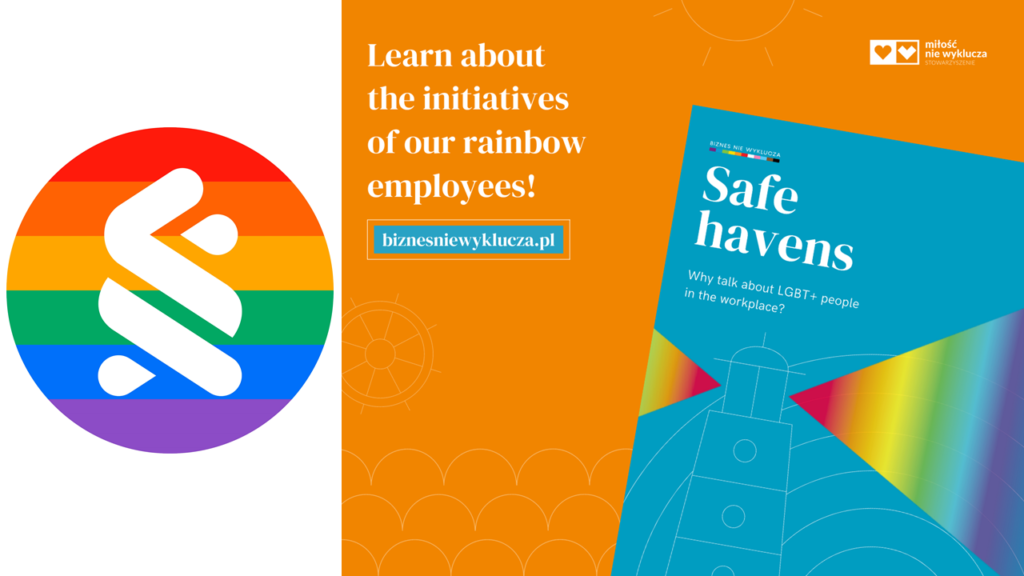 Ever since the group's inception, we've been taking an active part in the Warsaw Equality Parade, participating to all 3 of them since the office opened in Warsaw. One of our most important projects is supporting the digitisation of the archive of Poland's LGBTQIAPF++ community resources in cooperation with the Lambda Warszawa Association. At Standard Chartered Poland, our colleagues devote a lot of time to organising various initiatives. Thanks to their engagement, we can host internal events – such as cyclical Tea with Pride meetings or Pride Month celebrations. We distribute information about the network's activities in the company's communications channels to ensure it will reach more and more colleagues. For us all it is important for our colleagues to feel valued, included, and safe in the workplace.

Elena Mihalache, SC Pride Poland Lead.
The publication "Safe Havens" was developed by the Love Does Not Exclude Association in partnership with the network of LGBTQ+ employees of the Skanska Property in CEE. More information and the entire report can be found at www.biznesniewyklucza.pl.