In response to our employees' needs, we have introduced working time and location flexibility
on 4 May 2021
Effective 1 April 2021, employees of Standard Chartered's office in Poland can choose their working time and location.
Over the course of 2020 the employees of Standard Chartered's Warsaw-based office worked remotely in line with the official pandemic safety guidance in Poland. This experience has proved that it is possible to deliver the highest standards while working remotely but it also highlighted the huge benefits from face-to-face interaction at the office.
Towards the new normal
At the beginning of the global pandemic, in line with recommendations by the local authorities and to keep everybody safe, we asked our colleagues to switch to remote working, whenever possible. However, our office remained open for those employees who – for various reasons – could not or preferred not to work from home. Our office was adapted to meet the enhanced health & safety protocols. It was equipped with relevant protection products, with social distancing rules applied and regular office space disinfections. Between March 2020 and March 2021 95% of our employees worked remotely. We have not observed any quality or effectiveness drops. Quite the opposite, in some areas we have seen improvements

Anna Urbanska, CEO, Standard Chartered GBS Poland
Working remotely, we stayed in regular contact with our teams, asking them to share their experience and observations. Among the main benefits of this situation they named the ability to save time on commuting and to invest this saved time in interactions with their nearest and dearest, looking after their wellbeing, personal development or other areas important to them. They also referred to home office being a better place to focus on tasks requiring concentration and individual work, in a more comfortable outfit and better meals control. At the same time they signalled that they were missing direct contact with their co-workers, which supports collaborative work, idea generation and mutual inspiration

Anna Jarczewska, Head of HR, Standard Chartered GBS Poland
Over the course of the pandemic Standard Chartered opened its new work space in one of Poland's most modern office buildings, The Warsaw Hub. It is a functional space, supporting various needs of the bank's employees, both related to individual and collaborative work, as well as various levels of ability. It spreads across the top floors of the building, placed in a location (Rondo Daszynskiego) excellently connected with other parts of the city and with a spectacular view on Warsaw's panorama.
Hybrid working
Standard Chartered collected the preferred working model declarations from its employees and used it to design its 'return to office' or 'new normal' strategy, which offers the team the ability to combine remote work with office-based work (hybrid option) on permanent basis, with greater location and time flexibility.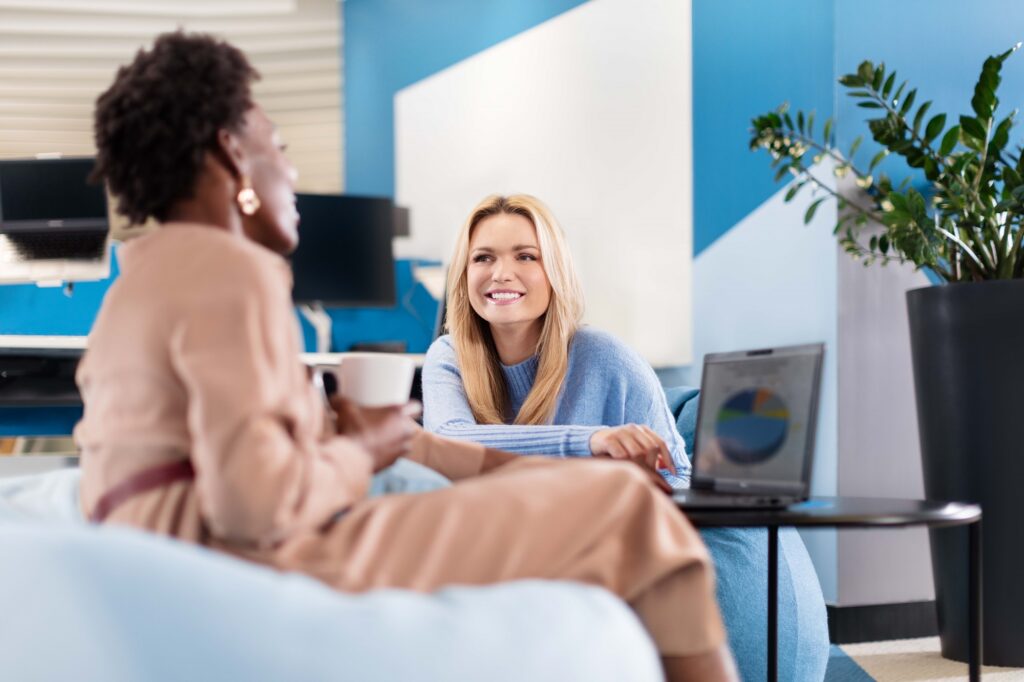 Combining remote and office-based work is voluntary and upon employee's request. Employees indicate their preferred working location (office, co-working space offered by Standard Chartered's global partner, or another, selected by the employee, e.g. home) and time within the day, in line with role-specific business needs and labour law framework in Poland.
Mutual benefits
Anna Urbanska explains: 'This approach enables our employees to shape their working model in a way that supports their individual needs and preferences. For us, as an employer, flexible working means we are better able to support our employees in realising their professional and personal objectives or plans, while being able to attract talented candidates from other locations than Warsaw. A lot of the roles we offer require specialist, often niche skills. Offering working location flexibility, we can reach professionals based in other parts of Poland with our employment offer'.
Anna Jarczewska adds: 'Our office in Poland is growing dynamically, we have several dozens of active recruitment processes. Flexible working is an element of our Employee Value Proposition for our existing and future employees. If a candidate we are looking for lives in Cracow, Wroclaw, Gdansk or outside the biggest cities, and the role we are filling enables remote working, we are able to offer almost 100% remote working, asking the employees to be ready to visit our office in Warsaw from time to time, for example to work on a team project requiring face to face interaction, to contribute to a community engagement initiative or team building activity. However, the preferred model is hybrid working, which combines remote and office-based working in various configurations'.