Standard Chartered Poland is a certified Great Place to Work® for the second consecutive year
on 2 Nov 2022
The Polish Standard Chartered office obtained the Great Place to Work® certification for the second consecutive year based on the positive assessment of the organisation's culture by its current employees. The recognition is a result on a feedback survey, where the employees were invited to express their opinions.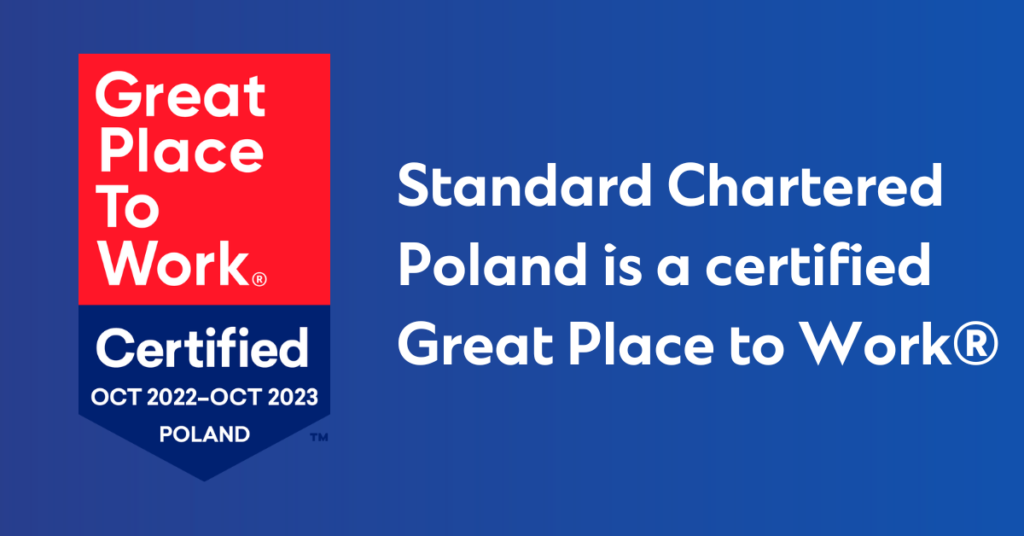 The most important findings from the survey conducted at Standard Chartered are:
96% of employees said that everyone is treated fairly, regardless of their gender or ethnic origin
94% of employees found the management staff fair and ethical, and the workplace friendly
92% of people appreciated that the executives can honestly admit their mistakes
91% of employees feel sincere interest from leaders and can count on support from colleagues
Almost 90% of employees believe that they can reconcile professional work with caretaking responsibilities and feel supported by the company in achieving work-life balance
I am glad that Standard Chartered Poland has once again received the prestigious Great Place to Work® certification. It is especially important to me in the perspective of our dynamic growth – recently we celebrated employing over 1000 colleagues in our Warsaw office and continue to grow. Such fast expansion means new challenges and we maintained a high level of employee satisfaction and the leading position among Polish employers. The study results confirm that our employers see the management as competent, honest and transparent, they feel well informed about the challenges and important changes. They know that leaders keep given promises and their words match their actions. For me, as a leader, this allows me to look into our company's future with optimism and good energy!

Anna Urbańska, CEO, Standard Chartered GBS Poland
Maintaining the Great Place to Work® certification for the second consecutive year is a huge success and recognition, confirming the effort taken every day to create a unique organisational culture. The award is granted solely based on the opinions of the company's current employees, which is of paramount importance to me. Together, we built a place where everyone feels an important part of the team, can grow their career and count on support to combine the professional and private life. Our initiatives concerning the diversity and well-being of employees, flexible work model and transparency in leadership activities translated into a high result. The survey results confirm that the employees support our values ​​– Do the right thing, Never settle and Better together – and follow them on a daily basis.

Anna Jarczewska, Head of HR, Standard Chartered GBS Poland
The Great Place to Work® certification is extremely important for attracting talent. Candidates are more likely to choose companies that boast a proven high level of organisational culture. Standard Chartered's Warsaw global business services centre has been employing people interested in developing a career in a global organisation since 2018. The company is regularly included in the lists of the best employers in the country. In Spring 2022, it ranked #5 on the list of Best Workplaces among large companies, and in September 2022 it was distinguished in the Everest Group report, which focused on the employer brand perception among 200 leading organisations in the business services sector in three markets, including Poland.
About Great Place to Work Certification™
Great Place to Work® Certification™ is the most definitive "employer-of-choice" recognition that companies aspire to achieve. It is the only recognition based entirely on what employees report about their workplace experience – specifically, how consistently they experience a high-trust workplace. Great Place to Work Certification is recognized worldwide by employees and employers alike and is the global benchmark for identifying and recognizing outstanding employee experience. Every year, more than 10,000 companies across 60 countries apply to get Great Place to Work-Certified.
About Great Place to Work®
Great Place to Work® is the global authority on workplace culture. Since 1992, they have surveyed more than 100 million employees worldwide and used those deep insights to define what makes a great workplace: trust. Their employee survey platform empowers leaders with the feedback, real-time reporting and insights they need to make data-driven people decisions. Everything they do is driven by the mission to build a better world by helping every organization become a great place to work For All™.