Experiences
Meet the JumpStarters — Debbie Yam of Tang Kay Kee Fishhead Beehoon
August 24, 2020
Welcome to the JumpStarter Series, where we get up close and personal with the youths of our time. These are the ones who go against the grain, and the ones who stand for what they believe in, so that they rise up above it all.
In this intimate interview series, we ask them to bare their hopes, fears and dreams, so that they can inspire the next generation of forward thinkers. Are you ready? Grab a seat, settle down, and meet your JumpStarters.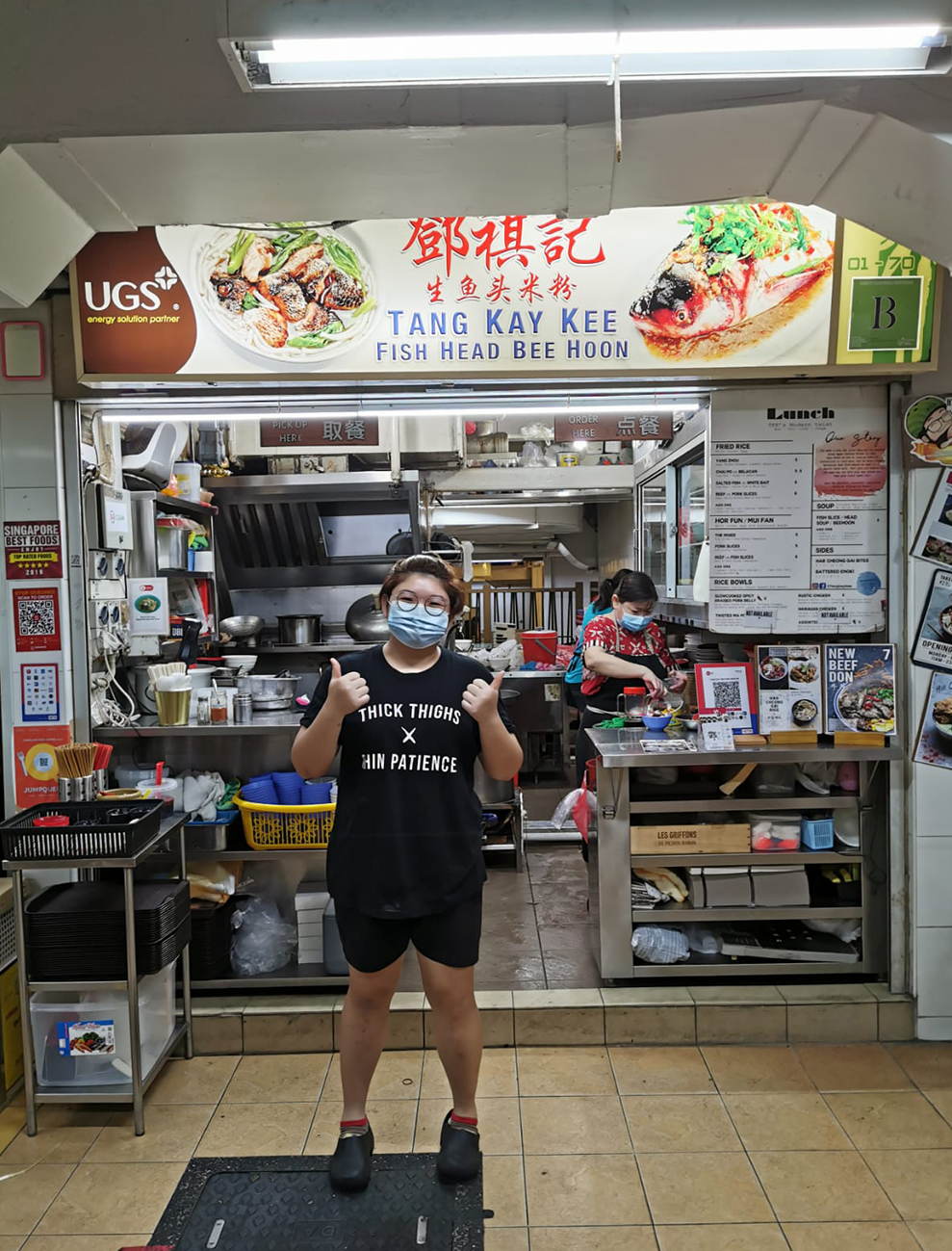 The smell of sweet smoke and local flavours, the shouts of hawkers, and the taste of wok hey. Ask any local and they'll wax poetic about how hawker culture is the lifeblood of Singaporeans. In recent years, you've seen young chefs helm hawker kitchens islandwide.
But have you met a fourth-generation hawker? We catch up with Debbie Yam, the 4G hawker who's firing it up at Tang Kay Kee Fish Head Bee Hoon in Hong Lim Complex, founded by her great-grandfather Tang Pak Kay back in the 1940s. Holding a business management degree and with 5 years of F&B experience at several cafés, Debbie shares a little bit more about her motivations, and why she decided to take the unlikely route of becoming a young hawker.
Standard Chartered (SC):
Hi Debbie, thanks for taking the time to speak with us today! To get the ball rolling, why don't you tell us more about Tang Kay Kee (TKK)?
Debbie Yam (DY):
No problem guys, thanks for having me! So Tang Kay Kee's my great-grandfather's store, and it has originally been a street hawker, back when they peddled on the streets, before the establishment of hawker centres. Currently, my grandaunt is the boss of the store, while my cousin and I work with her.
SC:
We notice that there are quite a few family members here right now, how many help out at one time each day?
DY:
It depends on whether it's lunch or dinner time, mostly! During lunch, there'll usually be 3 of us — my cousin, aunt and I. At dinner, we usually try to have 4-5 people around, so we'll rope in my uncles or siblings to help.
SC:
So what made you decide to pursue a career as a hawker?
DY:
The idea sparked when I was in New Zealand for a working holiday, where I spent a year on a farm picking blueberry, farming, deshelling mussels… the works! That was when I heard news that my grandaunt was thinking of selling off the shop, because it was hard to find people who'd want to work in a hawker these days. She even took a deposit from a potential buyer!
When I heard the news, I felt a sense of loss because I knew for a fact that I wouldn't be able to find such food around anymore. That was when I realized maybe I could take over — after all, I was already cooking for people in New Zealand, and I actually enjoyed watching people enjoy my food. It was really funny, because when I eventually told my grandaunt about my proposition, that was when she told me that she had actually decided not to sell the shop after all, as if by fate.
SC:
Did you start at TKK right after coming back from New Zealand?
DY:
Yes! This was in 2017, and back then I was still working part-time at a cafe in the day. I started out helping out at the night shift (because back then we only operated at night), and slowly, I started to try my hand in the kitchen. My cousin and I actually started helping out at the store way back when we were still in school. But that was mainly just dishwashing and other chores — neither of us thought we'd be where we are today!
I mean, our parents have always been telling us to study hard so that we can get a good office job in the future. They never pressured us to work or take over the shop. But I was never about the corporate life — I had always wanted to do something related to F&B whether as a chef, or as a service staff.
SC:
But you studied Business Management in University, right?
DY:
(Laughs) Yes! And even if I do end up in corporate, it would have to be something F&B related as well. Perhaps marketing for F&B outlets.
SC:
Did you face any obstacles when starting out?
DY:
I think I'm quite lucky because my parents were very supportive of this decision and told me to give it a shot if I had wanted to. However, they did share that it would be difficult because of the timing. Initially, all along my grandaunt had only been doing dinner. This meant no dinner dates with friends, and weekends would've been wiped out too. I told them regardless, it's something I would like to try.
SC:
Were there any moments you wanted to give up?
DY:
Every single day. Especially when there's a long queue and the stress gets a bit overwhelming, I just imagine throwing the wok and walking out (laughs). I mean jokes aside, a big part of me wants to go out and spend time with loved ones and enjoy that work-life balance. Since I've just started working the lunch shift, this means I work about 12 – 15 hours daily.
And when I first came in, there was a big difference between what I know, and what they know. They were quite resistant to change, so when I came here it felt like I was going back in time! It was difficult to bridge the gap between us, and I kept trying to find ways to improve the process.
At first when I came back, I wanted to introduce technology into all the cooking elements. Like okay, if I can cook everything in a big batch and put in bain-marie then wouldn't that be faster? But they refused to have such processes, because they feel that food tastes better when cooked on the spot. I came to realise that certain old methods work better, so it's all about giving and taking.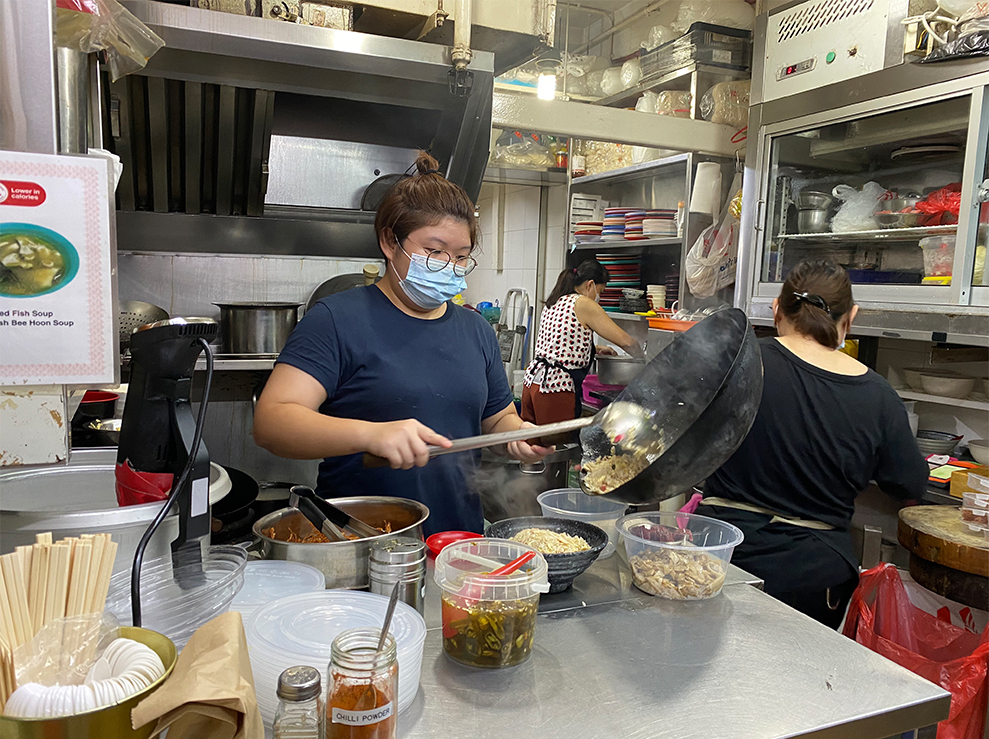 SC:
So what keeps you going?
DY:
I always go back to my initial motivation which is to do it for my grandaunt. Especially since she's only going to get older, she'll need all the help that she can get. As much as she's stubborn and grumpy, I told myself that I'll stick to my word. So whether or not I want to continue after she's gone is a whole other story.
SC:
After 3 years here, what are some of your most memorable moments?
DY:
I think… there are a lot of defining moments. When I started learning how to cook, I actually burned myself a lot, including hair and skin! Even up till now, I still get burnt quite a bit. But it's part and parcel right?
There were also a few times where my aunt told me that my cooking's good, so it's nice to know when I'm making improvements. I think subsequently I also had customers coming to tell me things like "Hey you cook nicer than the chef at night", so when customers come up to tell me these things I feel very heartened.
SC:
A question about your inspiration — was the modernised fare of zichar catered to the CBD crowd?
DY:
It catalysed when I first thought of doing lunch, and to move away from the night crowd that my aunty and family are so used to. At that point of time, my cousin was waiting for school, so we had a good 8 months to do R&D. I also put whatever I learnt at the cafe to good use — things like plating or using fancy ingredients.
There was a period of time where salad bowls were a thing so I thought — why not do a zichar bowl instead to see if it works. When I showed it to my grandaunt she didn't (and still doesn't) understand. She doesn't get why we need to have an onsen egg, or fried garnish on top. The concept of fusion food was foreign to her. Maybe taste wise it isn't different from zichar, but aesthetic wise, I thought it'd be more pleasing for the youth.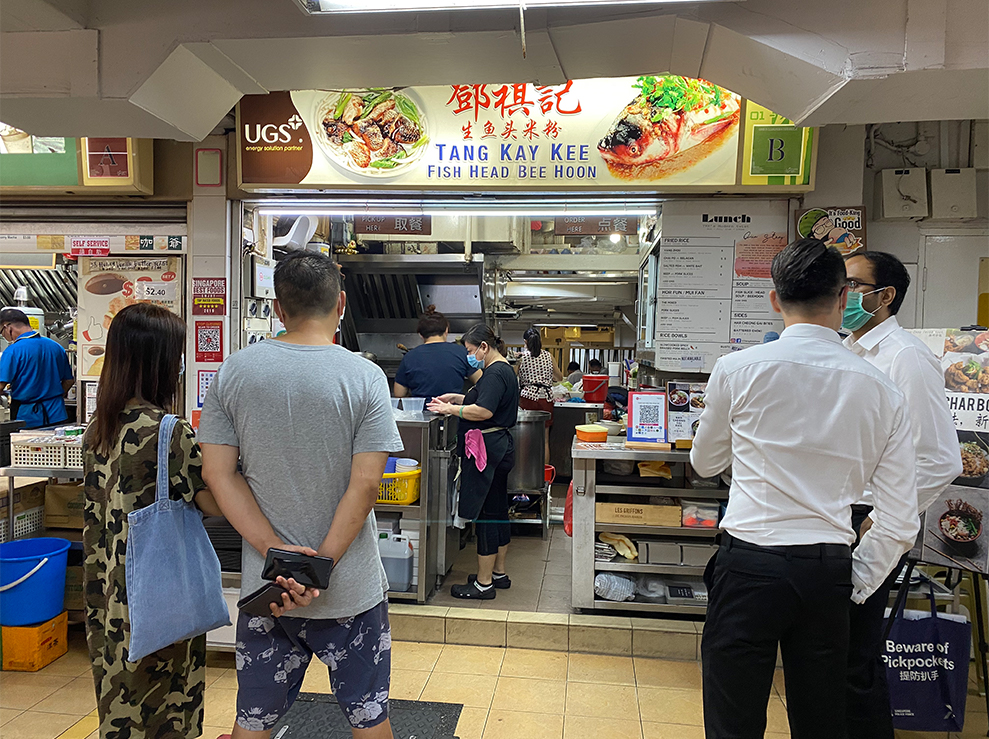 SC:
Given how young you are, have there been moments where neighbors in the hawker centres would look down on you or give you weird looks?
DY:
Yes absolutely. The more common reactions from those who know me better would be them saying things like "you study so much why you come here to work!" or for others, it's speculating that I didn't study, which is why I ended up here.
But regardless of judgment, they're actually very helpful. While they may not be as educated or well-spoken, they do their best for the community here. It's almost like a kampong —  teaming up with stalls to do deliveries, or borrowing things from one another, for instance. This culture's very different from the typical restaurant industry, where everyone's fighting for a slice of the pie.
SC:
You mentioned if you weren't doing this you'd still be doing something that's related to F&B right?
DY:
I actually enjoy cooking, but I also enjoy marketing, and also photography.
SC:
So you kinda wanna be your own boss?
DY:
Yeah, I mean, it's technically what I'm doing right now!
SC:
In your ideal world, what type of business would you like to run?
DY:
Definitely running a food truck and driving around the world. I think zichar could have a market! When I was in New Zealand, I was staying with someone who owns a food truck, so I got to be part of the action for some parts.
Especially since Asian food is pretty hyped up overseas, there is probably a good market space! But of course, locally, I sometimes think to myself that hawker centres are quite similar to food trucks in terms of the low cost, lean operations and high customer interaction rate. So maybe next time… a hawker stall designed to look like a food truck? (laughs)
SC:
5 years from now, do you see yourself doing this?
DY:
Ideal plan would be to marry a rich guy and live in a mansion…. (laughs) but jokes aside, I don't see myself leaving the F&B industry in the next 5 or 10 years. But if I'm still working in a hawker stall, then perhaps less of the hands-on element. I would wanna take the back seat in terms of operations and try to take on a more business management role and finding ways to grow the business. But the thing about zichar is also that every chef's cooking is different. It's not like I can put in place SOPs. So this is something I am trying to work on.
SC:
Do you feel like the hawker life has changed you?
DY:
Yes for sure! I treasure my own time more, as well as time spent with family and friends. It has taught me to be mindful of who I spend time with as well, especially when it comes to friends. So yes it's been a lot of me prioritising my time for important things.
SC:
Do you have any parting words for budding entrepreneurs?
DY:
I think it's very cliché, but passion is very important. You cannot simply go in with the mentality that "young hawkers are trending now, so I'm going to do that" — you'll end up crashing and burning, fast. And I think you have to be doing something you're comfortable with. If I wasn't as fortunate to have the support from my family and start off here, it would be very difficult for me to be where I am today.
And I also feel like I'm very lucky, because everything kinda fell into place for me — I studied marketing and it has been useful here. I spent time clearing dishes and waiting on tables in a cafe and here I am! I guess all my experiences led me to where I am today.
You must really have passion for this industry. If your goal is to be rich, then you're going to die. This is hard work, and hours are crazy. You're better off getting your money elsewhere.
Don't be afraid of getting your hands dirty, or toiling for hours, days on end. It's hard work. but so gratifying at the end of the day. Maybe people also want to get a space here because they think the rental is cheaper and it's easier to manage, but I think if you don't sell enough, then it isn't as sustainable. And if you cannot work 14-18 hours a day then it might not be feasible.
Conclusion
Whether you choose to take a leaf out of her book or decide to use her learnings to guide you on your journey through adulthood, inspiration comes in different forms, and impacts us in all sorts of ways. For now, why not head over to Tang Kay Kee to get some grub!
Address:
Tang Kay Kee Fish Head Bee Hoon
#01-70, 531A Upper Cross St, Hong Lim Food Centre, 051531
Opening Hours:
Mon – Fri: 1130AM to 3PM, 5PM to 10PM
Sat & Sun: 5PM to 10PM
Watch this space for more from the JumpStarter Series!
This article is brought to you by Standard Chartered Bank (Singapore) Limited. All information provided is for informational purposes only.