Whether you're working from home or partaking in distance learning, conducting your everyday life remotely from home is increasingly the new reality for most people.
But staying at home can come with its own challenges, especially when it comes to your health. The convenience of food delivery that's just a click away, the temptation of junk food in the kitchen, and the anxiety that comes with isolation can all be challenging when you're trying to stay healthy. Even if you want to go to the gym, you might have to wait for weeks or months to book a slot due to safe distancing measures. How can you stay fit then? To combat these challenges, here are 5 tips for you to do just that, and without hurting your wallet.
1. Work out from the comfort of your couch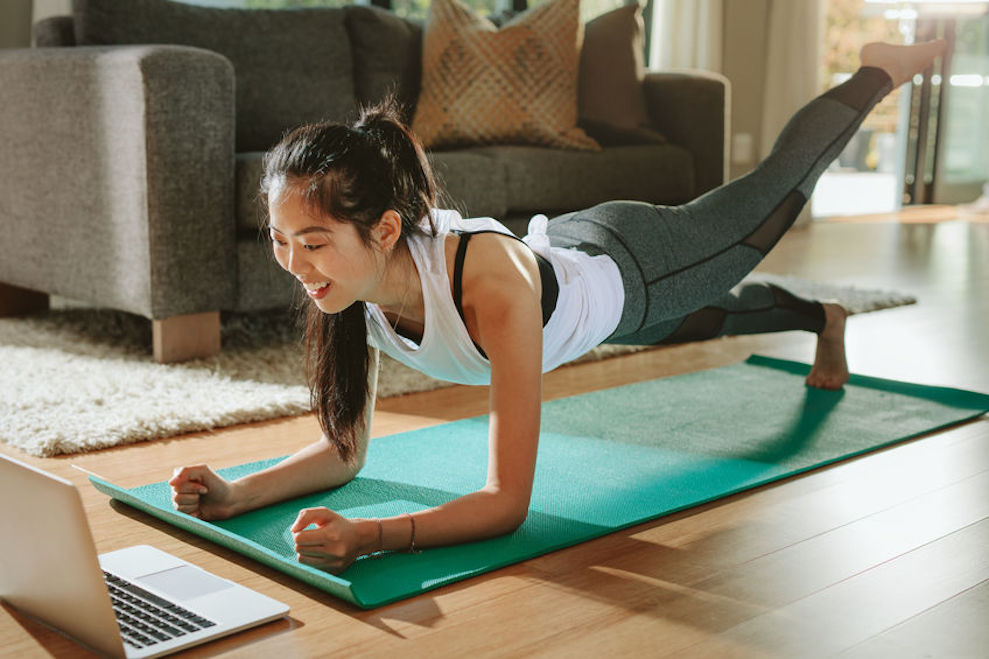 If you've already been clocking in for work from your couch, why not set aside some time to exercise from your favourite spot in your home too?
The good news is that a ton of fitness brands have gone virtual recently, with some conducting. live workouts on social media such as Facebook and Instagram. A simple search on YouTube will also lead you to thousands of workout videos on everything from barre to HIIT exercises – all for free! Better yet, get a friend to exercise together. (Separately, in your own homes over Zoom, of course.)
Short on time? Hop to it with these 10-minute cardio workout! A quick reminder to make sure you warm up before the workout and cool down for 5 minutes after:
Stand with your feet hip-width apart, legs bent and hands on your thighs. Jump, reposition yourself and repeat.
Stand tall with your arms by your side and knees slightly bent. Jump up, extending your arms and legs out into a star shape in the air. Land softly and repeat.
Step one leg back and swing your arms forward as you do so. Repeat with the opposite leg in a continuous rhythmic movement.
Stand tall, then drop into a squat with your hands on the ground in front of you. Kick your feet back into a push-up position, jump back into the squat position, and jump up.
Do each exercise for 15 to 24 repetitions, twice. In between each exercise, walk or jog on the spot for 15 seconds.
2. Get creative with multi-use sports equipment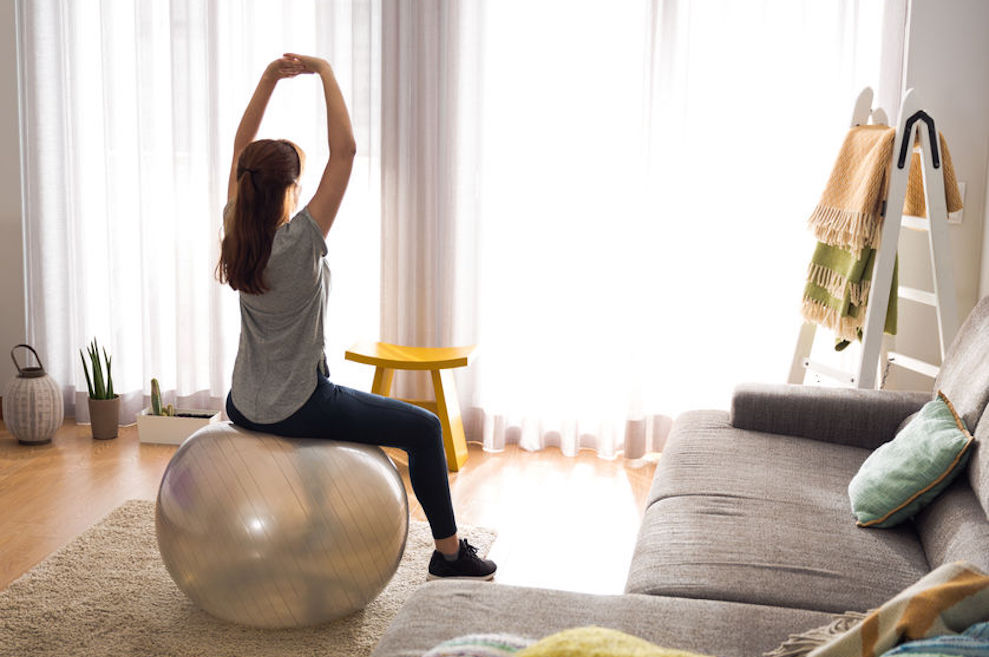 One way to keep your costs low when staying fit is to buy sports equipment that can be used for more than one type of exercise. Avoid buying trendy or large gadgets like ab machines or a home treadmill. Instead, start small with something like an exercise ball, which can be used to work your abs or to support your body during weight training and cardio exercises. In fact, why not up the ante in your work-from-home arrangement and sit on the exercise ball while you're at it? You'll be gently engaging your core without even having to lift a finger.
Some other equipment to consider include an exercise step, which can be used as a weight lift or for simple leg-toning exercises, or resistance bands, which can add strength training to your workout and help build up muscle strength and endurance. What's more, each equipment costs less than $30!
If none of the above sounds exciting to you, well, there's nothing like getting creative with housework at the very least. Not only can doing housework give you a cardio workout, but it can also incorporate resistance training and interval training. That vacuum cleaner just might become your go-to exercise pal.
3. Maintain a healthy diet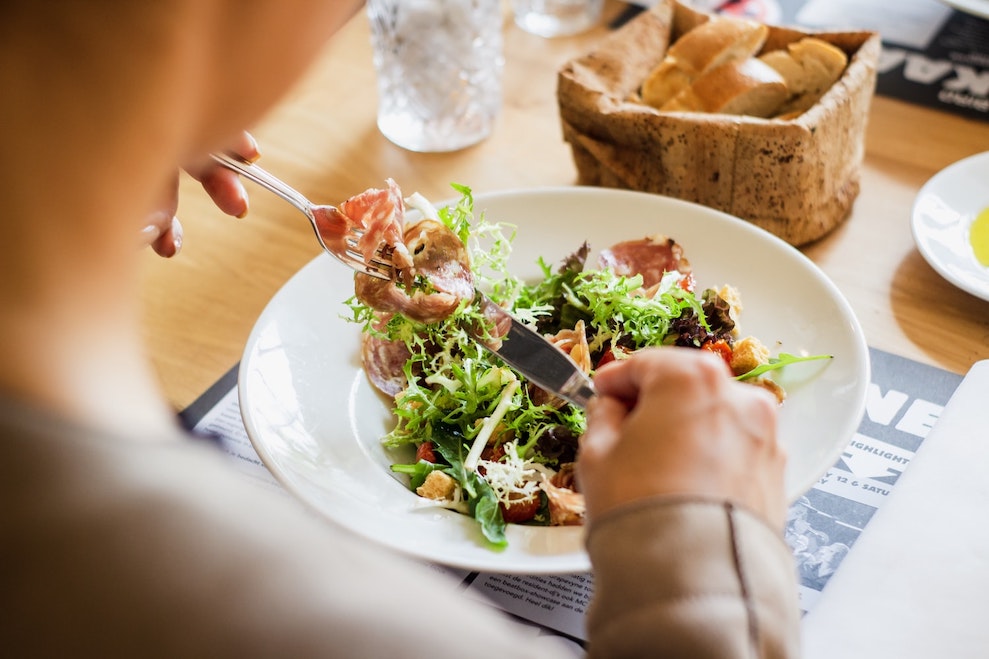 Been reaching for bubble tea delivery one too many times? Having to stay home during the pandemic means having easy access to a well-stocked kitchen or convenient food delivery options. This can easily trigger stress-eating, especially if you're encountering feelings of isolation or anxiety. Too often, you may overlook your diet as an important area of fitness, but nutrition should always be a priority when it comes to health.
To avoid falling into poor eating habits, start with a well-prepared grocery list that trims out junk food from your diet. Stock your fridge with healthy snacks like fruits and nuts instead, which are not only more nutritious but are also easier on the wallet than a can of potato chips. If you're still having cravings, try hydrating regularly and eating enough for every meal.
Make each meal count by cooking nutritious and healthy meals and maybe boost them up with superfoods which can help prevent a sick day. Have your meals regularly AFK (away from the keyboard) – the way you would usually do at the office. This helps you to focus on your meal so that your body and brain can properly process the amount of food you consume, which can reduce over- or under-eating. If you really need to order food delivery, choose restaurants which offer healthier, guilt-free options.
4. Create a healthy and productive work environment.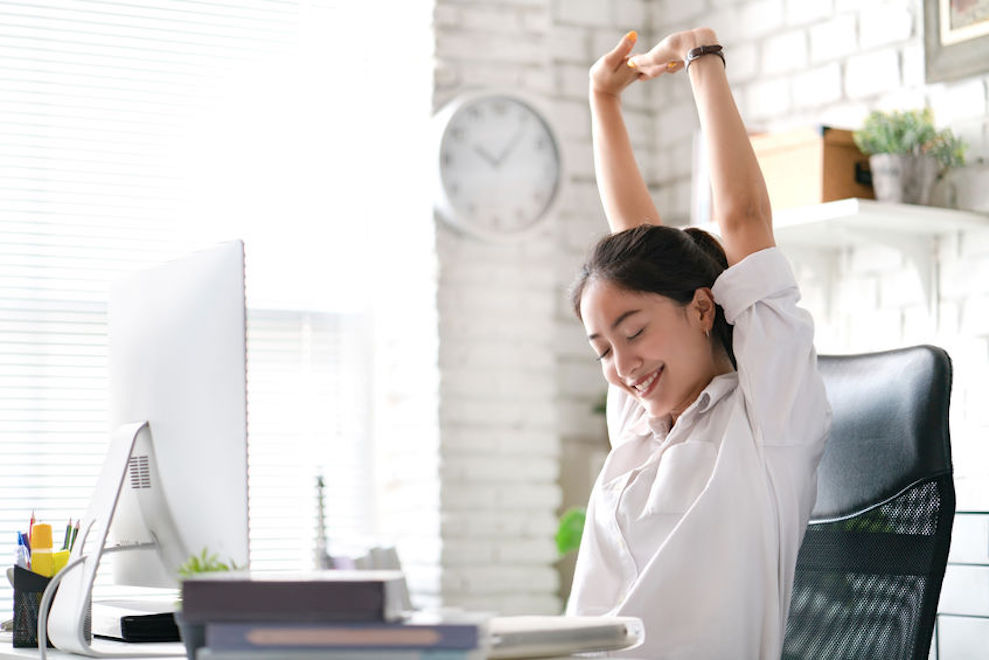 Staying healthy isn't just limited to exercising or eating well. Self-care can also mean building a work or study environment that encourages you to stay healthy and productive.
To start, combat the risk of strain injuries with the right desk and chair set-up. Ensure that your desk is at the right height where you can maintain an upright posture and don't have to bend your wrists when you type or use the mouse. If you can afford it, why not invest in a comfortable and ergonomic chair too? Ideally, it should fit you like a glove, so your posture is properly aligned throughout the day. Or you could also simply ditch the chair altogether and have a standing desk. This also encourages you to move about more instead of staying in a stationary position.
If you have free rein over your work or study space, keep it well-organised and create a soothing environment. Placing scented candles or playing ambient music in the background can help to sharpen your focus on your tasks while keeping you relaxed.
5. When in doubt, run or walk for free.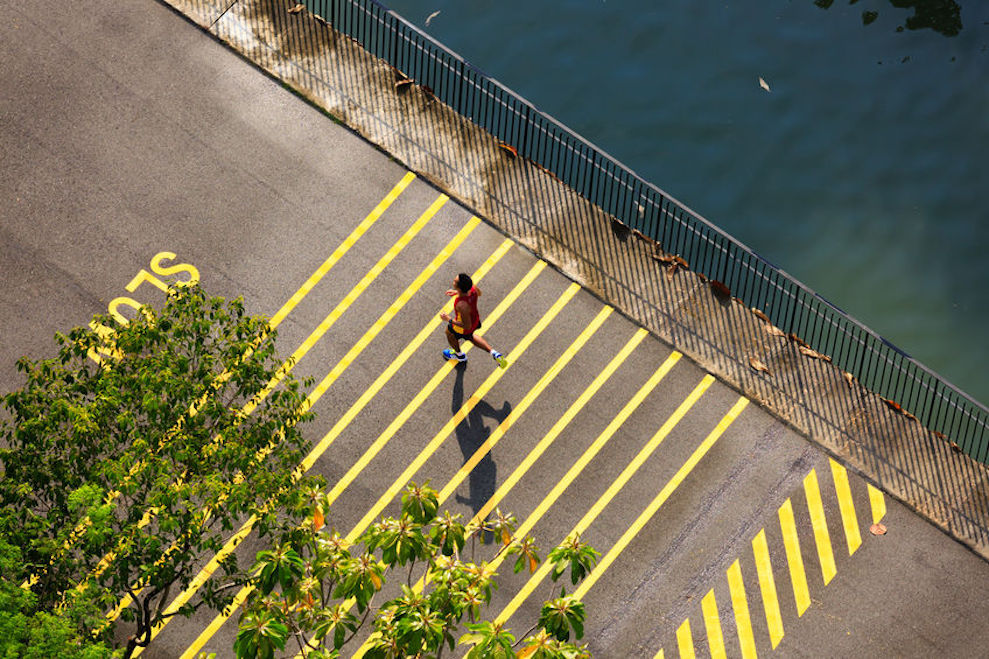 For a simple way to stay fit, get out of your house once a day by running or walking. All you have to do is to put on your running shoes and hit the pavement! Though this can sometimes be dependent on our unpredictable weather, nothing still beats being in the great outdoors – even if it's just within your condo complex.
If you're just starting out, begin by brisk-walking for a dose of low-impact cardio. To make running a longer-term habit, try out the popular Couch to 5K programme, designed to help you gradually build up your fitness and stamina with a mix of running and walking. A good rule of thumb is to avoid going too fast or far too soon, which can risk injury or cause you to feel defeated and give up before you get going.
Not a fan of running? Take it slower by going for treks in nature reserves or strolls along the beach or public parks. You can even take this time to show your cute dog off to your neighbours by walking them around the block. Just be sure to put a mask on when you're not working out strenuously, practise social distancing, and leave as soon as you're done.
With such a wide variety of low-cost workout ideas, it's easy to get started. The secret to getting fit for free is to use every opportunity to get creative and be active whenever you can. If you're working from home and have been sitting at the desk for an hour or two, consider getting up to do a quick 10-minute yoga routine or to build in 5 minutes of skipping with a jump rope. Any exercise is better than no exercise. It's time to stay fit according to the new normal! #SGUnited
This article is brought to you by Standard Chartered Bank (Singapore) Limited. All information provided is for informational purposes only.