Standard Chartered recognised as a top 20 diversity leader in banking and financial services by the Financial Times
on 18 Nov 2020
18 November 2020 – London, Standard Chartered Bank has been recognised as a diversity leader in the Financial Times' list of European 2021 leaders for workplace diversity and inclusion[1], ranking in the top 20 among banks and financial services. 
This is the FT's second annual list of Diversity Leaders, following the paper's inaugural report last year, and it is the first time the Bank has been placed.
Clare Francis, CEO UK, Head of CCIB Client Coverage Europe and regional representative of the Global D&I Council, Standard Chartered Bank, says: "We know that building and embedding the right workplace culture is the key to the Bank's success.  By celebrating our diversity and valuing the different experiences and skills each one of us brings, it means we can better understand and serve our clients globally and create an environment where everyone can thrive and fulfil their potential".
This announcement comes as the Bank recently signed the UK Race at Work Charter[2], confirming its commitment to racial equality, and the UK Armed Forces Covenant[3], an initiative by the UK government to encourage fair treatment for the armed forces community.
Standard Chartered also announced in October that the Bank intends to implement a hybrid approach[4], combining virtual and office-based working with greater flexibility in working patterns and locations. This presents an opportunity for the Bank to appeal to a wider and more diverse potential future workforce.
– ENDS –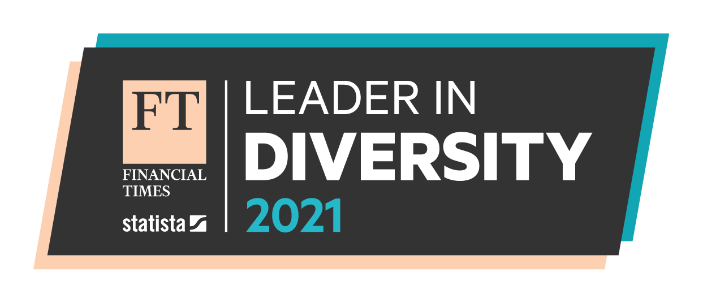 For further information please contact:
Claire Newell
Senior Communications Manager, Standard Chartered Bank
+44 (0)207 885 8857
---
[1] The Financial Times Diversity Leaders ranking: https://www.ft.com/content/cb8978ea-f901-4842-9957-cca0cb3fe7cc
[2] Standard Chartered news release: https://www.sc.com/en/media/press-release/standard-chartered-bank-reaffirms-its-commitment-to-racial-equality-by-signing-up-to-the-race-at-work-charter/
[3] Standard Chartered news release: https://www.sc.com/uk/2020/11/11/standard-chartered-signs-armed-forces-covenant/
[4] Standard Chartered news release: https://www.sc.com/en/media/press-release/creating-a-differentiated-workplace-standard-chartered-focuses-on-hybrid-working-to-appeal-to-future-workforce/