The growing number of young entrepreneurs, pioneers, and influencers today shows that the adage "age is just a number" is becoming more relevant than ever. More youths are flourishing in business, advocacy, and leadership because of their idealism, vigour, and hunger for change in our society.
Hazel Kweh, co-founder & CEO of Bloomback is one such example.
The 35-year-old's bravery to give up a successful career as a financial advisor at a large corporation, coupled with her passion for helping marginalised communities in Singapore kickstarted the birth of her floral business – a social enterprise called BloomBack.
The company makes its money by repurposing flowers from large events like weddings into eco-friendly gifts as well as through floral arrangement workshops.
For the altruistic element of the business, BloomBack helps marginalised communities with skill development and also powers the 'Bloom-It-Forward' movement, where the company co-sponsors its eco-friendly gifts to beneficiary organisations such as elderly homes and hospices.
The company has made significant progress. Hazel launched the business in 2017 with a team of 3 in a co-sharing space.
Fast forward to 2020, BloomBack has achieved profitability and is now able to afford a bigger office at The Vertex. The company has expanded to a team of 10 and has also established a new retail outlet in Singapore. Today, BloomBack names big weights such as Facebook, AIA and CapitaMall as its partners.
As a result of its social efforts, BloomBack has received grants and recognition from several organisations, including the Singapore Centre for Social Enterprise, the Cartier Women's Initiative Awards as well as Singapore Tatler.
If you're looking to start a business or to jump start your vision, you can take a leaf from Hazel's story.
Life Before BloomBack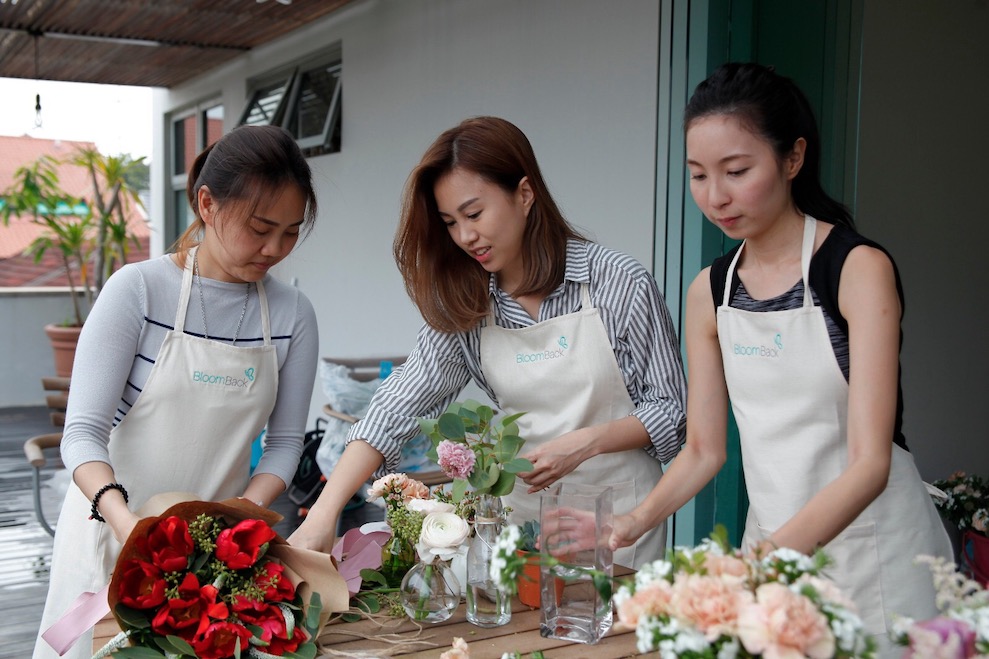 Hazel grew up in a low income, single-parent family with a partially disabled sister and a brother who had depression. "My mother struggled to make ends meet, and it was not an easy childhood for us," she said. "I took on multiple jobs while studying to support myself. Hard work paid off, and I eventually landed roles at large corporations such as Singapore Airlines and Prudential."
During her career as a financial consultant at Prudential, Hazel received multiple awards, including the prestigious Million Dollar Round Table, and quickly rose to a leadership position.
While her career was seemingly progressing well, she felt unsettled despite a well-paying job in the corporate world.
"I felt like something was amiss. Deep down, I felt incomplete. A lot of time was spent on my career at the expense of relationships, and I drifted apart from my family. While money issues had been solved, new problems crept in which made me reflect and realign my life goals to fix things that were close to my heart."
The Inspiration for BloomBack
It was her sister Faith's life challenges that pushed Hazel to explore floral therapy, which eventually led to the creation of BloomBack.
Faith had fallen into depression while job hunting due to her disabilities and a broken marriage. To cheer her up, Hazel brought Faith to a friend's wedding where Faith fell in love with the flowers that were on decoration. Thinking of how wasteful it is to toss the flowers after the short event, an idea sparked in them of repurposing the wedding flowers into bouquets and giving them to the lonely elderly who lived in rental units at Beach Road.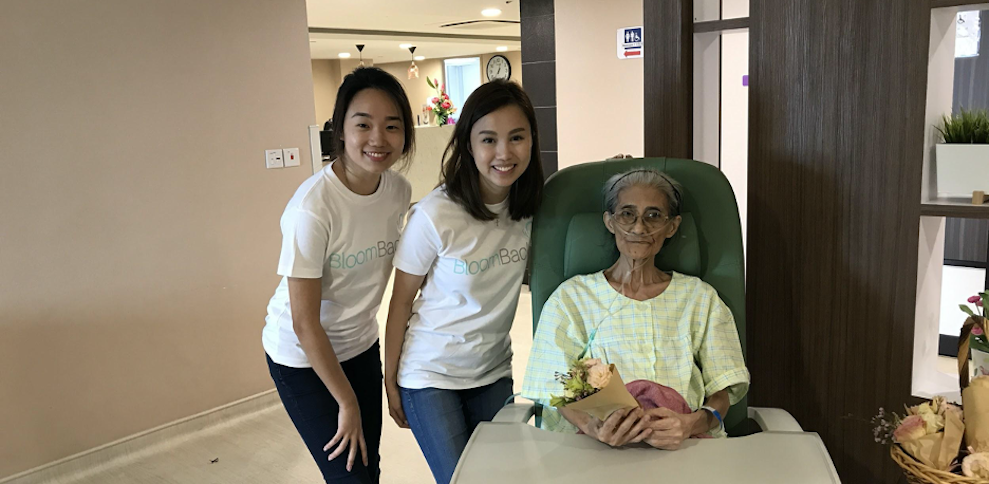 The elderly were thankful for the flowers, and after seeing the smiles on their faces, Hazel and her sister felt that all their efforts were worthwhile. A memorable moment for them was when an old lady had joyful tears because the flowers reminded her of fond memories of her mother.
According to Hazel, that experience lifted her sister's spirits for the first time after a long period battling depression. This made Hazel realise that a simple act of kindness can actually translate into a life-changing event for another person.
The breakthrough moment
Hazel's sister decided to pursue floristry after experiencing how floral therapy made a positive difference to her life. She believed that this skillset could impact more lives. With many women out there struggling in silence like her single mother and sister, Hazel was inspired to do her part for those facing similar challenges.
Hazel said that was the breakthrough moment which inspired her to put aside her successful career and establish BloomBack in 2017.
"I believed I could contribute and achieve a lot more as an entrepreneur by honing my management and leadership skills while making a difference in people's lives."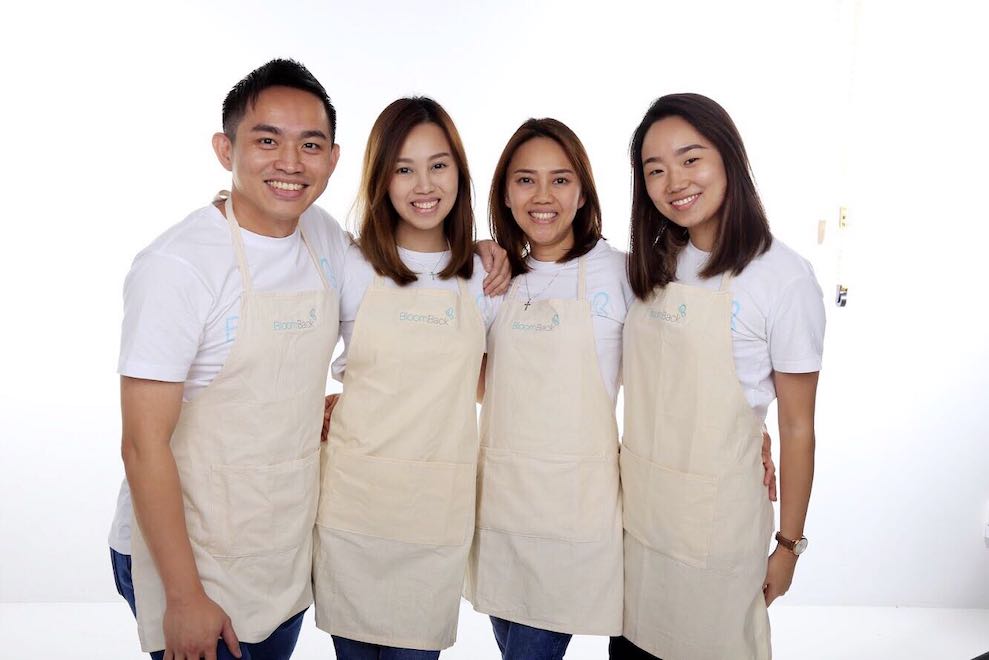 More than a passion project
Hazel's business started out as a passion project. And that is the reason why she had so much faith that it would grow. Hazel didn't have the business acumen or experience required to start a company. But with the passion for making a difference, she trusted that BloomBack would naturally grow and progress. Having the passion for what she was doing and trusting the journey despite her lack of business experiences has given Hazel the strength to keep going forward.
Hazel shares that she compensates her lack of business know-how with a teachable heart and a spirit of learning from mistakes. "I'm never afraid to make mistakes," she shared.
For Hazel, success is meaningless without love in the equation. To her, entrepreneurship is never easy, but having the love for her family, her team, and customers, keeps her rooted despite difficult circumstances.
"When you genuinely care for others and spend time to think in their shoes and help them, you will realise how to resolve the root issues and will progress from there," she said. "Businesses are run by people, and if you put people first, things will start to blossom."
Leveraging partnerships
The founding members had little experience or expertise across various aspects of entrepreneurship such as finance, marketing and operations. Over the years, they have grown the business mostly through self-taught skills and strong partnerships.
With little experience in entrepreneurship, starting a business was a challenging feat because the team had to learn from their mistakes. Every step was like a trial and error process for them to advance further, said Hazel.
The early phase of their journey brought them together with many like-minded individuals and organisations that saw the heart of what they were doing – supporting and empowering the marginalised. In fact, 50% of their team today comprises those from marginalised and handicapped groups.
Overcoming financial challenges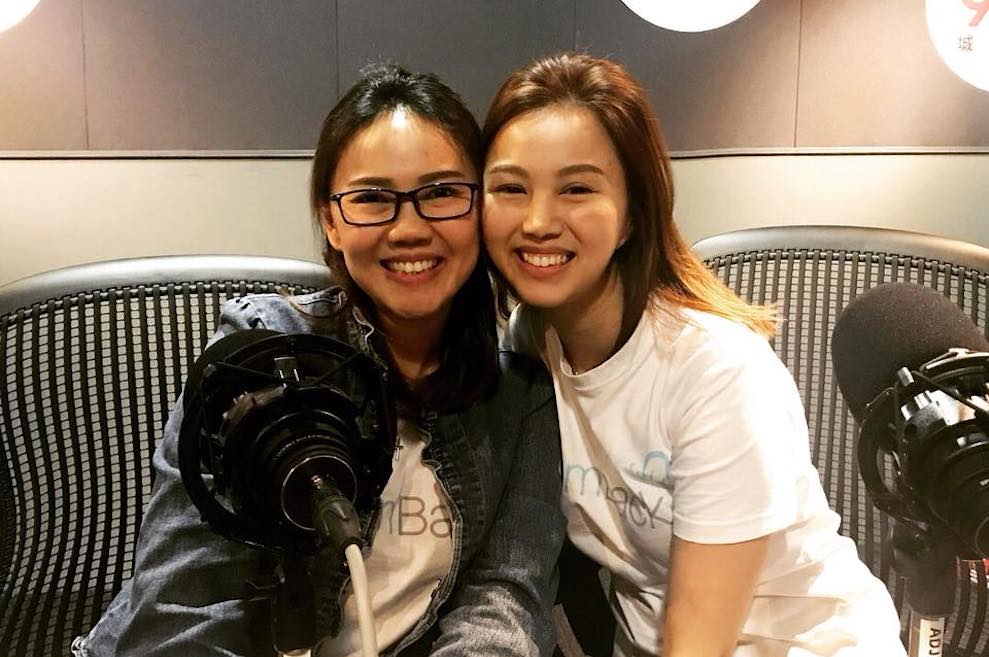 Having bootstrapped BloomBack with just her savings, Hazel considered finance management as one of the biggest challenges in starting her brainchild. This is especially crucial as she didn't raise any funds to build the business. And as the common startup story goes, there were many moments where she was grasping at straws to make ends meet.
At one point, finances were in such a bad state that Hazel almost considered shuttering BloomBack's operations. Fortunately, she pulled through that difficult time with her faith and perseverance.
"I recall the days where we had been living day to day wondering if we could pay off our expenses by month-end. In March 2018, 9 months after establishing the business, there was less than $2,000 in the bank. And I still had to pay salaries, rent and everything else."
To keep finances in check, Hazel makes it a point to curb her impulses to execute on ideas on a whim without doing more research on it, as that could result in a loss of focus for the business and a waste of precious resources.
The company also relies on financial support and grants from social enterprises, such as the Singapore Center for Social Enterprise
Said Hazel: "Start financial planning as early as you can. Track your expenses diligently to ensure you do not overspend and cultivate a good habit to save a portion of your salaries for retirement."
She also recommends youths to invest in health insurance and share their risks with an insurer without paying for massive hospital bills on your own. "Proper financial planning will protect you and your loved ones," she said.
What's next for BloomBack?
When asked what's in store for BloomBack, Hazel envisions a new community-based retail platform that will better integrate offline and online retail strategies, to bring users together to share their stories and inspire one another.
To bring this idea to fruition, the entrepreneur is exploring augmented reality, artificial intelligence and big data technologies, to provide more personalised and immersive experience to its users.
BloomBack will continue to keep their customers at the heart of their efforts, Hazel said, and will focus on delivering a seamless and delightful shopping experience for its users.
With advancements in technology and fast-changing consumer trends, Hazel cannot rest on her laurels. She is aware that she has to take time out to continuously upgrade herself, to be able to bring the business to the next level.
"I'm investing extra time outside of work to upgrade myself by attending courses that will aid me in managing my business better, and I will never stop learning," she said.
Advice for aspiring entrepreneurs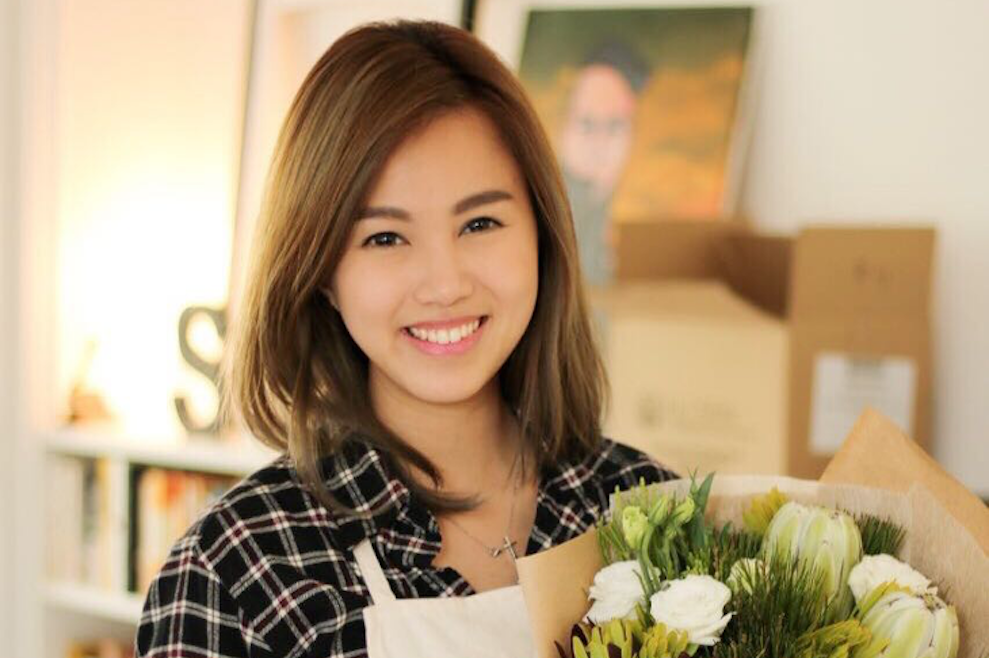 Her advice for young, aspiring business owners? Bloom one step at a time and trust the journey even when you don't understand it. Focus on relationships and character building as an important foundation that equips you with love and tenacity to grow through life so that when the time comes, you will have the wisdom to manage and preserve your wealth.
"I believe that hardship makes us stronger and trains our patience. It's essential to work on what's inside of you before you can reign in bigger things in life."
Hazel's story is an example of how passion and perseverance can make or break a business endeavour. May you take a leaf out of Hazel Kweh's book to encourage you to persevere and to aim higher.
Sometimes it only takes one move, one decision, or one action to jumpstart the journey that you have always dreamt of. Begin your journey by taking the first step today.
Website: http://bloomback.org/
This article is brought to you by Standard Chartered Bank (Singapore) Limited. All information provided is for informational purposes only.