Standard Chartered Bank wins prestigious UK award for commitment to Armed Forces community
on 30 Jul 2021
Standard Chartered Bank has been presented the Defence Employer Recognition Scheme (ERS) Silver award by the UK Ministry of Defence.  This is in recognition of the way it values what veterans, reservists, and military family members bring to its business.  The UK government accolade comes only two months after the Bank receiving the ERS Bronze award and only eight months since signing the UK Armed Forces Covenant[1].
The ERS encourages employers to support defence and inspire other organisations to do the same. The scheme encompasses bronze, silver and gold awards for employer organisations that pledge, demonstrate or advocate support to defence and the Armed Forces community, and align their values with the Armed Forces Covenant[2].
Standard Chartered achieved the award because of its proactive approach to making sure service personnel and Armed Forces community are supported and not unfairly disadvantaged, including:
Offering 10 days paid leave per year, under the Special Leave Policy, for reservist employees to carry out their annual training.
Establishing in 2018 an Armed Forces internal network called the UK Military Group, which helps employees who are reservists, veterans and spouses / partners.
Sponsoring the local cadet unit and allowing the young adults access to the Bank's main conference hall for their parade activities.
Providing flexibility for spouses to take time off during times of a partner's deployment, injury or during bereavement.
Andy MacLean, Global Head of Organisation and People Capability, and Sponsor of the Bank's UK Military Group, Standard Chartered Bank, says: "We are very proud to receive the Defence Employer Recognition Scheme Silver award from the UK Ministry of Defence. It shows the positive progress we're making to create a culture that supports our employees who are active reservists in addition to their day job or who have served in the Armed Forces, and their incredibly supportive and understanding families."
Minister for Defence People and Veterans, Leo Docherty MP, said: "I would like to thank all the organisations who have proven their support for the Defence community during such unprecedented and challenging times.
"The vast range of those recognized this year demonstrates how employing the Armed Forces community makes a truly positive and beneficial impact for all employers, regardless of size, sector or location."
Creating a diverse and inclusive workplace culture for employees is embedded in Standard Chartered's values.  Recently, the Bank released its targets for ethnic representation in its UK senior leadership team[3], was recognised as a top 20 diversity leader in banking and financial services by the Financial Times[4] and signed up to the UK Race at Work Charter[5]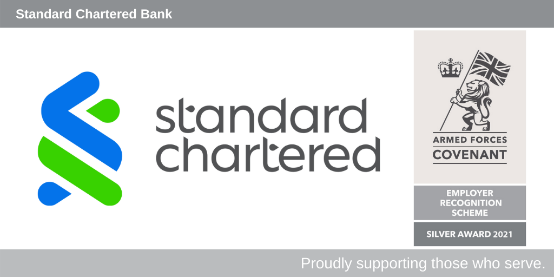 .
For further information please contact:
Claire Newell
Senior Communications Manager, Europe
Standard Chartered Bank
Tel: +44 (0)207 885 8857
Email: Claire.newell@sc.com
About the Defence Employer Recognition Scheme
Employers can sign up themselves for each award. Nominations are validated to determine the level of defence personnel employment within the nominated organisation and to check that the organisation has signed the Armed Forces Covenant. Once the nomination has been validated it is considered by a selection board at national level for gold awards and regional level for silver awards. The selection boards are a panel chaired by a senior military officer and they consider each nomination against the award criteria. Organisations selected for gold and silver awards are formally notified in writing and invited to the relevant award event. Visit the website here.
Standard Chartered
We are a leading international banking group, with a presence in 59 of the world's most dynamic markets, and serving clients in a further 85. Our purpose is to drive commerce and prosperity through our unique diversity, and our heritage and values are expressed in our brand promise, here for good. Standard Chartered PLC is listed on the London and Hong Kong Stock Exchanges.
For more stories and expert opinions please visit Insights at sc.com. Follow Standard Chartered on Twitter, LinkedIn and Facebook
---
[1] https://www.sc.com/uk/2020/11/11/standard-chartered-signs-armed-forces-covenant/
[2] https://www.armedforcescovenant.gov.uk/
[3] https://www.sc.com/uk/2020/12/15/standard-chartered-sets-senior-leadership-diversity-targets-across-uk-and-us/
[4] https://www.sc.com/uk/2020/11/18/standard-chartered-recognised-as-a-top-diversity-leader-in-banking-and-financial-services-by-the-financial-times/
[5] https://www.sc.com/uk/2020/07/21/standard-chartered-bank-reaffirms-its-commitment-to-racial-equality-by-signing-up-to-the-race-at-work-charter/