Services
Offering bespoke services to our clients
Standard Chartered's global multi-product platform provides client-led and customized solutions
Your banking partner for international trade flows
With a focus on large corporations, governments, banks, investors and development organizations, our presence in the US enables us to better serve our Americas client base by facilitating trade and investment flows between the Americas, Asia, Africa, the Middle East and Europe.
Products and Solutions we offer across our network
Funding your growth
To maximise growth potential, you require adequate funding at the right time
We have a long history as a lender in our footprint markets.
Whether it is to set up a new manufacturing facility overseas, or to fund cross-border transactions, we are able to finance your growth opportunity
Our Trade Finance solutions can provide funding across documentary or open account transactions
Whether you are a supplier or a buyer, your cash flow is affected by your trading partners' ability to raise funds. We ensure your supply chains have access to steady financing.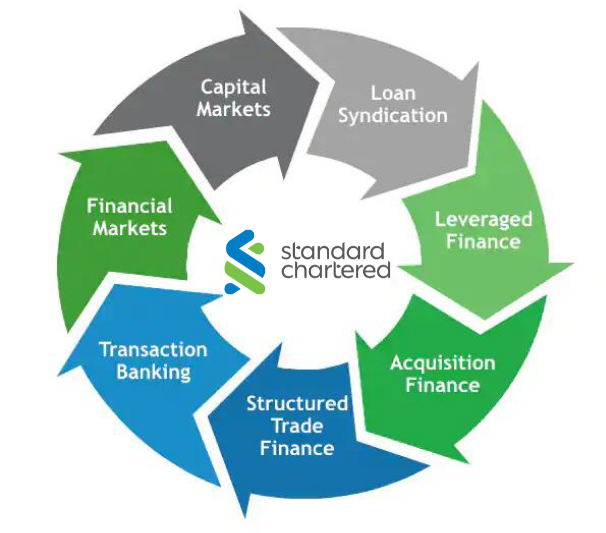 Specialised professionals to advise you on specialised financing solutions
The team has a strong track record of advising corporate clients, government agencies and financial sponsors both domestically and globally
In particular, we have significant experience in complex cross-border transactions
Professional and dedicated teams to support your financing needs
Products and services related to securities activities with US persons are effected by Standard Chartered Securities (North America), LLC, a US registered SEC/FINRA broker dealer affiliate of Standard Chartered Bank
| | |
| --- | --- |
| Foreign Exchange | M&A Advisory |
| Rates | Leveraged Finance |
| Capital Markets | Project Finance |
| Aviation & Shipping Finance | Inventory/Trade Finance |
| Loan Syndication | Export Finance |
| Cash Management | Trade Finance |
Supporting your cash management needs

| | | |
| --- | --- | --- |
| EASY COLLECTIONS | ENHANCED LIQUIDITY | EFFICIENT PAYMENTS |
Multiple Electronic collections methods across channels
Virtual Accounts supporting multi currency
Various Collection Points
Solutions for trapped liquidity
Increased visibility to optimise your processes and improve strategic decision making
Yield enhancement
Specialised Treasury Solutions
Full suite of unique local 
payment solutions
Dedicated workflows for time 
critical payables
Virtual Accounts solutions available to help reconcile payables
Integrated FX payments for seamless workflow
Supporting your trade and working capital requirements

| | | |
| --- | --- | --- |
| DOCUMENTARY TRADE | OPEN ACCOUNT | SUPPLY CHAIN FINANCE |
Letter of credit issuance, advising, negotiation, discounting, and confirmation services
Import and export documentary collections including discounting of avalised bills (subject to avalising jurisdiction).
Financial Institution trade loans
One-stop guarantee programme for BGs/SBLCs issued within our network for faster turn around for issuance
Import and export invoice financing

Receivables services
Pre-shipment finance

Borrowing-based trade loans
Financing the suppliers and distributors based on client's credit standing
Enables more favourable purchase terms from suppliers
Easier access to financing for the suppliers and distributors
Unlocks cash from clients receivables and distributors with extended credit terms
Managing market volatility in your markets
Count on our full suite of financial market solutions for your complete hedging, investment and funding needs
| | | |
| --- | --- | --- |
| RATES AND FX | STRUCTURING | RESEARCH |
The Bank continues to break new ground in our markets, delivering products including:
FX forwards, non-deliverable forwards, options, index products and e-commerce
Broad Interest Rate product suite
Our structuring teams work with clients on their hedging, investment and funding requirements
Dedicated resources provide full coverage to onshore sales and facilitate deal discussions with client
A team of economists cover macro and FX trends across our markets
Dedicated rate strategists provide market updates and trade ideas
Our credit team covers over 300 sovereign, corporate and financial sector credits across Asia, Africa and the Middle East
KEY DIFFERENTIATORS
Provide access to over 100 emerging market and G10 currencies
Pioneer in interest rate and cross currency swaps in Asia, Africa and the Middle East
Broad range of credit products to assist clients in managing credit risk exposures or in enhancing investment yields
Industry specialists and dedicated on the ground teams across our footprint markets
Providing you with easy online access
Manage your transactions and accounts anywhere, anytime through our single sign-on, multi-lingual, global platform
Straight2Bank NextGen
| | |
| --- | --- |
| | Intuitive dashboard which provides a comprehensive view of accounts and activities; allowing you to make informed, real-time decisions |
| | Simplified user interface that enables you to navigate and complete tasks faster and with ease |
| | Customizable view for dashboard and certain payment functions to cater to your needs |
| | Improved client self-administration for more effective and efficient implementation of user permissions and authorization matrices |
| | |
| --- | --- |
| | Business intelligent analytics to help drive better efficiency such as recommended payment types based on your payment requirements |
| | Designed for mobility to provide a seamless user experience in terms of accessibility and interface across devices |
| | Flexible integration options through APIs or ERP systems |
| | Cyber security biometrics which include the use of mobile tokens to access and perform transactions with greater convenience |