Global connectivity and seamless access to your money.

24/7 availability to your money anywhere in the world is your priority, extensive and comprehensive international banking services make that easier than ever.

Priority Services

Designated international banking centres worldwide
Present your Priority Banking cards at over 200 designated centres across Asia, Africa and the Middle East to enjoy:

Use of exclusive Priority Banking Centre lounge and meeting rooms
Local and offshore banking information upon request
Preferential foreign currency exchange rates
Priority Benefits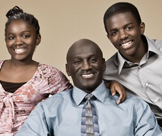 Household recognition
Your family is your most valuable asset. As part of a holistic, trusted partnership, we provide them with complimentary Priority Banking membership, to ensure they receive the same recognition at home or abroad.
Find out more »

Priority Solutions
International financial solutions - local and offshore
Whether you're investing overseas, focusing on assets at home, or relocating to other countries, expect a comprehensive partnership that offers solutions built to serve international financial needs, onshore and offshore. Your local Relationship Manager is on hand to assist you at any time, from enquiries on overseas account openings to expert advice on local markets, a crucial part of a trusted partnership that gives you peace of mind wherever you go.

Find out more »

Please be advised that:

Eligibility criteria apply for membership to the Priority Banking program. Your admission to Priority Banking is at our discretion
Not all products, benefits and services under Priority Banking may be available in all countries and are subject to local regulations. We may vary or withdraw these services at any time.
You can find out the current services available to you by contacting your Relationship Manager, via 24X7 Client Care Centre, visiting our branches or from the Standard Chartered Bank website in your country
International services or benefits may not be available in all countries and are subject to local regulations. All fee waivers, charges, exchange rates and services are subject to change at our discretion and may be adjusted from time to time.
Global recognition is not available in all countries. Global recognition is subject to you notifying us in writing of the details of accounts you hold with us in each country. Global recognition service is only available to your family members who have been admitted to Priority Banking membership through household recognition
Preferential currency exchange rates are only available in countries where we offer preferential foreign exchange rates for local Priority Banking customers.