From now until 31 December 2017, Standard Chartered UnionPay Dual Currency Credit Cardholders can enjoy up to 12X Rewards Points upon making HK$5,000 accumulative spend in a calendar month.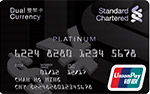 Enjoy up to 12X Rewards Points
Accumulative
spend in a month
Reward Points
on Eligible Transactions
Maximum Extra Rewards Points for the Eligible Transactions in a month
HK$5,000 or above

12X

55,000
Categories of transactions eligible for the 12X Rewards Points
Example:
If a cardholder spend HK$4,900 at supermarket and HK$1,100 on other spend in a month, he can get as much as 59,900 Rewards Points (include basic Rewards Points).
Basic Points Earned
(1X)
Extra Points Earned
(capped at 55,000 points)
(11X)
Total Points Earned
for the month
Eligible Transactions

4,900

53,900

58,800

Other Spend
1,100
-
1,100
Remarks:
The promotion is only applicable to the UnionPay Dual Currency Platinum credit card ("Eligible Card") issued by Standard Chartered Bank (Hong Kong) Limited ("the Bank"). Only successfully registered cardholders are eligible for the promotion.
To enjoy 12X Rewards Points, cardholders are required to make monthly accumulated transactions of HK$5,000 or above including local and overseas retail purchases, online purchases, cash advance, mail order, phone order and/or the total new principal amount of interest-free Instalment Plan during the Promotion Period, while the eligible transactions at supermarket, department store, convenient store or csl shops (bill payment transactions are excluded) will be entitled to the 12X Rewards Points.
The Rewards Points will be awarded in terms of (i) 1X basic Rewards Points ("Basic Rewards Points") under the credit card reward program of UnionPay Dual Currency Platinum credit card; and (ii) 11X extra Rewards Points ("Extra Rewards Points") earned under this promotion.
The maximum monthly Extra Rewards Points earned is 55,000 ("Maximum Reward") while the maximum Extra Rewards Points in a phase is 165,000 Rewards Points, regardless of the amount of Eligible Transactions made by a cardholder during that calendar month. Transactions made by the principal and supplementary cardholders of the same Eligible Card number will be counted collectively. Upon reaching Maximum Reward in each calendar month, cardholders will continue to earn Basic Rewards Points only.
The Eligible Transactions will be counted and be rewarded in 4 phases: Phase 1 is from 1 January to 31 March 2017; Phase 2 is from 1 April to 30 June 2017; Phase 3 is from 1 July to 30 September 2017 and Phase 4 from 1 October to 31 December 2017.
To borrow or not to borrow? Borrow only if you can repay!