Staying secure in the digital age
Digital technology has vastly increased convenience for bank customers, but it's also made life easier for fraudsters to trick and cheat people out of their funds.
Expand
Collapse
Types of fraud
By making the financial system a hostile environment for criminals and terrorists, we can tackle some of the most damaging crimes of today.
There are many types of financial fraud that you need to look out for, read more below.
Expand
Social engineering
Social engineering is the act of tricking you into revealing information such as your personal identification number, or any sensitive information that could later be used for financial gain. Phishing emails are a common type of social engineering attack where you receive emails allegedly from companies you trust asking for your personal information, card or bank details. Always check the source of the link by hovering your mouse over the host email address.
Malware
Malware, short for 'malicious software', is software that is illegally and unknowingly installed on your computer or mobile device. This happens when you click on a phishing link in an email, visit unsafe websites or download malicious software and mobile applications. Spyware is a common form of malware that spies and collects your card details and passwords.
Card fraud
Card fraud begins with the theft of either a card or its data: name, number, expiration date, and verification/CVV code. Fraudsters commonly acquire card details online via malware, phishing emails, or sometimes from statements thrown in the bin.
Sim porting/swapping
The fraudster impersonates you and asks your phone service provider to either replace your SIM card, or move ('port') your mobile number to another provider. Once the change is done, they can then gain unauthorised access to your bank accounts by intercepting authentication texts. Keeping your mobile safe is more important than ever.
Elder Fraud
Elder fraud also known as elder financial abuse or exploitation is the misappropriation of financial resources that results in harm to an elderly victim. The perpetrator could be a stranger, friend or family member. Learn more about elder fraud and how to prevent it.
Money mule
Scammers ask victims to receive or transfer funds for a small fee. It sounds like easy money, but by agreeing, you could be laundering criminal revenues and participating in crime. Never agree to transfer money for people you don't know.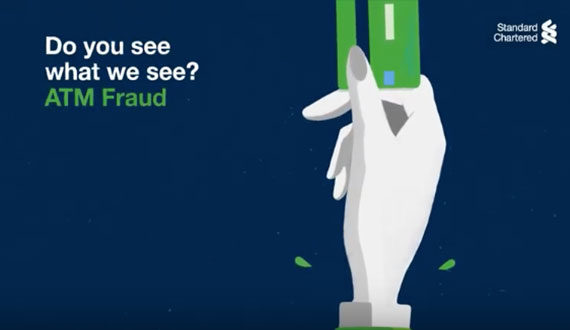 ATM Scams
ATM scams have evolved with time and they are now usually perpetrated through hacking and usage of devices that can record and steal confidential information from your card. Find out what other ways ATM fraud can occur and how you can prevent it from happening.
Watch now
ATM Scams
ATM scams have evolved with time and they are now usually perpetrated through hacking and usage of devices that can record and steal confidential information from your card. Find out what other ways ATM fraud can occur and how you can prevent it from happening.
Expand
Collapse
Important Warning: Impersonation Scams
We are aware of instances where Standard Chartered webpages and email addresses have been cloned to mislead customers and capture personal details or offer fake investment opportunities. Examples include (non-exhaustive list) www.scbonds.com, www.sc-wm.co.uk, info@sc-wm.co.uk and accounts@sc-wm.co.uk.
Expand
If you are approached by individuals purporting to represent Standard Chartered, particularly where investment opportunities seem too good to be true, you should remain vigilant. 
Individuals claiming to represent Standard Chartered may present documents to victims allegedly created by, or linked to, Standard Chartered in an attempt to commit fraud. These documents often take the form of bonds, and other promising market-beating returns. When in doubt, check with the nearest Standard Chartered office before committing your investment. Click here or visit the FCA for the list of fake Standard Chartered email or web addresses.
If you have purchased these bonds or paid any fees as part of such a scheme, contact your bank immediately to stop or recover your payments, and report this to local law enforcement. For more helpful tips on protection against investment fraud, visit the US Securities and Exchange Commission or the UK Financial Fraud Action websites.
Besides fake investments, impersonation scams also take on other forms. Here are a few examples:
Advance-fee scam: You receive a call informing you that you have won a prize but are required to pay the courier, processing and custom fees to receive it. Payments are usually to an overseas account but after making these payments, the prize never arrives. This scam is also known as the '419 scam'.
Fake emergencies: This could be a social media post of a child requiring funds for critical operation, or a call pretending to be from the hospital or police telling you that your relative has had a life-threatening accident and needs a cash deposit for an emergency life-saving medical surgery.
Romance scams: Fraudsters pretend to court victims on dating sites. They then request money for things like medicines or travel. The money is paid into an overseas account and immediately withdrawn, making it difficult to recover.
Expand
Collapse
Tips to protect yourself from fraud
See our tips on how you can protect yourself from fraud.
Expand
Tips against payment scams:
Verify that the other party is legitimate before providing payment details.
Only purchase from secure e-commerce sites. Secure websites begin with "https" as opposed to "http". Also look for a small closed lock symbol on the address bar.
When making online purchases, double-check the website's authenticity.
Always use strong passwords for your purchasing accounts.
Tips against social engineering:
Think before you post on social media to avoid unintentionally revealing confidential information that could be used against you.
Do not click on suspicious advertising links on social media, SMS, mobile chat applications or reply to emails from people you don't know.
Always set a strong online banking password and don't share it with anyone, even if the bank seems to be asking for it. The bank will never ask you for this information.
Check the authenticity of the sender's email address before taking any action or hover your mouse over the email address to confirm the domain URL address. If suspicious, report immediately.
Tips against malware:
Keep your software up-to-date and regularly run virus checks to ensure your mobile device and computer are free of malware.
Be wary of suspicious email attachments or links especially from unknown senders. Your device can get infected with malware automatically or you can get tricked into downloading and installing malware.
Don't use unfamiliar removable drives. Some types of malware can spread by copying themselves to USB flash drives or other removable drives.
Be wary when connecting to public hotspots, particularly those that do not require authentication, e.g. in airports or shopping malls.
Tips against ATM scams:
Never give your PIN code to anyone, and always cover the keypad when entering your PIN.
Avoid using the ATM if the machine looks tampered with, or out of the ordinary such as exposed wires attached to the device.
If you encounter a jammed ATM, avoid using the other available machines. The ATMs may be deliberately disabled to direct you to use a machine installed with a copying (skimming) device.
Regularly check your bank account or bank statement for unusual or unauthorised transactions. If you notice any discrepancies, report it immediately.
Immediately report a lost or stolen ATM card.
Tips against card fraud:
Shred credit card statements before disposing of them.
Always check your credit card statements and immediately report anything suspicious to the bank. Even if you're not sure, report it right away.
Quick reporting increases your chance of recovery and protects you from further damage.
Tips against SIM porting/swapping:
Beware of unsolicited calls, texts or emails seeking personal, confidential or financial information even if they appear to be from your bank.
Always look out for text messages from your bank or telecom service provider advising you of unauthorised activity.
Check with your telecom service provider immediately if your mobile service stops working unexpectedly.
Never disclose your online passwords or PINs to anyone. Standard Chartered Bank will never ask you for these details via any of our communications with you.
Better safe than sorry
Regardless of whether the fraud is only suspected or is a confirmed incident, always notify the bank right away. Promptly reporting any possible fraud increases your chance of recovery and helps protect others.
"The bad guys aren't standing still. Neither should we."
Bill Winters | Group Chief Executive
Back to Fighting Fraud