Standard Chartered Arts in the Park Mardi Gras
Standard Chartered Arts in the Park Mardi Gras, the largest annual community arts event in Hong Kong, features a thematic parade with giant puppets (8-12 feet tall), youth performance and art stalls in Victoria Park every November since 2008. The 2-day fiesta provides a unique opportunity for thousands of youth to flaunt their artistic talents and creativity as well as to develop their self-esteem.
Since 2012, the thematic parade reached the main streets of Causeway Bay, one of the busiest districts in Hong Kong. And in 2013, the city's very first Night Parade of illuminated puppets and parade costumes were brought to the heart of Causeway Bay.
Evolvement of the programme
Since 2001, Standard Chartered Hong Kong has supported Hong Kong Youth Arts Foundation's annual community arts event "Standard Chartered Arts in the Plaza", the event was renamed "Standard Chartered Arts in the Park Mardi Gras" in 2008 and moved from Stanley Plaza to Victoria Park. The Mardi Gras was inspired by international art festivals and carnivals such as those in Notting Hill of England and Rio de Janeiro of Brazil.
The Mardi Gras has continued to grow over the years. With the support of the Cultural and Leisure Services Committee of Wan Chai District Council, the thematic finale parade "Art Fun in Causeway Bay" was brought to the street of Causeway Bay for the first time since 2012.
2013 marked the first-ever Night Parade, which showcased ten Surrealism-themed illuminated giant puppets and parade costumes created by UK art group The Lantern Company and local artists, injecting a whole new element into the event
Every year, over 3,500 students and youth participate in the event, developing their creativity and talents through parade artworks and performances. Last year, the event attracted a record-breaking number of 150,000 visitors.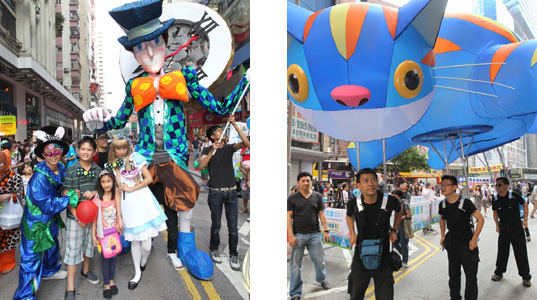 Sustainability and Community Engagement