Standard Chartered Arts in the Park
Standard Chartered Arts in the Park is an annual youth education programme through arts that takes place over six months and culminates in a two-day carnival in November. Each year, over 3,500 young people from 200 schools and youth organisations participate in the event. Their involvement ranges from developing original performance pieces to working with professional artists in schools to create parade and exhibition art. The programme provides youngsters opportunities to develop their life skills such as creativity, teamwork, problem-solving capability and leadership skills through art, climaxing in a two-day carnival which provides a public platform for them to showcase their masterpieces created over months of hard work, infusing the city with carnival atmosphere and positive energy over a fun-filled weekend at the same time. The programme aims at supporting the long-term development of Hong Kong's young people while benefitting the community at large.
Evolvement of the programme
When the programme first launched in 2001, it was an event participated by only hundreds of participants and held in Stanley Plaza. Since then, it has developed into one of the most exciting youth arts festivals in Hong Kong. The event moved to Victoria Park in 2008 and was reintroduced as Standard Chartered Arts in the Park. In 2012, the Grand Finale Parade expanded onto the streets of Causeway Bay and in 2013, the very first illuminated Night Parade offered an enchanting new experience. The Mardi Gras was inspired by international arts festivals and carnivals such as London's Notting Hill Carnival and Brazil's Rio de Janeiro Carnival.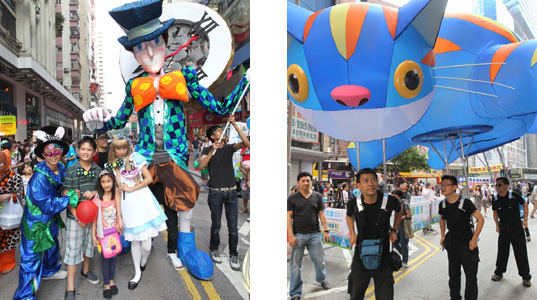 Sustainability and Community Engagement