In a 2016 report on development in Africa, the Chinese Academy of Social Sciences (CASS) highlighted challenges faced by companies carrying out Belt and Road (B&R) projects on the continent.In a 2016 report on development in Africa, the Chinese Academy of Social Sciences (CASS) highlighted challenges faced by companies carrying out Belt and Road (B&R) projects on the continent.
According to the report, some issues – political upheaval, civil and military conflict, crime and terrorism – are beyond a company's control. Others, such as foreign exchange controls, administrative inefficiencies, or opaque legal and tax systems, could have been managed and mitigated. In several cases, company losses were caused by a lack of local knowledge and failure to comply with local laws.
For example, Sinosteel was forced to sell a 97.5 per cent stake in a Cameroon mining venture in 2008 after falling short of government regulations. Another example is Sicomines, a joint venture agreed in 2008 between China Railways Engineering Corp. and Sinohydro for the building of USD6 billion worth of infrastructure in the Democratic Republic of Congo – in return for the right to mine massive reserves of copper and cobalt in the country (for a further USD3 billion in mining investment). The company failed to complete an electricity deal with the Congolese, forcing it to buy power from Zambia, and was eventually forced to build its own hydropower plant to run the mine at capacity.
These issues continue to be seen throughout many B&R markets. As a separate CASS report on B&R investment risks in 2017 noted, "Chinese enterprises considering investing and operating abroad might face a series of risks related to politics, culture, business, law and morality, most of which will ultimately be transformed into legal risks that directly determine the success or failure of their investment. It will come as a surprise to many that, according to the Chinese commerce ministry, 65 per cent of Chinese foreign direct investments make a loss."
Invaluable Expertise
Having global reach counts for little without local influence. Overseas companies and businesspeople operating in China have found that it takes several years on the ground to build trust, and this is becoming increasingly apparent for Chinese companies operating B&R projects, too. For this reason, international companies with experience operating in complex jurisdictions have the opportunity to play an ever-increasing role.
Standard Chartered, for example, has hundreds of branches and offices across 45 B&R markets, and has a built a presence in many of those jurisdictions over 160 years. That kind of deep institutional local knowledge is proving invaluable to companies trying to navigate unfamiliar environments in B&R countries.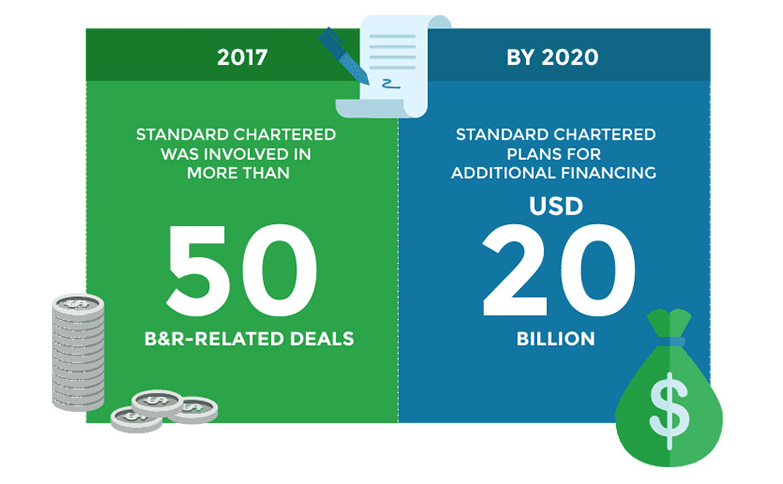 Standard Chartered has made it clear that B&R is a key strategic focus – with more than 50 B&R-related deals in 2017, and plans to facilitate USD20 billion in additional financing by 2020 to support further B&R projects. 
Several of these projects clearly highlight the value that an international player (with local experience) can bring to the table. For example, a liquidity and account-management solution for a provincial construction and engineering company in western China enabled the Bank's client to take better control of its accounts in multiple B&R markets including Nigeria, Cameroon, Botswana, Ghana, United Arab Emirates, Pakistan and Malaysia. The company stated Standard Chartered's deep presence in both China and in participating countries was a motivating factor for partnering with them.
Companies seeking a partner look for a combination of technical abilities (that large-scale institutions typically have more experience in delivering) with local market knowledge, which international firms can lack. Such was the rationale for Ant Financial, the Alibaba affiliate formerly known as Alipay, which in June 2018 appointed Standard Chartered to be the core partner bank for its new blockchain cross-border remittance solution. The Bank was selected not just for its banking expertise and insights in emerging markets but also the potential to combine its capabilities with Ant Financial's industry-leading fintech expertise, with the aim of increasing access to financial services for clients based in countries along B&R routes.
Navigating Pitfalls
Along the B&R corridors, many of the more successful projects are joint ventures with local partners who can help to navigate doing business in unfamiliar territories. Some examples include:
Construction machinery maker Caterpillar has built one of the largest factories of its kind in the world in Xuzhou, China, to feed demand from the B&R. The company's long history of operations in Africa has laid the foundations for Chinese firms running B&R projects in unfamiliar territories such as Cote d'Ivoire, Senegal, Ethiopia and Zambia, and its experience in turn has ensured those projects use Caterpillar equipment.
In Vietnam, China Fortune Land formed a partnership with the local Tin Nghia Corporation to build the New Industry City and Ong Keo industrial park projects in Ho Chi Minh City. Tin Nghia's involvement helped China Fortune Land to secure land, steer through local regulations and handle relationships with local communities and authorities.
General Electric China and Sinomach are partnering in USD2 billion worth of clean-energy projects in emerging markets, particularly Africa. General Electric already had teams and business networks in 63 B&R countries when the initiative began, enabling Sinomach to leverage the company's on-the-ground experience. According to Ren Hongbin, chairman of Sinomach, the partnership "proves to be strategically valuable for our sustainable success in emerging markets like Africa, and clearly outlines a new formula for US-China collaboration in third-country markets."
These are just some of the instances that demonstrate the criticality of combining the international perspective with the local lens. 
As Standard Chartered's Global Chief Economist David Mann said: "On any type of Belt and Road initiative, it's very important that while you may take a regional view, or even a global view, getting the local understanding of each market is critical before making any big decisions."
This article was also published on Bloomberg.com.