Seeing is Believing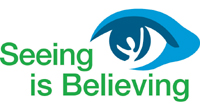 There are 39 million blind people in the world. Yet, 80% of blindness is avoidable.
Seeing is Believing is Standard Chartered's global fundraising programme that helps eradicate avoidable blindness.
Standard Chartered will match all donations, dollar for dollar.
Since the launch of the programme in 2003, we have already raised USD92.8 million and reached over 133.8 million people. By 2020, we aim to fundraise US$100 million for Seeing is Believing.
For Hong Kong, we partner with ORBIS International to carry out sight restoration, treatment, training to medical professionals and education in China.
If you wish to make a donation to support Seeing is Believing projects in China, please deposit to the following Standard Chartered account:
Account Name: PROJECT ORBIS INTERNATIONAL INC.
Account Number: 447-0-050014-9
To learn more about Seeing is Believing, please visit https://www.seeingisbelieving.org/.

Sustainability and Community Engagement